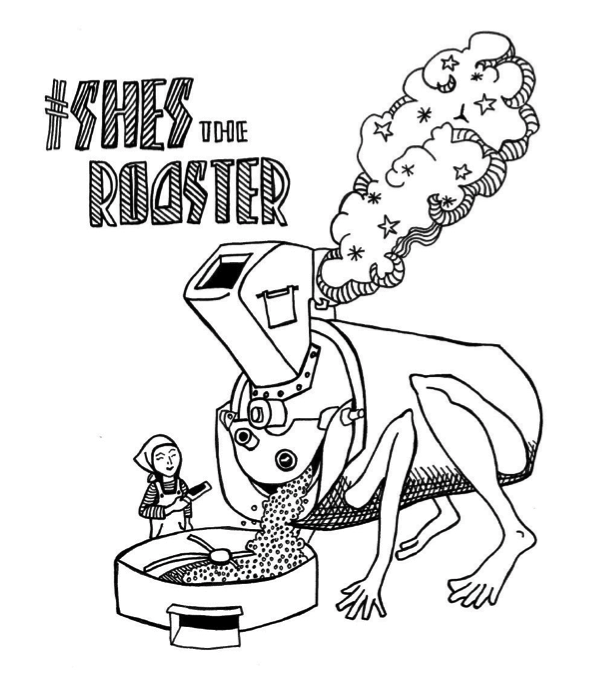 #shestheroaster is more than a hashtag; it is a movement, and it's putting the spotlight on women coffee roasters in several meaningful ways.
The grassroots, volunteer-driven effort was launched in 2016 as a way to encourage gender diversity in national and global roasting competitions, using social media as a way to spread the message.
In recent months, the effort has extended beyond the online sphere with an in-person event held in April during the Specialty Coffee Expo in Seattle, and organizers recently announced a scholarship opportunity for female-identifying or non-binary individuals to attend the 2018 Coffee Roasters Guild Retreat in Stevenson, Washington, this August.
We caught up with Sandra Elisa Loofbourow, the tasting room director at Emeryville, California-based Royal Coffee, who is currently volunteering her time to help support the #shestheroaster scholarship program. Loofbourow has been working in coffee for 10 years, and roasting for the past four. She's also the co-chair of the Good Food Awards' coffee committee, and the events & volunteer coordinator for the Bay Area Coffee Community.
"I've been lucky enough to have some incredible women offer me support in this journey, and I want to make sure that women — especially non-binary, LGBTQIA folx and WOC — have access to the same opportunities that I was lucky enough to take full advantage of," Loofbourow told Daily Coffee News.
We asked Loofbourow more about #shestheroaster, the scholarship, and her perspective on the growing movement.
https://www.instagram.com/p/Bjm9Em4Aj04/
Lily Kubota: When was the #shetheroaster campaign initiated and who is behind it?
Sandra Elisa Loofbourow: The #shestheroaster hashtag started as a direct result of the 2016 U.S. Roaster Championship. There were over 40 competitors that year, and not one of them was a woman. Looking up at a stage full of exclusively male competitors, Jen Apodaca (who was looking forward to being chair of the Roasters Guild Competitions Committee the following year) knew that something had to be done. The Roasters Guild Events Committee got together to figure out how to make women feel comfortable and confident enough to participate in the competition, and it was in these meetings that the hashtag campaign was born. The hashtag became super popular, and achieved the goal of increasing the visibility of lady-roasters in our industry. In 2017, there were six female competitors on stage at U.S. Roaster Championships, and better yet there was a woman in the top three winners (yay Taylor Gresham)!
The #shestheroaster organization began to take shape soon after the hashtag campaign, and in early 2017, Talor Browne of Oslo, Norway-based Talor & Jørgen sent a private Facebook message to Jen Apodaca of Royal Coffee and Joanna Alm of Stockholm, Sweden-based Drop Coffee. Talor wanted to brainstorm ways to create an education not-for-profit to help get more women into roasting. They discussed organizing events that could create a safe place for self-identified women and non-binary folx to explore career options in roasting. Capitalizing on the traction of the already existing hashtag, they chose to name their new organization simply #shestheroaster. This name choice was also intended to communicate that this is not a membership group, nor a guild or chapter-based organization. #shestheroaster is a global, grassroots movement that every community can make their own.
LK: What are the goals for the scholarship program?
SL: A scholarship program was a natural progression of this; we need more women in front of roasting machines, and getting them some training seems like the best way to do that.
LK: How will candidates be selected, based on what criteria?
SL: All applications will be reviewed by a committee. We have a scoring rubric to make things as fair as possible, while making the process manageable for the people reviewing applications. The basic categories include Organization, Mechanics, Enthusiasm, and Creativity, but we also have a few bonus point categories.
LK: From your perspective, how has the momentum that was gained through the hashtag campaign impacted the female-identifying roaster community, in competitions or otherwise?
SL: I was a full-time roaster when the hashtag started. It was so powerful to see the amazing company I was in, and how diverse this vocation really is. Pictures and stories of these badass women started taking over my feed — it was really an incredible experience. I live in a heavily populated area, dense with specialty coffee professionals and enthusiasts, but it was still so empowering to see all these accomplished lady roasters posting pictures of themselves and their machines on Instagram. And, if I was surprised and inspired by these photos while living in the Bay Area, imagine what it could mean to a woman living in a small town.
This kind of visibility is so important; women deserve to get recognized for their hard work. However, we are not used to receiving any recognition, and it's not something we're often willing to give ourselves. This pattern has become painfully evident through our campaign efforts; when we ask a roaster to send us a photo of herself and a small blurb about her roasting career, they often get very self-conscious and we usually don't get anything back from them. Women are inculturated to be humble and not to build ourselves up, and it can be really difficult to get someone to share a positive story about themselves. But when we ask one of that woman's coworkers for this information, we end up with glowing reviews — really passionate essays about how incredible she is, how hardworking and dedicated, and how much her work is appreciated. We need to share these stories loud and proud!
LK: How is the #shestheroaster effort being funded and managed currently?
SL: All of our funding is grassroots. We are a not-for-profit, volunteer-run organization, and donations go directly to our scholarship fund. We held a really successful event this year at Expo in Seattle, and thanks to people's generous donations, plus pin and T-shirt purchases, we have a solid start. Our first scholarship for Retreat was funded by Montana Coffee Traders and Texas Coffee Traders, who reached out to us offering their support. Beth Beall of Texas Coffee Traders contacted us, saying that her company would like to send someone to the Coffee Roasters Guild Retreat through #shestheroaster. It's probably one of the best emails I've ever received, and we feel very lucky to be working with such generous people.
We have an amazing team of volunteers — Amanda Amato is working on website design and webstore management, Mandy Spirito is managing our social media, Hannah Ulbrich and myself are organizing scholarships, Juliet Han is managing our newsletter, Caitlin McCarthy Garcia and Kim Ta are helping with organization and promotion, and Jen Apodaca is carefully steering the ship and doing a little (or a lot) of everything.
LK: What is the best way for people who want to support this effort can get involved?
SL: Organize your own regional #shestheroaster event! This can be a cupping, a happy hour, a class — whatever you want it to be, as long as it supports our mission and goals. We're working on a one-sheet for people to reference when organizing events because we've found that folks are hesitant to put something on without a little bit of instruction.
You can also support us by visiting our website and purchase some swag. Remember, all profits go directly into our scholarship fund. Right now we have some sweet T-shirts, super awesome pins that say #shestheroaster, and soon we'll have a donation button as well.
If you are a roasting instructor, or work at a coffee education campus and want to offer a scholarship to your program, please reach out to us via email.
Lily Kubota
Lily Kubota is the managing editor and digital content manager for Roast Magazine. She is based in Southern California.