Coffee professionals often enjoy the points in their work when a balance between art and science is required. It's all art, however, for the African artist Barthélémy Toguo, who, when not traveling the world for exhibitions of his paintings, sculptures, photographs, performances and installations, also runs a facility in his home of Cameroon called Bandjoun Station, a nonprofit cultural center, artist colony and organic farm.
Built over the course of two years and opened in 2007 roughly three kilometers outside Bafoussam in Western Cameroon, Bandjoun Station includes two multistory buildings connected by a walkway on the second floor that offer lodging and studios for artists, as well as spaces for performances, screenings, lectures, exhibitions and educational programs for area youth. Beyond the buildings, another three hectares is devoted to an agricultural component, focused on food for the community and specialty coffee for its power in providing economic sustenance.
The entire facility is awash in dazzling colors, patterns and mosaics derived from Toguo's own inspiration, and like the rest of his art, social and political currents run strong within it. The goal is to inspire and foster the community's ability to create its own culture, sustain itself and earn a livelihood, all while resisting historical global North/South trade imbalances.
"Our approach is not at all commercial but rather artistic," Toguo recently told Daily Coffee News. "Our project is not an outright and frantic race for productivity or profit. It is more of a critical project in relation to the market system, emphasizing the quality and flavor of Arabica."
(Note: Toguo's responses were translated from his native French by Parrish Art Museum Senior Curator Corinne Erni.)
Each work of 100-percent arabica is grown and harvested at Bandjoun Station, then processed, roasted and packaged by Bandjoun at a nearby cooperative. Available only to visitors to the center and to Toguo's exhibits around the world, it's ultimately a very small operation, with equal emphasis on the artwork of its packaging and the project's symbolic importance. Each bagged coffee product is wrapped in an original watercolor, sketch or other work by Toguo.
"It is actually rather a democratic project which grants access to a collection of artworks through our editions system, in which our coffee becomes a signed, dated, and personalized art object," said Toguo. "I propose an engraving or lithography of my work that we apply to one side of the coffee package. This artistic approach makes our coffee more original."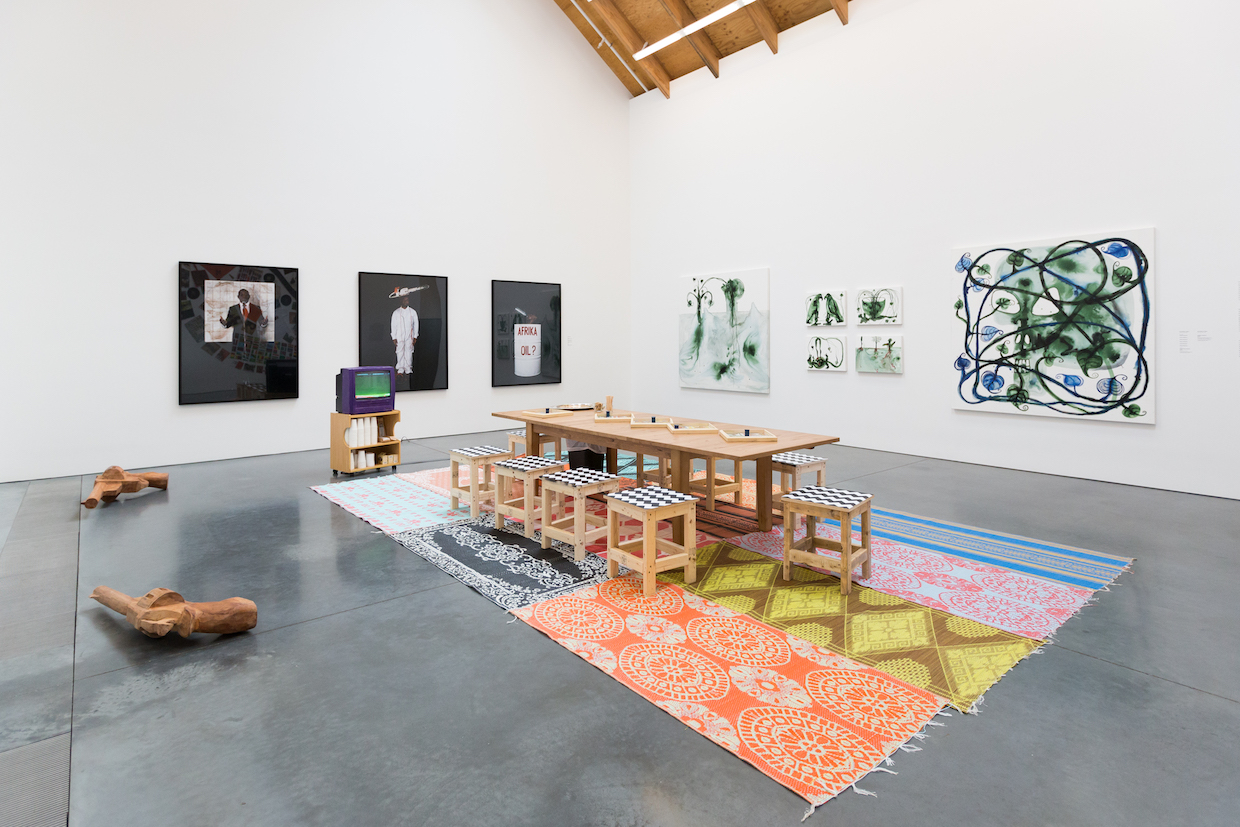 Located in the Grassfield region of Western Cameroon, where Toguo said coffee has been cultivated since its colonization in the 1950s, Toguo conducts the coffee project in direct correspondence to what Senegalese President Léopold Sédar Senghor called "the deterioration of the terms of exchange," by which the poet and cultural theorist meant Western buyers' imposition of low prices on exports to the impoverishing detriment of farmers.
"We have grown the coffee on our three hectares ourselves; it is a project to criticize the prices of raw materials imposed by the West to farmers in the South," said Toguo. "We wanted to respond to this inequality by proposing our own coffee and at the same time setting our own price by turning it into editions of artworks. But we have been focusing on organic farming of food crops — beans, corn, manioc, bananas — for our own consumption in our community."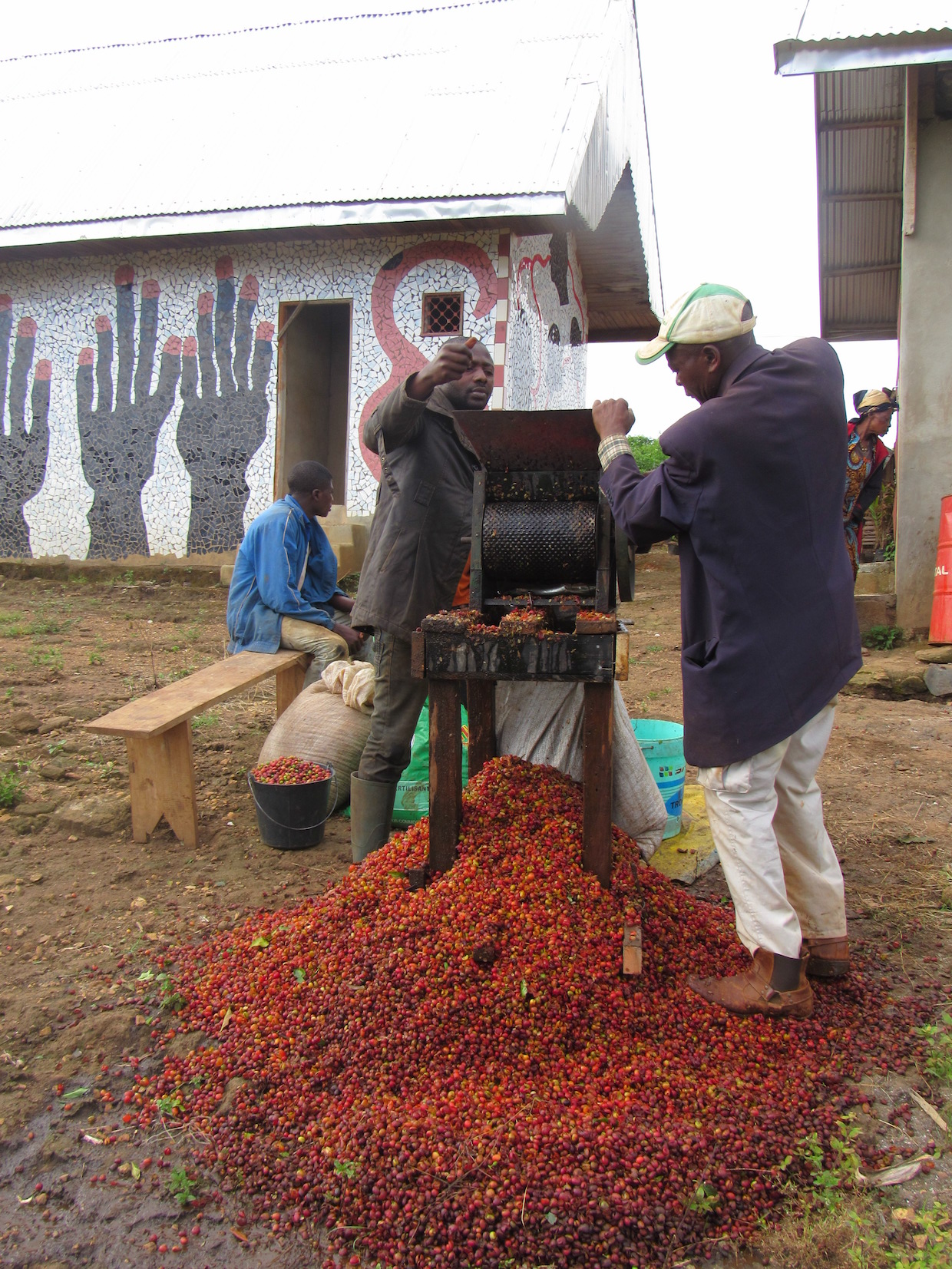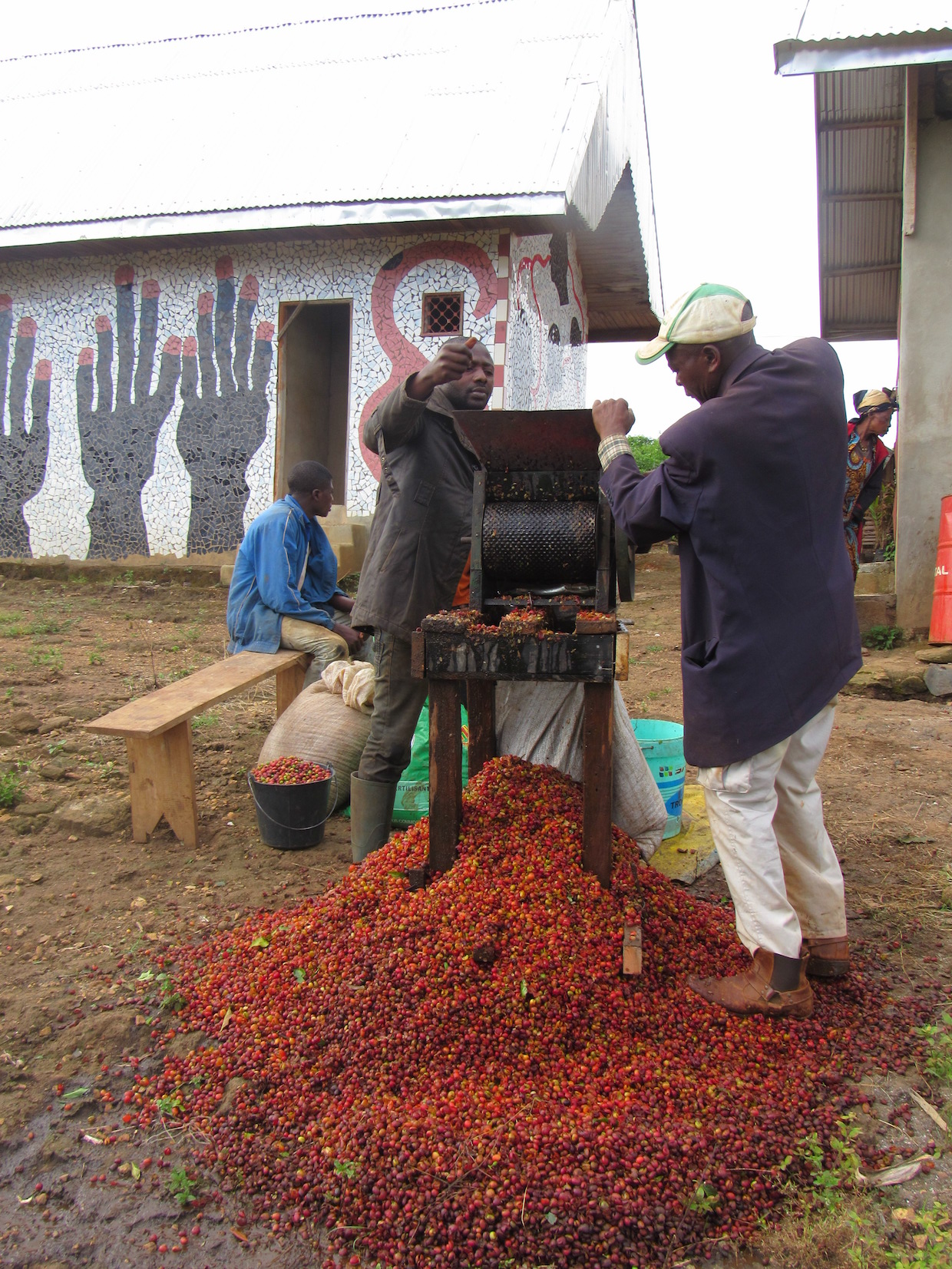 Working in collaboration with government advisers as well local village elders with knowledge of the area's traditional growing practices, Toguo said the first harvest three years ago was low due to their dedication to organic farming methods.
Said Toguo, "After five years, we have reached our best average production results, which is a ton per hectare maximum."
The coffee takes center stage in Toguo's traveling exhibit called Mobile Cafeteria, wherein the self-determination and self-sufficiency of African people stems from the intersection of agriculture and art. What might be called a "pop-up" in a regular coffee context takes on the status of a traveling interactive art installation in the fine art world, inspired though it is by African street cafes.
In Toguo's Mobile Cafeteria, tables and chairs are set out with African board games available for people to play and African soccer games playing on screens for people to watch, all while learning about the mission and activities at Bandjoun Station. Walls surrounding the exhibit are adorned with posters, photos and other materials, further illustrating the culture and productivity at the farm and center of the arts.
"Cameroon is a coffee-producing country but not a big consumer," said Toguo. "So, we don't have a 'culture' of drinking coffee every morning. On the other hand, we do tastings, and it is much appreciated by visitors and residents."
In another parallel to metropolitan cafe culture, the Mobile Cafeteria also acts as the gallery space for more of Toguo's socio-politically-charged artwork, including large, staged photographs from the 2005/2008 series Stupid African President, and pieces from the artist's newer series of pencil drawings called Black Lives Matter, featuring depictions of real African Americans recently killed by police in the United States.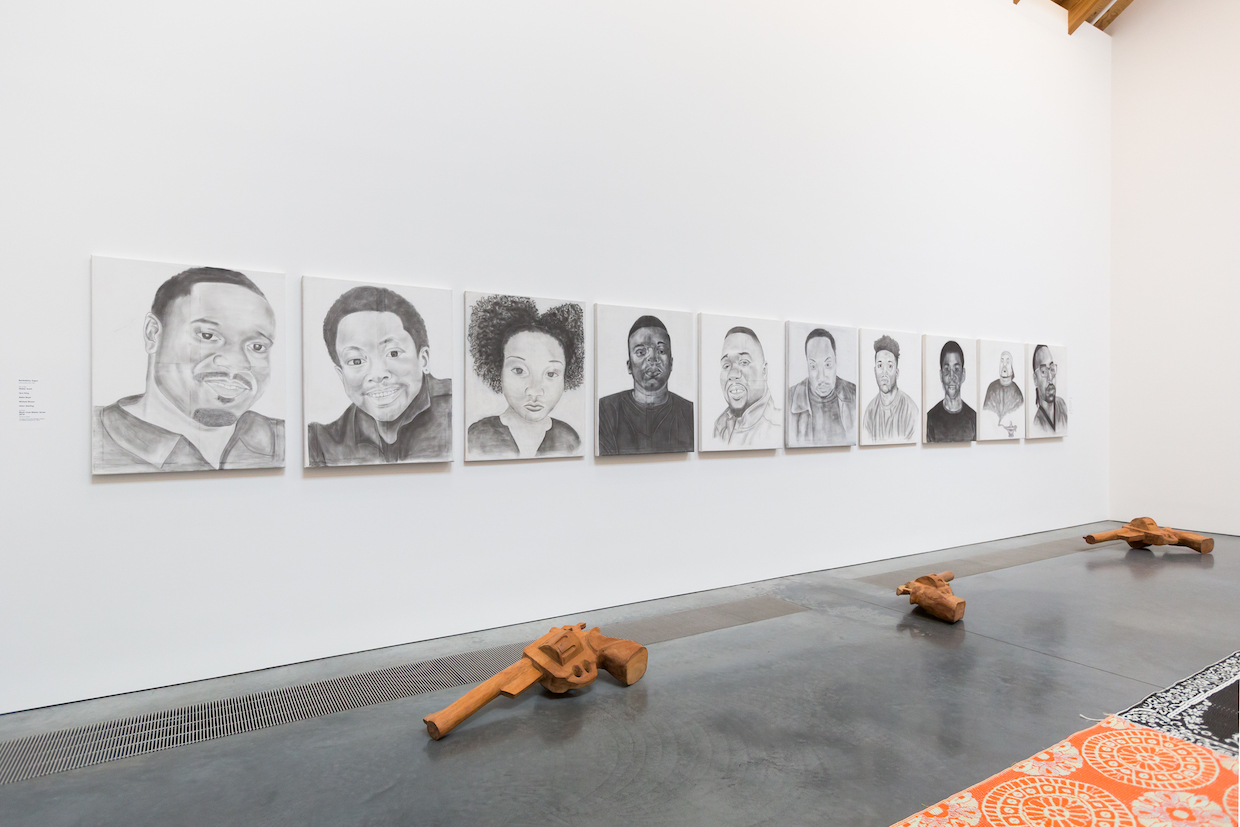 Toguo personally served Bandjoun Coffee recently at an Aug. 4 preview reception for an exhibit that opened the following day at Parrish Art Museum in Water Mill, New York, called "Platform: Barthélémy Toguo: The Beauty of Our Voice." The exhibit runs through Oct. 14.
Howard Bryman
Howard Bryman is the associate editor of Daily Coffee News by Roast Magazine. He is based in Portland, Oregon.