Sequim, Washington-based Rainshadow Coffee has launched a second roastery in the California central coast city of Paso Robles, almost 1,000 miles south of its original location. The company is also working on expanding into a new territory of products, that is roasting equipment of its own design and manufacture.
Rainshadow's current coffee production line includes the 15-kilo Ambex roaster that helped launch the company in 2009, and a 40-pound-capacity drum roaster designed and built by Rainshadow Co-Owner Don Batcheller. The Ambex has been uprooted and reinstalled in Paso Robles, where Rainshadow has expanded its revenue stream by roasting for businesses and consumers, while three more of its own machines are under construction.
The new machines are larger, 60-pound-capacity drum roasters. One of them is slated to join the 40-pounder in Sequim and the other two will remain in Paso Robles. Don's son Nick Batcheller, also a co-owner of Rainshadow, told Daily Coffee News that the 15-kilo-capacity Ambex was of a reasonable size for a startup to pursue its short-term goals. Yet the experience of searching for another roaster to continue scaling the business underscored not only the difficulties and the expense of finding good, affordable equipment, but also the risk in basing an operation on such complex equipment with involving so many proprietary mechanical parts.
"The worst part, the most intimidating part about having a production roasting company is that if your machine goes down, who do you call? A roaster repair guy? There's not a lot of them," said Batcheller. "When we first went and picked up the Ambex, you open the door panel underneath and there's like 15 sets of 10 wires each… Even my dad, a mechanic, was like, 'Holy smokes, this would take me two days to trace all these wires.'"
Batcheller said that easy and intuitive access to parts, both inside the machine and when seeking replacement parts were a driving motivation in designing their own machines.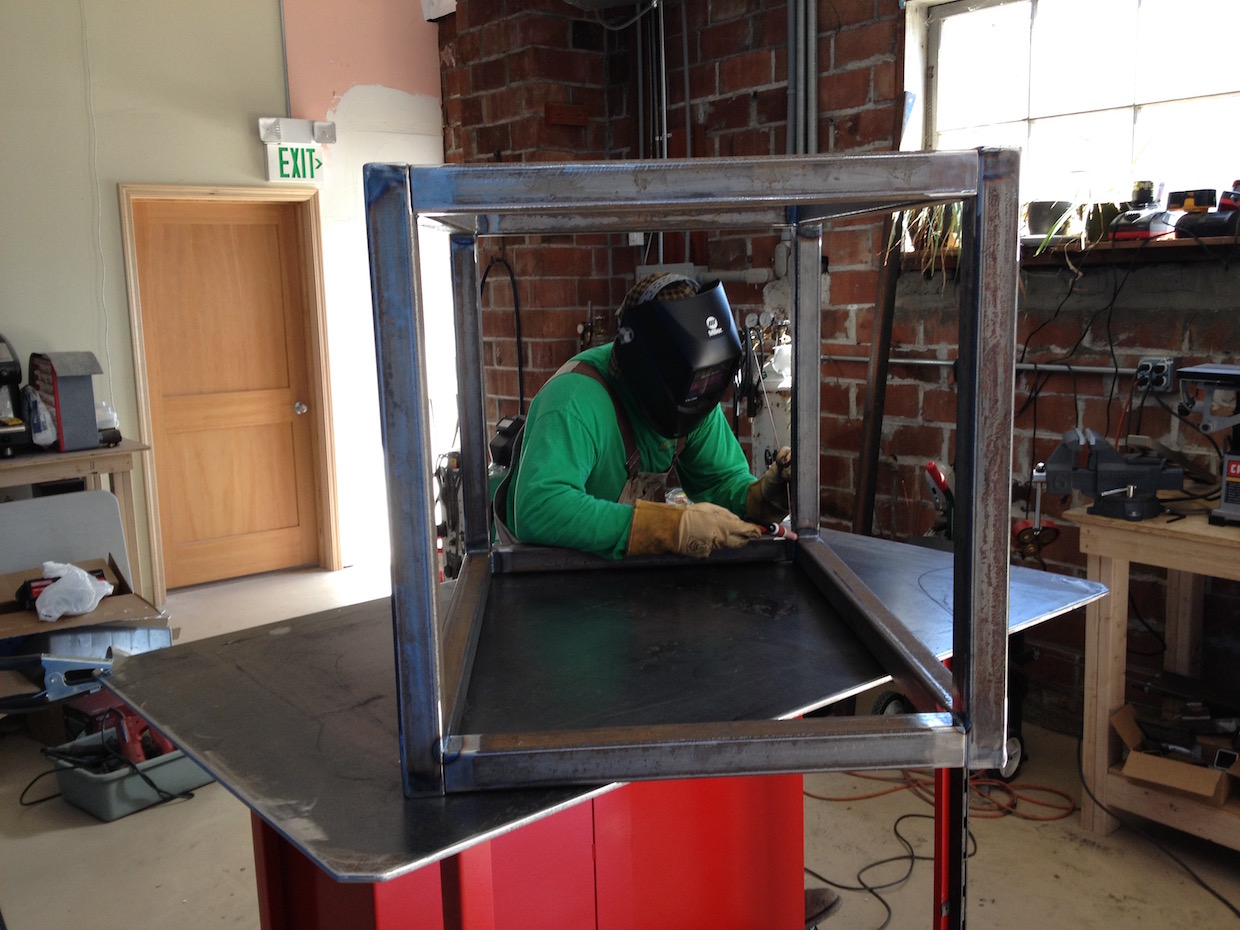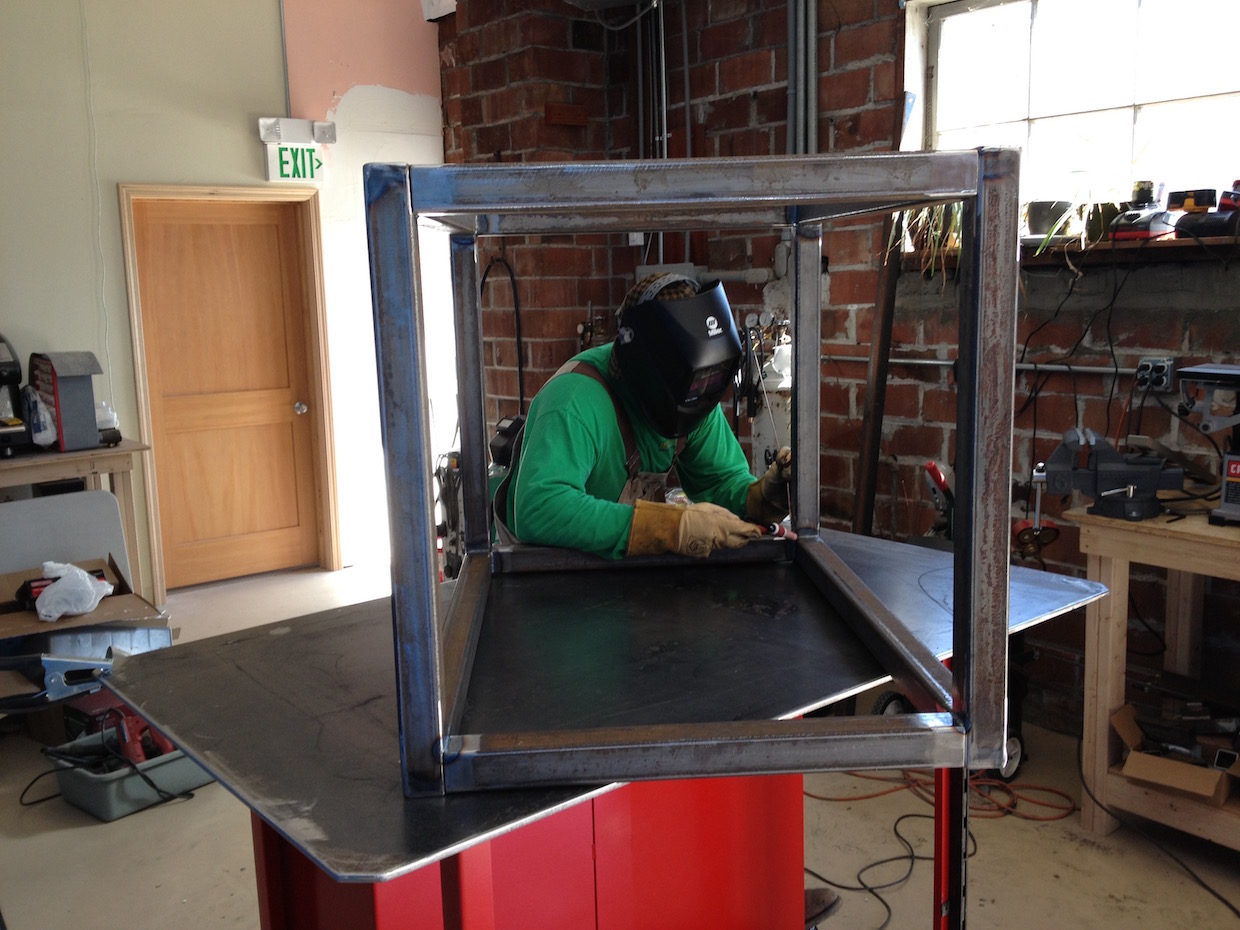 "We wanted to make something that's non-proprietary," said Batcheller. "Working with a Probat or an Ambex, or even a Diedrich — Diedrich's right here in the States — you still have to wait for a part to come directly from one place. We want to be able to call Grainger [Industrial Supply], and just get a motor from Grainger overnighted. All the pulleys and everything can just be ordered from a general source."
While there's not yet a timetable for when Rainshadow will begin taking orders for its machines, the design for its initial offering is almost finished and is centered on a solid, double-walled mild steel drum. Batcheller said that while many drums are stainless steel, they opted for mild steel because of what they perceive as a "gentler" imparting of heat to the beans while roasting.
"It could be theoretic, but after tasting our coffee, it just feel likes it's gentle and it comes through in the roast," said Batcheller. "It doesn't reflect heat; it holds heat."
The machines will also offer adjustable drum speed and air flow, and will come equipped with five temperature probes: two for bean temp, one for drum temp, one in the chaff collector and one in the afterburner. Its traditional burner platform will run on either propane or natural gas. And beyond its straightforward mechanical design, Rainshadow machines will set themselves apart visually and through certain air quality benefits by way of a customizable smoke-trapping hood over the cooling tray.
"Letting coffee out and filling with room with smoke is cool — it's romantic, it smells good — but it's probably not the best thing to be doing if it's your career," said Batcheller. "Doing that day in and day out, it's unhealthy. We have great ventilation in the building, but we also built a cover for our cooling try and a door that goes over the door on the roaster, so there's basically no smoke coming out when we drop our roasts into our cooling tray."
Batcheller said they're still playing with different ideas in terms of aesthetics, materials and custom branding opportunities for the cooling tray cover and other accents on the machine.
A competitive price point is another goal. Batcheller said that the price tags he found while shopping around for used equipment could be prohibitive for most startup enterprises.
"Not to say that those machines aren't worth it," said Batcheller. "But we feel like we can build something brand new in California that's super simple and it's going to be a workhorse for somewhere around $35,000 to $50,000 for the machine, and maybe $40,000 to $60,000 [for a machine paired] with a wet-scrubber or an afterburner."
As for the coffee Rainshadow runs through its own machines, the company starts off with greens sourced through importers such as ICT, Vournas and Bodhi Leaf, and darkens them through steady, straightforward roast profiles to degrees that Batcheller likens to the style of machines they're building: Approachable, calm and accommodating.
"[Sequim is] a retirement community, not a big city; not a very hip, on-the-forefront kind of a place," said Batcheller. "Having a really light roast, super fruit-forward Ethiopia, or rare coffees — people aren't willing to go down that road and don't find it very likable — that's not our style; but we're not all second-crack-and-beyond either. We do have a double French roast that we take out at 465 degrees that's really dark, that's our most popular coffee. It outsells everything. So we do go down the road of dark roasts, but out of our 14 or 15 offerings, only one is a double French and we have a couple that are at second crack. The rest are in the magic City zone, 420-425 [degrees]."
Roasting started on the Ambex in Paso Robles this past fall. Batcheller said the company will transition its California production to a larger machine of its own design this spring, while also searching for a retail space to open a California cafe. Batcheller noted some demographic similarities between Sequim and Paso Robles, including a strong population of retirees, but also potentially a bigger market for more adventurous coffees and profiles given the epicurean spirit of wine country.
Yet whether its an unusual bean from Yemen or a classic, dark-roasted Brazilian bean, Batcheller said good results are not dependent on the bells and whistles offered by many roaster-makers today.
"Not to dull it down, but it seems like there's a lot of stuff that is not necessary," said Batcheller. "Hydraulic opening doors and hydraulic lifting coffee and suction and all that stuff is beautiful and awesome, but we feel like for the normal guy, it would be a lot nicer to have something that's just super simple and approachable. It's like a roll-up-window Toyota pickup versus a brand new Tundra with everything. We're just trying to stay on line and keep roasting, and in our opinion there's no difference in what you can do and what you can produce as far as coffee flavor and your profiles from having something incredibly high-tech as opposed to having something more traditional or almost analog."
Howard Bryman
Howard Bryman is the associate editor of Daily Coffee News by Roast Magazine. He is based in Portland, Oregon.