Through nearly six years in business, Cincinnati, Ohio-based MadTree Brewing has helped grow the city's craft beer scene from a mere sapling into full maturity through its own reputable brews, a commitment to charitable fundraisers and a spirit of collaboration that has routinely involved releases with other breweries.
This year, the brewery has turned over yet another leaf with four iterations of one special coffee porter, called the Local Blend series.
Each limited release in the coffee-focused series highlights the flavor of a coffee roasted by one of four specialty coffee roasters based in four different major Ohio cities. The porters are packaged in four-packs of cans that feature renditions of the showcased roaster's home city skyline.
"With our experience using coffee in beer, we've learned that coffee type and roast makes a big impact on the flavor from the coffee," MadTree Brewing Head Brewer Ryan Blevins told DCN. "We worked together with all of the different roasters as a team to make sure that the coffees we were getting from each roaster were different enough and the beers would be unique from each other."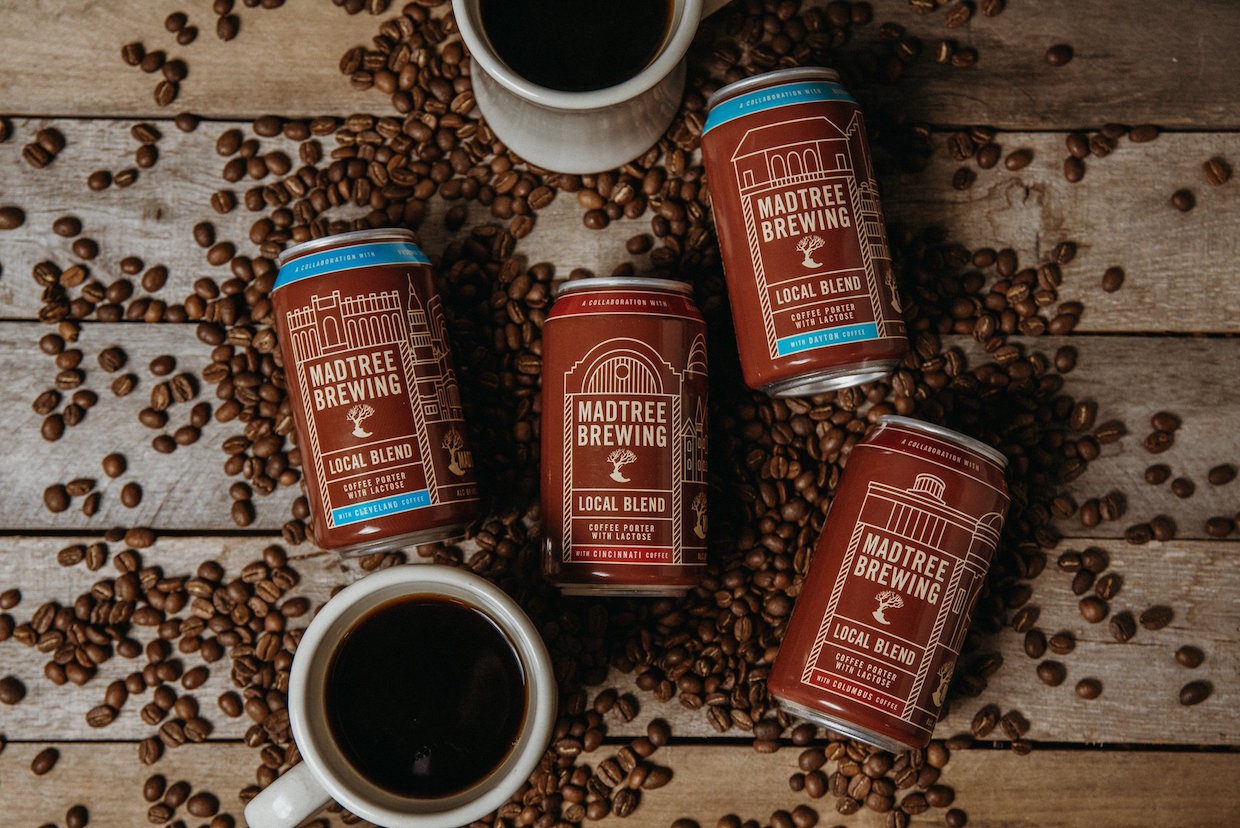 To complement the core porter, each roaster submitted a washed-process single-origin offering. Cincinnati's own Deeper Roots Coffee provided coffee from La Armonia Hermosa in Guatemala; Dayton's Boston Stoker Coffee provided an organic Costa Rican coffee from Finca El Llano in the Tarrazú region; Columbus's Stauf's Coffee supplied an Ethiopia Guji from the Wolichu Wachu washing station; and Cleveland's Phoenix Coffee supplied another Ethiopian offering, from Girma Eshetu Kaffa.
"We brewed one large batch of beer and then split it into four different tanks once the beer was done being fermented," Blevins said of the process. "After working with the roasters to select the beans, we put them in a special tank and recirculated the beer through the coffee and back into the main brite tank for 24 hours on each batch."
MadTree Brewing's Local Blend coffee release beers became available for purchase Jan. 7.
Nick Brown
Nick Brown is the editor of Daily Coffee News by Roast Magazine.