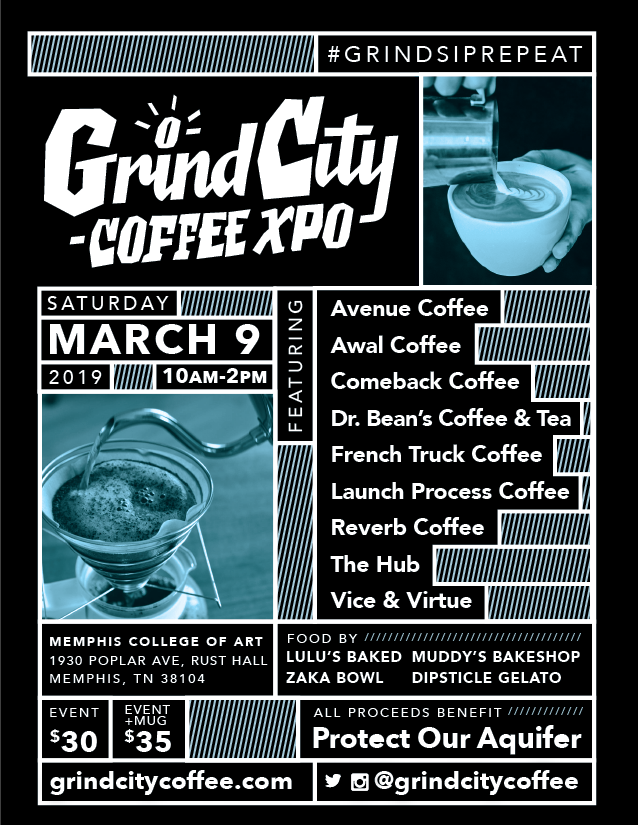 Through the scrappy play of ballers like Tony Allen, Mike Conley, Marc Gasol and Zach Randolph in the earlier parts of this decade, the Memphis Grizzlies earned the reputation of being the "grit and grind" team.
Some combination of roster changes, losing and the three-point-shooting, no-handchecking nature of the NBA game precipitated the death of the slogan in Memphis, although the nickname Grind City lives on for a generation of basketball fans.
The good news is — whether the Grizz are winning or not — the Grind City monicker translates exceptionally well for coffee. There promises to be buckets of "grind and brew" at the upcoming Grind City Coffee Expo, a first-time consumer-focused coffee event taking place this Saturday, March 9, at the Memphis College of Art (directions here).
GCCE Co-Founder Daniel Lynn, a recording engineer by day, told DCN that he got the inspiration for the event while attending a craft beer event called "Science of Beer" at the local Pink Palace museum. There, he thought what everyone in the coffee industry thought at one point in their career: "Why not coffee?"
"The coffee culture in Memphis has exploded in the past five years, and so why not now?" Lynn said. "There are similar events across the country, and this is a perfect time to start one in Memphis."
Lynn and Co-Founder Rachel Williams — who has sales ties to the nonprofit Meraki Roasting Co. in Clarksdale, Mississippi — then reached out to coffee roasters throughout the city to help give the concept life.
"We reached out to literally everyone in the Memphis coffee world to participate in the expo," Lynn said. "Our big focus on the vendor side was to create a neutral, community-over-competition environment. We want to bring everyone together in the name of great coffee."
Designed for consumers to get to know their local coffee vendors, the GCCE includes eight of Memphis' existing or forthcoming progressive coffee companies: Avenue Coffee, Awal Coffee, Comeback Coffee, Dr. Bean's Coffee, French Truck Coffee, Launch Process Coffee, Reverb Coffee, The Hub, and Vice & Virtue. Numerous food vendors will also be on hand, including Lulu's Food, Zaka Bowl, Muddy's Bake Shop and Dipstickle Gelato.
Tickets for the Grind City Coffee Expo are $30, and an extra $5 gets you a mug. All tickets include unlimited coffee tastings through various brew methods. Proceeds will benefit the nonprofit Protect Our Aquifer.
Nick Brown
Nick Brown is the editor of Daily Coffee News by Roast Magazine. Feedback and story ideas are welcome at publisher (at) dailycoffeenews.com, or see the "About Us" page for contact information.