Building on the success of its canned RTD Oat Milk Latte released last year, Stamford, Connecticut-based RTD canned nitro coffee brand Rise Brewing Co. has spun its house-made oat milk ingredient off into a standalone product.
Rise Brewing Co. Organic Oat Milk marks the company's first coffee-free product, though it is aimed no less squarely at the coffee-drinking populace. The product adds to the nascent but already competitive field of barista-tailored oat milks from the likes of Oatly, Pacific Foods and Califia Farms.
Rise's four-ingredient, additive- and dairy-free oat milk is pitched by the company as a healthy, organic accompaniment intended for coffee first and foremost. Rise is also pitching the milk for smoothies, cereal, recipes or in a glass on its own, though coffee is its raison d'etre.
The milk was developed in-house as an organic ingredient for Rise's RTD products, while it also responded to requests the company received directly from customers at its retail stores in New York City.
"We are a coffee company before anything else," Rise CEO and Co-Founder Grant Gyesky told Daily Coffee News. "First we tasted it and next we steamed it. Only when we were happy with both did we finish our testing."
The company presented the new product publicly for the first time earlier this month at its booth at the Natural Products Expo West in Anaheim, California. Beyond its coffee-friendliness, the milk's purity is another selling point. Rise said its oat milk is made from oats grown in Finland, oil from sunflowers grown in France, water, a pinch of sea salt and nothing else. The vegan product also does not contain the added sugar, emulsifiers and gums common to some other alt-milks, and will not be followed by a more viscous "barista blend" iteration because it was developed to perform well under a steam wand as it stands.
"Our Original is a blend of a standard milk and a barista blend," said Gyesky. "It obviously needed to hold up to the heat of coffee and the ability to steam but we also wanted it to have the versatility to be enjoyed as a drink, in smoothies, over cereal or a baking ingredient."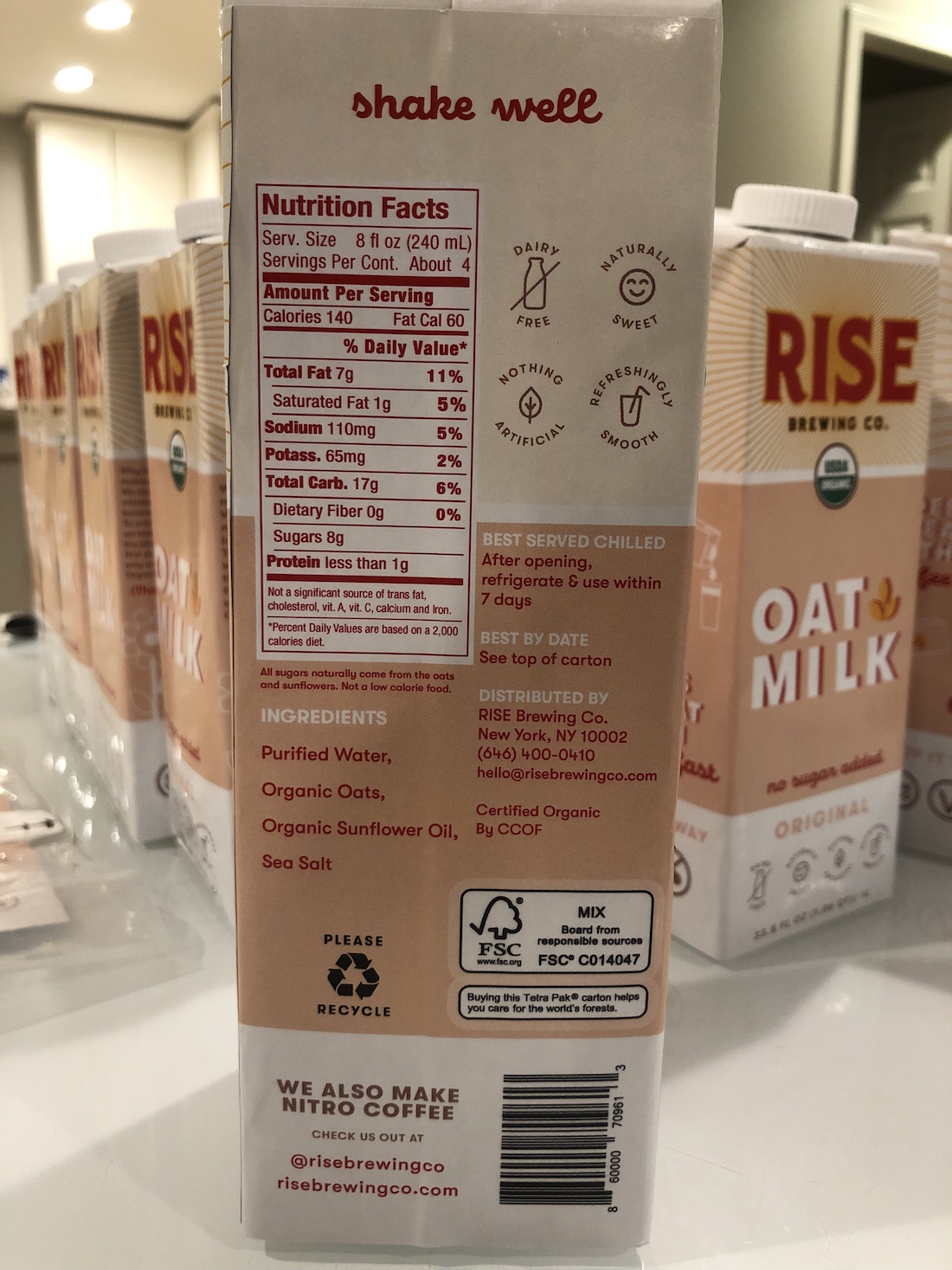 Rise Brewing Co. Organic Oat Milk will retail for $5.99 per one-liter carton and $29.99 per six-pack. The company expects products to reach store shelves by this Spring. Sales of the oat milk began from the company's own website and through its DSD network of office and food service retailers last week.
All of these are channels Rise Brewing COO Melissa Kalimov told DCN the company hopes to expand upon going forward. Said Kalimov, "We want to double down on office, e-comm, and winning on shelves."
Howard Bryman
Howard Bryman is the associate editor of Daily Coffee News by Roast Magazine. He is based in Portland, Oregon.