The May/June issue of Roast magazine has been released. The issue features in-depth coverage of key issues affecting the specialty coffee industry, including insights on minimizing exposure to harmful volatile organic compounds, addressing the coffee price crisis, and being a responsible coffee buyer. The May/June issue also questions everything you thought you knew about roasting machines and their effects on flavor, examines yeast in fermentation and solutions for producers, and explores coffee consumption in Ethiopia and other traditionally coffee-producing countries.
Subscribers to Roast magazine receive free digital access. Subscribe to Roast magazine, or purchase the print version of the issue here.
Inside This Issue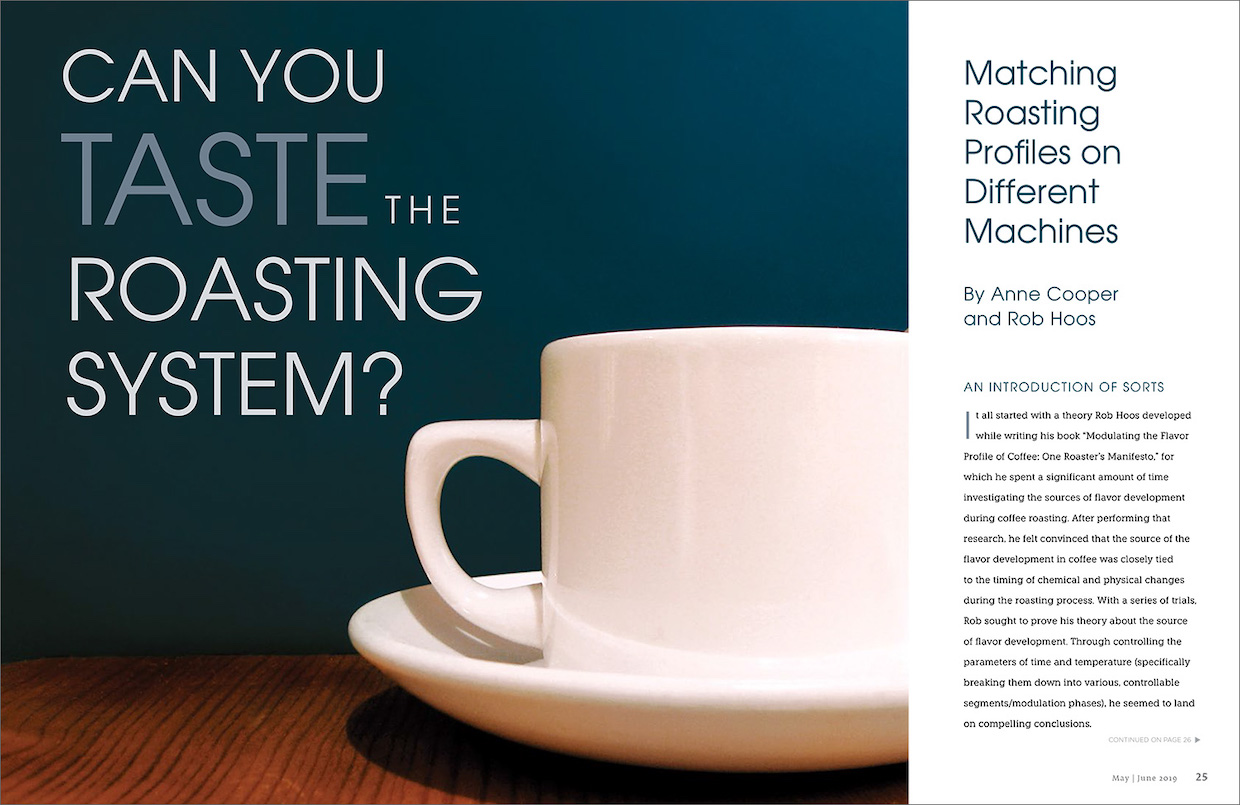 In "Can You Taste the Roasting System? Matching Roasting Profiles on Different Machines," coffee educators Anne Cooper of Equilibrium Master Roasters and Rob Hoos of Nossa Familia Coffee share the research study they have been conducting over the past year, shedding light on the question of how roasting machines can impact the flavor profile of a given coffee. Here is an excerpt that explains the premise of this study:
The focus of this research was to explore whether coffee professionals would be able to taste the difference (via triangulation) between the same coffee roasted on three different roasting systems/machines, assuming that the roast, on all roasting systems, ended with the same whole bean and ground color, while matching the time at yellowing, time of first crack and end development time/ratio.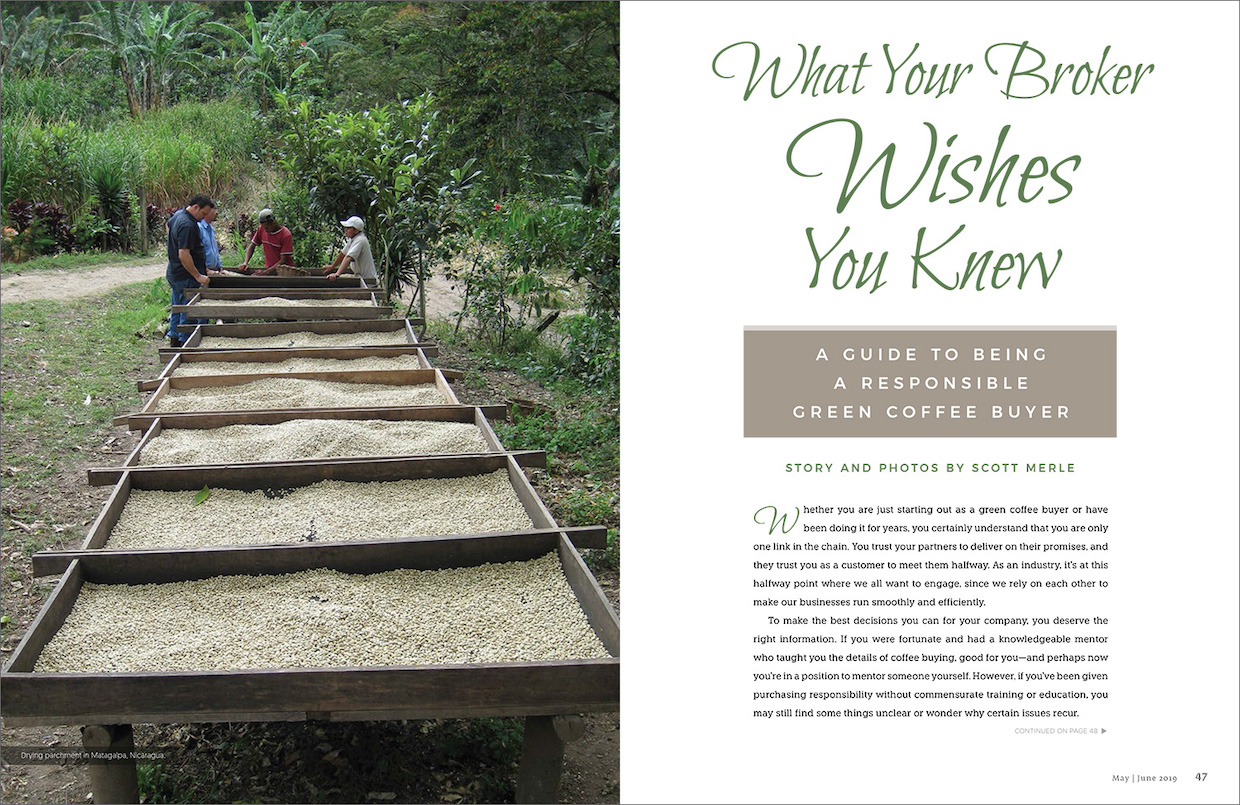 For new coffee buyers or those looking to learn more about the trade, "What Your Broker Wishes You Knew: A Guide to Being a Responsible Green Coffee Buyer" by Scott Merle of La Minita Coffee provides an honest and direct set of guidelines for being a responsible coffee buyer. Merle talks with a group of seasoned coffee importers and traders who share their advice and perspectives on items that are often overlooked or misunderstood when purchasing coffee through a broker.
By communicating the issue in a clear and direct way, your broker may be able to make adjustments to the current offer, or at least learn how to make a better offer next time. Clarity, as well as timely communication, are key to a successful and productive partnership with your broker. Coffees may come and go quickly, so your ability to make a swift decision can also be a great advantage.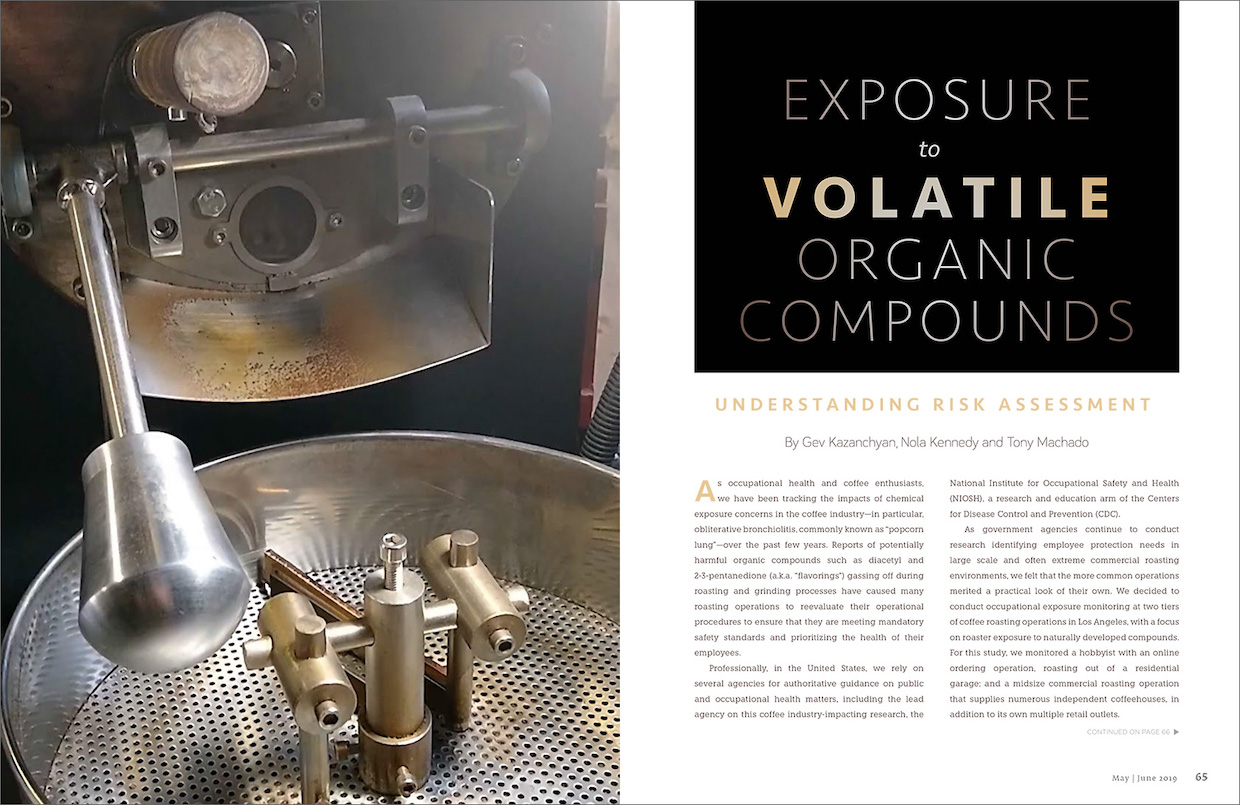 Many coffee companies are becoming increasingly aware of the dangers of chemical exposure in roasting plants, and the regulations that have been put in place to protect workers against the potentially harmful impacts of flavorings and fragrances. In "Exposure to Volatile Organic Compounds Understanding Risk Assessment," authors Gev Kazanchyan, Nola Kennedy and Tony Machado — occupational health professionals and coffee enthusiasts — provide a look at the data from an informal study of several roasting locations, both large and small, and shed light on what roasting companies need to know to protect their employees.
In reviewing the available literature, we noted that the level of risk being conveyed appeared somewhat disparate. Based on one's preferred choice of reference, stakeholders could just as easily become alarmed at the imminent hazards or rest assured into a state of confident comfort. Such a disparity can result in either unwarranted paranoia or catatonic complacency, so we determined to take real-world measurements, aiming to capture underrepresented portions of the community and turn our attention to a broader perspective beyond flavorings.
Colleen Anunu and Parker Townley of Fair Trade USA shed light on what's happening with coffee prices and how the crisis is impacting coffee producers. Read more from "Coffee Prices in Crisis: Price Discovery Beyond the 'C' Market":
All actors, from producer to the end retailer, seek to maximize profits. A core component to this strategy revolves around minimizing the cost paid for a good while maximizing the selling price. For many roasters, this means a driving factor for securing business requires offering a product at a lower price than competitors. This, in turn, leads to downward pressures on costs paid to actors throughout the supply chain and can have especially negative impacts on producers already feeling the squeeze of low market conditions.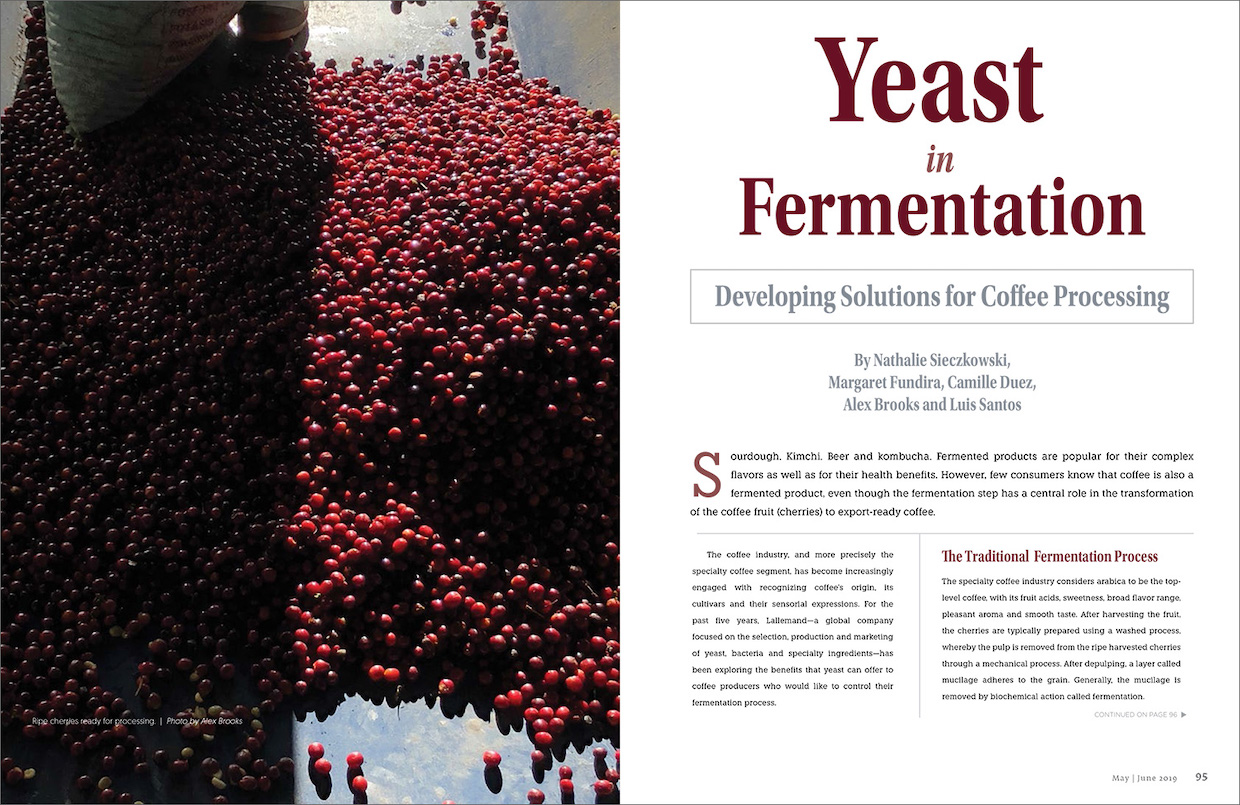 In "Yeast in Fermentation: Developing Solutions for Coffee Processing" by Nathalie Sieczkowski, Margaret Fundira, Camille Duez, Alex Brooks and Luis Santos of Lallemand — a company that specializes in the development and production of yeast, bacteria and other specialty ingredients — readers will learn about various solutions for coffee processing that are being utilized during the fermentation phase.
Inoculation with active dry yeast ensures that we overcrowd the processing environment with a specific selected yeast, the impact of which has been well studied and determined to be beneficial to the coffee. For these selected yeasts, we can predict the potential effects to the flavor of the coffee with reasonable confidence, assuming specific conditions are met during processing. This mitigates the risks that can come with uncontrolled fermentation.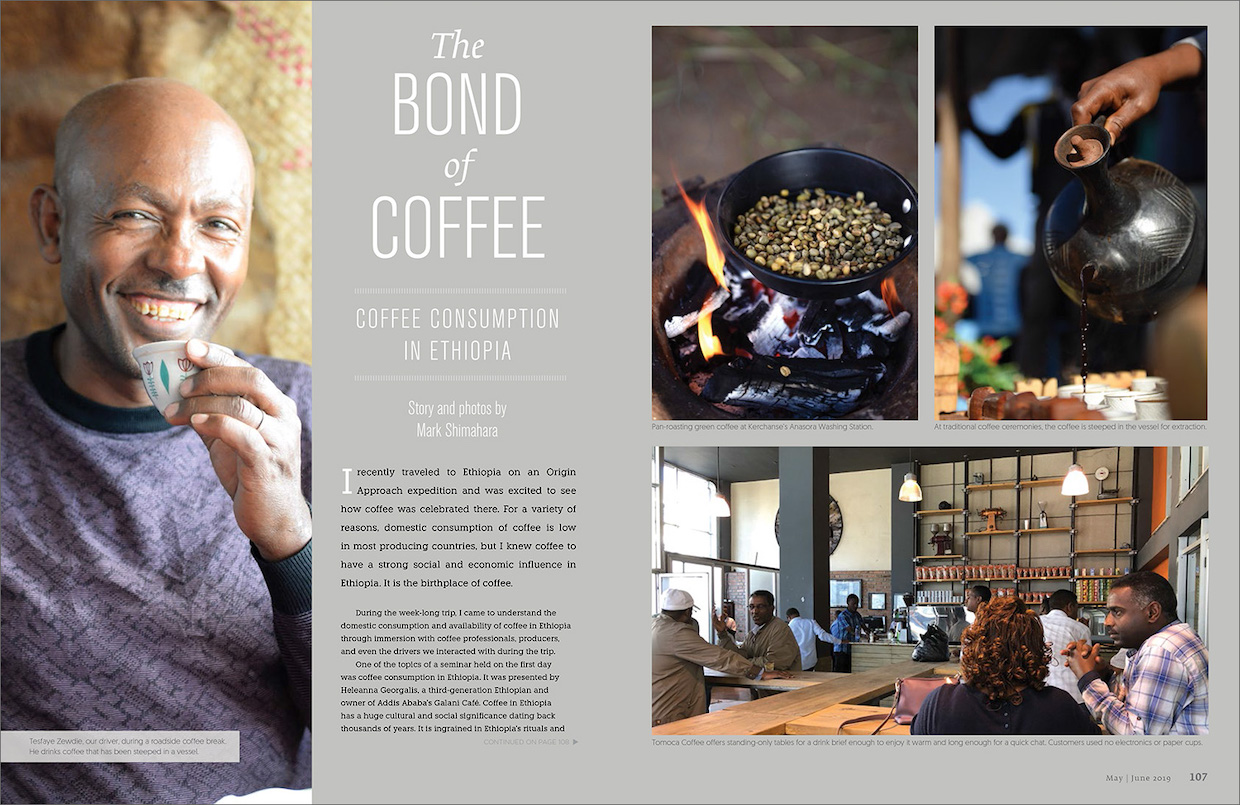 In "The Bond of Coffee: Coffee Consumption in Ethiopia," Roast photographer Mark Shimahara gives readers a peek into the social and economic influence of coffee in producing countries, as observed on his recent expedition with Origin Approach.
In Ethiopia, there is clearly a domestic demand for coffee. Despite having one of the lowest gross domestic products (GDP) per capita of coffee-growing regions, around $500 USD, Ethiopians drink about 200 cups a year. Simultaneously, as Ethiopian coffee quality improves, international demand for all grades of coffee increases, including those intended for domestic consumption. This limits the coffee available for the local market.
Features
Can You Taste the Roasting System?
Matching Roasting Profiles on Different Machines
What Your Broker Wishes You Knew
A Guide to Being a Responsible Green Coffee Buyer

Exposure to Volatile Organic Compounds
Understanding Risk Assessment
Coffee Prices in Crisis
Price Discovery Beyond the "C" Market
Yeast in Fermentation
Developing Solutions for Coffee Processing
The Bond of Coffee
Coffee Consumption in Ethiopia
Columns
From the Publisher

News Item
Coffee on the Brink: The Fight to Save Puerto Rico's Coffee Industry
Technically Speaking
Coffee Grinding, Particle Size and Measurement
The Coffee Review
New England Coffee Roasters: Embracing (and Reinventing) Tradition
Flamekeeper
Sonja Björk Grant: Building a Career in Coffee
First Crack
Hot Products & Fresh Press