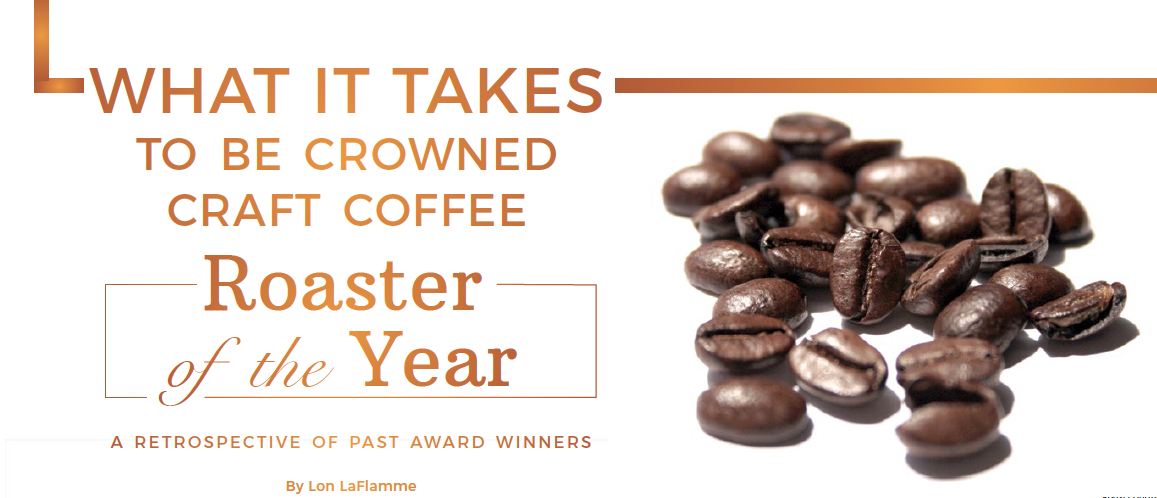 (Editor's note: This article by Lon LaFlamme originally appeared in the July/August 2019 issue of Roast Magazine. Links have been added for context.)
Simply put, do you have the vision, fortitude and follow-through to compete for what is often called the Academy Award of craft coffee in the specialty coffee industry?
Among the pantheon of America's most respected micro and macro roasters, many have competed for this honor in its 15-year history. Having been involved in the submission process with two winning roasters in the past, I was compelled to learn more about the story behind Roast's Roaster of the Year award and how it came to be.
"We created the Roaster of the Year award in 2004 to celebrate the craft of roasting coffee," explains Connie Blumhardt, founder and publisher of Roast. "This award goes far beyond a great roasted coffee. It also takes an in-depth look at the company. Transparency is vital to selecting well-rounded winners each year."
The stringent criteria ensure relevance in today's highly competitive and mature craft coffee roasting industry. Each submission must prove the depth, and challenge each specific criterion, including:
Company mission
Company's commitment to sustainable practices
Commitment to employees and educational practices
Commitment to diversity, inclusion and equity
Quality of coffee as evaluated by experts
Commitment to and involvement in the industry
Innovations in roasting, marketing and business practices
Roast selects a Roaster of the Year winner annually in two categories — the Micro Roaster category, for companies that roast less than 100,000 pounds per year; and the Macro Roaster category, for those roasting more than 100,000 pounds per year.
Both of this year's winners will enjoy a full-length feature story, appearing in the November/December issue of Roast. They will also receive a $500 cash award, plus a web page on Roast's website for the year.
Applications for the Roaster of the Year competition are due in July each year. The first step in the submission process is the written portion. While writing the application is an arduous task, it is also an eye-opening experience. Roasters have to look deeply into who they are and why they do what they do.
Do they live their mission statement 365 days a year?
How do their sustainable practices stand out?
Are employees learning about the specialty coffee industry on an ongoing basis?
Are the coffees they roast offering the depth and experience of their roastmaster?
Roast conducts an in-depth analysis, while keeping a close eye on the roaster's industry reputation.
Once three finalists have been selected in each category based on their written applications, they move on to the coffee portion. Finalists send three 1-pound bags of roasted coffee to two different cupping labs for evaluation using Specialty Coffee Association (SCA) protocols.
In order to keep everyone on the same playing field, finalists must send fully roasted, not sample-roasted, coffees. One is a production roast, a coffee that is offered year-round and is produced as a regular part of the roaster's offering list. The second coffee must be a blend but should not be espresso-specific. The third bag is a wild card — the roaster's choice of the company's best coffee.
"Coffees are judged on aroma, color, imperfections and flavor profile," adds Blumhardt. "Each of the coffees is blindly judged by two panels of professional coffee cuppers."
After the coffees are cupped and scored, that number is added to the written application score. The company with the most points is named Roaster of the Year. The competition is fierce and draws applications from all over the world. The Macro and Micro winners selected each year prove that they not only roast a great coffee but are also great companies.
To best understand the richness of what it takes to win, we have selected four past recipients to highlight what earned them this honor. In unique ways, they each illustrated the growth and success seen from past winners. While this is not intended to be a ranking of any sort, each of these companies had a compelling story and continue to be relevant in today's specialty coffee industry.
Bird Rock Coffee Roasters —  2012 Micro Roaster of the Year
The story of San Diego-based Bird Rock Coffee Roasters resembles that of many roasters in the industry, starting with a passionate individual who got into roasting coffee at home. In the early 2000s, Chuck Patton, a community college teacher, received a small home coffee roaster from his wife, Elke. He purchased green beans from Sweet Maria's and began to experiment. Patton was inspired to purchase a 1-pound air roaster and, before long, he was selling his coffee at local farmers' markets on weekends.
Patton was self-taught for the most part, valuing trial and error as a way to move forward. He finally made the next big step in opening a retail location in Bird Rock — a pass-through neighborhood between the communities of La Jolla and Pacific Beach in the San Diego area. While it had several established businesses, it wasn't an ideal spot for retail.
In a brave move, Patton located his retail shop directly across the street from Starbucks. He had a strong conviction that the quality of his coffee and his community engagement would stand out. He was right on target, and quickly created a strong following.
Patton was involved in the Bird Rock community, being active on the city council, as well as building his wholesale business by delivering coffee to people's homes. Since its 2002 start, the company has also supported local and global initiatives outside of coffee, with causes ranging from multiple sclerosis and cancer to helping empower homeless children in Peru, India and South Africa.
To bring the San Diego coffee community together, Patton organized the SoCal Barista Pour-Over Challenge during the 2011 Coffee Fest in San Diego. Eight Southern California roasters and 14 baristas took part in the friendly competition. Inviting specialty coffee pioneer Martin Diedrich, owner of Tustin, California-based Kean Coffee, to be a judge showed the coffee community Patton was serious about continued growth in both the industry and community.
Each time he purchased a new roaster, Patton had to re-evaluate his roast profiles. By early 2011, Bird Rock had installed a more efficient Loring roaster and afterburner. This cut the company's gas consumption by nearly 15 percent per month while increasing its per-batch capacity.
Bird Rock had a strong sustainability story to tell when submitting its written portion of the Roaster of the Year application. By 2008, Patton had moved into direct trade, which is not a simple undertaking — especially on a micro level, as it can be difficult for farmers to arrange setting aside five bags of their best coffee. Around this time, he went on his first sourcing trip to Tolima, Colombia, and started buying from small, independent farmers who weren't necessarily certified but didn't use weed killers, or who used fertilizer but not pesticides.
Cultivating friendly relationships with importers and exporters made it possible for small quantities to be set aside for him. Since then, Bird Rock has developed sustainable direct-trade relationships with farmers in Guatemala, Nicaragua, Panama, Colombia, Ecuador and Bolivia. Bird Rock was one of the pioneers in developing farm-direct relationships, outside the Fair Trade USA system, while giving farmers additional capital for infrastructure improvements. The farmer and co-op receive a higher rate to separate the lots, then Bird Rock pays a per-pound bonus to the farmer based on how well the coffee scores once it arrives at the roaster.
In 2017, five years after winning the Micro Roaster of the Year award, Bird Rock merged with PT's Coffee (2009 Macro Roaster of the Year winner), making the now-combined entity the only two-time winner of this award. Bird Rock's objective to grow the retail business was reached with this merger.
Jeff Taylor, who took on the role of President for Bird Rock, shares how winning Roast's Roaster of the Year has impacted the brand and coffee sales: "The Roaster of the Year Award really boosted our sales and visibility in the industry, with both our current customers as well as new business prospects." Taylor adds that the award has provided an immediate sense of trust in the company's quality and sustainability efforts, as well as respect and recognition from the industry.
Equator Coffees — 2010 Macro Roaster of the Year
Co-founders Helen Russell and Brooke McDonnell of San Rafael, California-based Equator Coffees decided to take on the ambitious goal of understanding what it takes to produce world-class coffee from the ground up in 1995. They wanted to experience fresh insights into the challenges, risks and rewards of coffee production.
The 2010 Macro Roaster of the Year winner's leadership felt the need to close the loop on coffee quality by owning their own coffee farm. Working with coffee consultant Willem Boot, Equator purchased a 19-hectare parcel in the highlands of Panama called Finca Sofia. At approximately 2,000 meters above sea level, the farm has rich, fertile volcanic soils from nearby Volcán Barú, offering ideal conditions for coffee cultivation. Equator had time to work out many kinks along the way, as it took three to four years after planting 25,000 Gesha coffee trees before they would see their first harvest.
Equator already had a reputation as an elite purveyor of specialty coffee before Russell and McConnell started their Finca Sofia venture. They too had started operating as a small, garage-based roaster, evolving into a successful coffee and tea business in San Rafael boasting 18 full-time employees. Before they joined forces, Russell and McConnell both owned espresso bars, but found it difficult to get information from local roasters. They shared a commitment to outstanding quality and full transparency for their coffees. That meant sharing all the information they learned at origin, as well as working in retail themselves.
"In the early years, consumers were pushing for consistency in anything they ordered, with a strong desire to find things fresh or in season," says Russell. "Equator put forth the idea of seasonality, helping people understand and embrace it."
Equator was innovative in pushing seasonality with the advent of vacuum packaging for green beans. They viewed vacuum packaging as the pinnacle of quality protection. While it sounded counterintuitive at the time, it preserved the unique flavors of seasonal green coffees for several months and offered the ability to sell the idea of short-shelf-life coffees. Some coffees had such a short shelf life that people would catch wind of a promotion only as it was dying down, but by using vacuum-packed beans, the company could offer the best coffees at their peak and get people excited about them for a longer period of time.
David Pohl, Equator's head roaster at the time, was instrumental in both the San Rafael headquarters and Finca Sofia. He had been in the coffee industry for seven years when Equator hired him away from his job as a certifier for Fair Trade USA (then TransFair USA). With a strong appreciation for the challenges that farmers face, Pohl had an important level of understanding as he stepped into his position at Finca Sofia. (Pohl is currently the principal in Pohl Coffee Consulting.)
Equator reached beyond its own coffee farm, pursuing long-term, direct-trading relationships with most of its coffee suppliers. These quality initiatives at the farm level focused on Latin American farms, with the goal of giving these farms the resources to produce higher-quality coffee. This was a win-win for both participants — better premiums for the grower and better coffee for Equator.
Initiatives for growth and enrichment were also carried out at home. Equator developed an extensive, ongoing employee training and education program. It was also a certified Bay Area Green Business in recognition of its innovations in energy and water use.
Both Russell and McDonnell sat on the advisory board for Hawkeye Brewing System. While it wasn't produced until two years after their Roaster of the Year award, it offered brewing technology using microbursts of compressed air to create turbulence during the steeping process.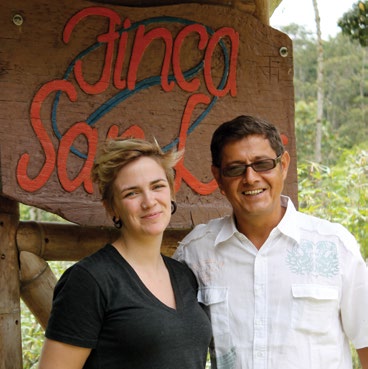 Gimme! Coffee — 2013 Macro Roaster of the Year
What does a wedding DJ and auctioneer have to do with specialty coffee? A lot, if you happen to be Kevin Cuddeback, former CEO and owner of Gimme! Coffee, based in Ithaca, New York. By the late 1990s, he caught the coffee bug when he joint-ventured in cafe ownership. While the business didn't make it, he realized that coffee was his future. "At that point, I knew I loved coffee, and people love great coffee, but I also knew I had to be a sole proprietor," he recalled.
This self-taught entrepreneur opened his first retail operation, a 10-foot-by-14-foot espresso bar, in 2000.
By the second year, he opened another location and a small-batch roastery. Cuddeback and Roastmaster John Gant focused on the minute details of air roasting on a pair of 20-kilo Sivetz fluid-bed roasters.
"In a way, it has come full circle, because our approach to roasting is now influencing the way we prepare beverages. Our evolution isn't linear. It's constantly in flux," pointed out the company's then director of coffee, Colleen Anunu. [Editor's note: Anunu was recently appointed as CEO of the company after Cuddeback stepped down in January of this year].
When Gimme! Coffee won the Roaster of the Year award, the company had grown to seven retail locations, with three in New York City and four in upstate New York. It roasted more than 300,000 pounds a year in 2013, with 200 wholesale customers.
Anunu said Gimme! looks at direct trade as "relationship coffee," involving a team of people throughout the supply chain. More than 85 percent of Gimme!'s single-origin coffees are composed of relationship coffee, a 10 percent jump from the previous year. Gimme! Coffee works directly with exporters, importers and project managers they trust, building relationships to source high quality coffee. "That includes building transparency and traceability, so that no one's hiding any information," Anunu noted.
By giving back, the company also realizes many benefits in the quality of the coffee it buys. Gimme! Coffee invests in coffee farms by paying high premiums for coffee. It prefinances the harvest, fund agronomy classes and support transaction to fixed farm costs.
While the company has sourced organic, shade-grown and fairly traded coffee since it started, it wanted to increase its footprint on sustainability. In 2006, Gimme! started collaborating with Professor Jason Hamilton, a global change biologist and sustainability educator at Ithaca College.
Hamilton's four-part platform helps the company in its decisions. Is it healthy for the business? For the individual? The community? The environment?
Following the four-part platform, Gimme! decided to renovate an existing farm in Ithaca in 2007, rather than build a new roastery. The company restored and renovated the outbuildings to use radiant floor heat, soy-based insulation, and passive solar gain. The company switched to 100 percent green-certified power sources the next year.
Being mindful of the environment, a composting program was developed in the Ithaca locations to reduce waste, diverting more than 95 percent of water stream away from the landfill. Following that transparency concept, when the company opened an in-house bakery, Gimme! gave the managers the latitude to source locally grown produce, flour, eggs and butter.
Gimme! Coffee is not just serving a cup of coffee; it is committed to offering excellent coffee and making a positive impact on the environment.
Portola Coffee Roasters — 2015 Micro Roaster of the Year
Science and technology came together to create a successful coffee roaster in Costa Mesa, California. When Jeff Duggan, the founder of Portola Coffee Roasters, graduated from college, he started working in the technology field. Influenced by local craft coffeehouses, he switched from drinking a "lousy cup of joe" during college to specialty coffees, and he was hooked. Specialty coffee became his hobby. He started roasting on almost every contraption available to him.
Duggan discovered that coffee also encompassed his other loves — science and technology. The home-roasting process forced Duggan to connect his senses with his palate. He started to understand how the changes on the roasting side translated to changes in flavor.
Life took a turn for Duggan in 2007, when his first son, Gabriel, was born with a heart defect. Late nights working in the tech world did not complement the surgeries, treatments and medical bills he and his wife, Christa, saw ahead.
With an unstoppable passion to roast, Duggan turned his hobby into a career. Full speed ahead, soon he was traveling around the country, learning from other exceptional roasters and retail operations. Within two years, he started roasting in the front of a bakery. Four years later, the Duggans opened the first Portola Coffee Lab roasting and retail location in Costa Mesa. They chose the brand-distinguishing word "lab" in their name because they use exacting scientific protocol in their roasting/retail operation.
Duggan found ways to use science and technology to improve both the quality and consistency of each roast. He noted that, in specialty coffee, a passion for precision roasting has to shine through — such as the sights, sounds and smells a roaster needs to understand — as much as repeatable, measurable variables.
Since the beginning, a visit to Portola Coffee Lab has been an educational experience. The Duggans found they needed to show the local community why their coffee tasted different. To help pass along this knowledge, they developed a "concept" coffee bar called Theorem. In the mathematical world, a theorem is a result that has been proven to be true. Two types of coffee service were offered at this six-seat table. The first service required a reservation. Those guests were led through a fixed-price menu of unique coffees, recipes and creations designed by the head barista, Truman Severson. Since that time, this service has changed, focusing on consumer coffee and espresso training courses.
The second coffee service at Theorem was a walk-up brew bar offering a rotating menu of boundary-expanding coffee drinks. Dugan has always viewed Theorem as a playground for pushing the envelope and ongoing experimentation. It is reminiscent of a lab, complementing the name of the roastery.
Fortunately for Duggan, roasting has changed from his early days experimenting at home. Commercial roasters record every detail of every roast and find correlations between variables. But it is much more than just the machine. Handcrafted roasting involves close roaster oversight and expertise to control variables, including ambient temperature, humidity and green bean variance.
Duggan thrives on the process and complexity of the roasting process. This way of thinking makes Southern California's ultra-stringent air quality standards a project to embrace. He customized his roaster with a burner that uses less natural gas and emits far less nitrogen oxide than most roasters. While environmentally sound, these actions also contributed to bottom-line savings.
He also tinkered with technology to create a cloud-based learning management system. This training system customized the content, tested comprehension and retention, and monitored the performance of every trainee.
Duggan relied on importers initially. In 2015, Portola Coffee Lab bought 95 percent of its coffee through direct-trade relationships, a high percentage for a small company.
With Jeff traveling 12 times each year to coffee-growing regions, the Duggans also wanted to focus on quality improvements for both roaster and farmer. Their goal was to see improvements in struggling farmer livelihoods by paying more than fair-trade prices.
He realized that an output of 85,000 pounds annually would make it difficult to reach the company's goal of seeking high-rated specialty coffees. The Duggans developed a sourcing partnership with two other Southern California roasters: Mike Perry of Klatch Coffee and Chuck Patton of Bird Rock Coffee Roasters. The trio created a fitting name, Roasters United. Their mission was to develop a "transparent green bean buying protocol to help them secure top micro-lots while providing incentives for small farmers to improve their coffees."
They set up a price-based incentive for farmers. By partnering with a Colombian green coffee buyer at the start, they created a tiered pricing setup, guaranteeing certain prices for certain quality levels for farms in specific regions. They also held a contest, offering 3.6 million pesos — approximately $1,800 U.S. dollars at the time — in prize money to be divided to the producers with the top scoring coffees.
"We approach each coffee individually but also scientifically to create the best possible coffee served at Portola Coffee Lab," Duggan says.
The coveted Roaster of the Year is the apex of awards to help propel your reputation and potentially your bottom line. Go for it!
[Editor's note: The deadline to apply for the 2021 Roaster of the Year competition was July 27, 2020. Winners will be announced in the November/December 2020 issue of Roast.]
________________
Lon LaFlamme is a branding and business development consultant specializing in the specialty coffee industry. He has an intimate knowledge of the Roaster of the Year competition, having had an integral part in submitting the written portion of the application for two winners, including 2019 Macro Roaster of the Year, Peerless Coffee & Tea.