Going to Starbucks today? There's a fair chance your neighbor may be packing heat.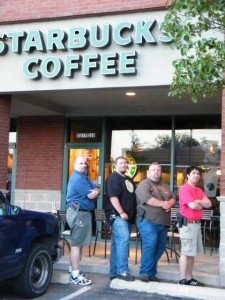 As a "thank you" to the Starbucks corporation for not taking action to ban guns in its stores in the 43 U.S. states with open carry laws, a group of gun rights advocates have called this day, August 9, Starbucks Appreciation day. To celebrate, thousands of consumers have vowed to carry their guns into their favorite 'Bucks location. From the group's Facebook event page:
Starbucks is allowing us to lawfully carry firearms in their store. Recently, they have been the target of unjust attacks from certain groups that do not support our right to bear arms. We will thank starbucks for standing up for our right to bear arms by going there on Friday, August 9th.

We ask that if you choose to carry a firearm during this event that you follow all local, state, and national laws; and if you choose not to carry that you wear pro-gun rights apparel.
The "unjust attacks" referenced come from a group called Moms Demand Action (for gun sense in America), assembled after the Sandy Hook shootings, which has recently petitioned the company to ban gun from its stores. From their petition:
They've banned smoking to protect the health of their customers, even in areas where smoking would be legal. Yet they've recently allowed armed rallies to take place inside their stores, including in states where people can carry weapons with minimal or no training.

Tell Starbucks that it's time to take the safety of your children and family as seriously as you do. Demand that they prohibit guns in all their stores nationwide.
The Newtown Action Alliance, also formed after Sandy Hook and led by the victims' families, has been outspoken against the Starbucks Appreciation Day event. David Ackert, a spokesman for the group, told NBC Connecticut, "Our community is still healing and we find it reprehensible that they are picking Newtown to rally. It is disturbing to think that tomorrow night you and your children may be sitting in Starbucks when people carrying guns walk through the door."
Nick Brown
Nick Brown is the editor of Daily Coffee News by Roast Magazine.