By Emily McIntyre of The LAB
Growing up in the coffee-saturated Northwest, Melody Harwell lied about her age to get her first barista job at 16.
"The barista trade was attractive to me because there was a respect given that you couldn't get working waitressing jobs," says Harwell, who has since dedicated her professional pursuits to coffee and now owns Coffee Slingers in Oklahoma City. Harwell's coffee journey has taken her around the world, including years in Southeast Asia and Hawaii, where she eventually opened her own shop in Kauai. "It was a pop-up shop with an open floor plan, in the old farmer's market at Kapaa town," she says.
Harwell opened her first shop, Small Town Coffee, after she was inspired by a visit to Southeast Asia, where she saw the passion that the street vendors put into their own modest operations. "People were doing what they love everywhere, from noodle shops to fruit stands," says Harwell. "It became visually clear to me that it was possible to have my own business."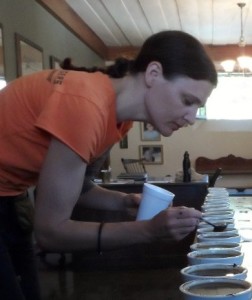 When Harwell lived in Hawaii she visited a coffee farm for the first time, another formative experience in her coffee career. Years later, retelling the story still brings tears to her eyes — the farm was just up the hill from her shop, and she remembers sitting on the porch with the farmer's mother, talking for hours while taking in the scenic beauty of flowers of the farm. Harwell currently engages in direct trade as much as possible, and anticipates eventually spending 85 percent of her time at origin. She also places a high priority on her staff going to origin.
Coffee Slingers came about after Harwell stopped in Oklahoma City to visit her mom after living in China for a while. Seeing a big opportunity in the city for specialty coffee served with love, she buckled down and opened her shop in 2008. "I think it is the engagement that draws customers in," she says, adding that her role is beginning to transition into mentorship. "Right now I'm really enjoying feeding knowledge to the crew and watching them develop, grow and become confident in their positions."
As a coffee industry veteran, Harwell delights in continually learning more about coffee and inspiring others on the subject. Coffee Slingers' roasting philosophy reflects this persistent pursuit of education, noting that the roaster is often just a vessel for the coffee:
We use time, temperature, sight, smell, sound and taste to guide us through the roasting process. These seeds teach us something new every day. New origins and new crops, we have to take the time to understand each coffee to find the roasting profile that will bring out the nuances of the terroir of each origin.
Emily McIntyre
Founder and CEO of Catalyst Trade, Emily McIntyre is a serial coffee entrepreneur and journalist focused on re-inventing specialty coffee sustainability. Based in Portland, Oregon, Emily has lived in Ethiopia and consulted in nearly every aspect of the coffee supply chain from farm to the cafe. Learn more at www.catalyst-trade.com.