This Sunday, Nov. 10, in Greenpoint, Brooklyn, coffee is shining its shoes, hiring a babysitter, and stepping out for the night.
The inaugural Coffee's Night Out event — a kind of cafe crawl that has a dual focus on coffee and pop-up art — is being presented by Chérmelle D. Edwards. On her personal site smdlr.com, Edwards has been beautifully chronicling New York coffee spaces and the people therein. The popular local blog Greenpointers is also presenting the event, which includes eight sponsoring coffee shops throughout the neighborhood, each of which will have a unique pop-up art program.
The event is free and attendees are encouraged to visit as many participating coffee shops as they like. Here is a handy reference map, and below it, a complete schedule of events and more information on how to join in.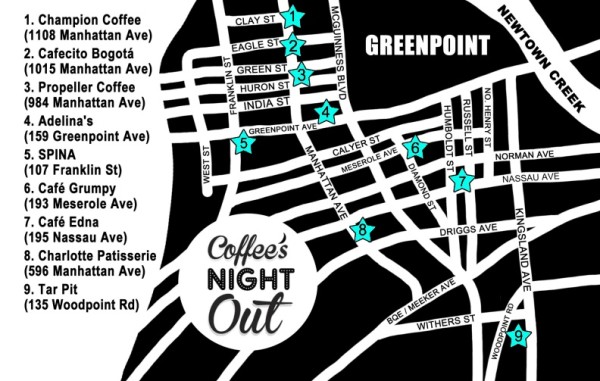 1. Champion (1108 Manhattan Ave) will be serving complimentary Fall beverages, plus small locally sourced bites like Peter Pan donut bread pudding and savory toast with local mustard & pickles.
Coffee Served: Champion
2. Cafecito Bogotá (1015 Manhattan Ave) Jazz performance by Charley Sanchez plus poetry.
Coffee Served: Gillies
3. Propeller Coffee (984 Manhattan Ave) will have live Mad Men models sit for portraits. Come and draw art department style. Pens, pencils and drawing pads provided.
Coffee Served: Parlor Coffee
4. Adelina's (159 Greenpoint Ave) will feature a projected Art Installation by Gabrielle Muller.
Coffee Served: Blue Bottle Coffee
5. Spina (107 Franklin St) will present a musical acoustic set at 6:15pm by Gordon Kenny – "Blue Eyed Soul on a Vintage 80's Keyboard," followed by a musical acoustic set at 7:15pm by Rob Bellcycle – "Acoustic Indie Folk meets hyperactive unicorn meltdown. Come for the cello, stay for the tears."
Coffee Served: Blue Bottle Coffee
6. Café Grumpy(193 Meserole Ave) will present a group art exhibition: Brad Chaffin, Shinto Imai, Carrollann Oberhansly, Shaak Shatursun, Liam Singer, Caroline Bell, Cheryl Kingan,  Danie Drankwalter.
Coffee Served: Café Grumpy
7. Café Edna (195 Nassau Ave) will present a spoken word series followed by a musical performance. 5:25pm, Personal Poems by Ebony King; 5:35 p.m, Joe Kenneth Musseau: Tales of a Troubled Romantic; 5:45 p.m, Poems by Julien Othniel, (Creative Director The OG Studios); 6-7:30pm Acoustic Set by Angela Reed.
Coffee Served: Toby's Brooklyn
8. Charlotte Patisserie (596 Manhattan Ave) – Dessert specials and a Vintage Fashion Pop-Up.
Coffee Served: Counter Culture
9. Tar Pit (135 Woodpoint Rd) will feature spoken word, art and musical performances. 5:30pm Book Reading "Coffee Aha" by Robert Galinsky; 6:30pm Poetry Reading by Arielle Heyman; 7:30pm Live art creation by New York artist Marbella Celeste; 8:30pm Acoustic Set by Musician Jesse Cohen.
Coffee Served: Ploughshares
Social Media info:
For Twitter: @coffeesnightout, @greenpointers
Instagram: @coffeesnightout, @greenpointers, @ilovesmdlr
Official hashtags: #coffeesnightout and #CNO.
Nick Brown
Nick Brown is the editor of Daily Coffee News by Roast Magazine.