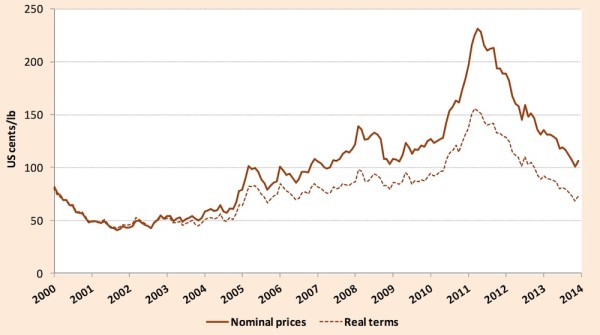 Commodity coffee prices rose slightly in December 2013, yet remain at their second lowest point this year after decreases in nine of the past 12 months, according to the latest numbers from the International Coffee Organization.
The ICO composite indicator price increased in December by 5.5 percent to 106.56 US cents/lb. The annual average composite indicator price for 2013 was 119.51 US cents/lb., down nearly 24 percent from 2012 and at the lowest level in four years, causing many farmers throughout the world to struggle to break even or to abandon crops. 2013's commodity price meltdown is widely attributed high prices in 2011 that caused major upticks in plantings from giant producers Brazil and Colombia.
While the tail end of 2013 saw consistent and dramatic decreases in the price of commodity coffees, market analysts suggest that prices will rebound some in 2014, as leaf rust continues to decrease output throughout Central America and as Brazil is expecting an "off-year" crop of 49.15 million bags, although the ICO forecasts an "off-year" record high, just 3.3 percent lower than 2012/13's bumper crop year.
The ICO predicts little relief for coffee producers in the short term, but suggests prices should improve as the 2013/14 crop year continues, saying, "With certified stocks on the London futures market approaching record lows, and consumption continuing to grow at around 2.4% per year, demand for coffee remains buoyant and should provide potential for further growth in the longer term."
Nick Brown
Nick Brown is the editor of Daily Coffee News by Roast Magazine.