(press release from Counter Culture Coffee. Claims not verified or endorsed by Daily Coffee News)
Durham, N.C. – Counter Culture Coffee, the beloved North Carolina-based roaster, is offering St. Jude Project coffee, in collaboration with The Avett Brothers, to benefit St. Jude Children's Research Hospital®. Through Feb. 28, $10 from the $16 purchase price of each 12-ounce bag will go to help the hospital's lifesaving work. Stunning artwork on the coffee's packaging—designed by the band's banjo player Scott Avett—depicts a portrait of St. Jude with his nickname "Thaddeus" splatter painted over it. Pacific Bag donated coffee bags for the project, and Logo Label Printing provided the labels at no charge. Sales of the coffee will help St. Jude continue to lead the way the world understands, treats and defeats childhood cancer and other deadly diseases.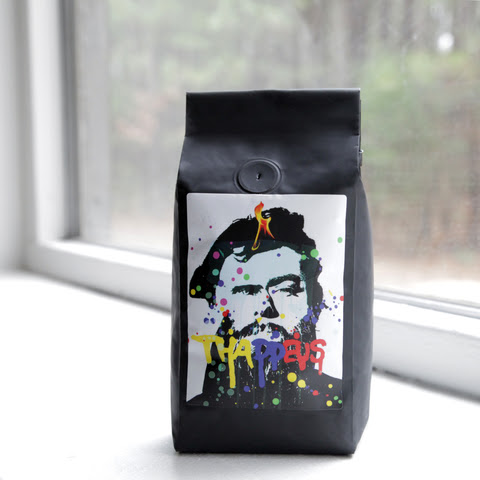 The relationship with St. Jude began with The Avett Brothers' bassist Bob Crawford, whose daughter, Hallie, was diagnosed with cancer in 2011. After seeking the best treatment for Hallie, Crawford and his wife were days from traveling to a special hospital in Florida when they learned from their insurance company that it would not cover her treatment. Hallie is now undergoing treatment for brain cancer at St. Jude, where no family receives a bill for treatment, travel, housing and food. Now, the Avett family, band and incredibly supportive fans work together to support and raise money for St. Jude and to help share news of the hospital's life-changing work.
The Avett Brothers have long been fans of Counter Culture Coffee, and the two groups joined together to launch St. Jude Coffee fundraising initiative and support this very important cause.
The St. Jude Project Coffee is warming and comforting, with notes of sweet chocolate and a smooth body. The coffee was born through Counter Culture's La Frontera project, which works directly with small-scale farmers in Northern Peru who produce exceptional, delicious organic coffees. La Frontera means "the Border," and all of the project's coffees are from the mountainous northernmost border area of Peru. The coffee is available on Counter Culture's website.
About Counter Culture Coffee
Founded in 1995, Counter Culture Coffee is the much-loved coffee roaster dedicated to finding and bringing to market the most exciting and delicious coffees in the world. The company's vision is to pursue coffee perfection by creating partnerships dedicated to environmental, social, and fiscal sustainability throughout the coffee chain, improving the natural environment and operating efficiently to minimize environmental impact. Counter Culture has eight training centers across the country including locations in New York; Chicago; Boston; Washington, D.C.; Philadelphia; Asheville, N.C.; Atlanta; and Durham, N.C., with a new training center and roastery set to open in Emeryville, Calif., in 2014. Served in some of the country's top restaurants, Counter Culture Coffee is available in coffee shops, specialty grocers and online at counterculturecoffee.com.
About St. Jude Children's Research Hospital
St. Jude Children's Research Hospital is leading the way the world understands, treats and defeats childhood cancer and other deadly diseases. St. Jude has the world's best survival rates for the most aggressive childhood cancers, and treatments invented at St. Jude have helped push the overall childhood cancer survival rate from 20 percent to 80 percent since we opened more than 50 years ago. St. Jude is working to drive the overall survival rate for childhood cancer to 90 percent in the next decade. St. Jude freely shares the breakthroughs we make, and every child saved at St. Jude means doctors and scientists worldwide can use that knowledge to save thousands more children. Families never receive a bill from St. Jude for treatment, travel, housing and food – because all a family should worry about is helping their child live. Join the St. Jude mission by visiting stjude.org or following St. Jude on facebook.com/stjude and twitter.com/stjude.
Nick Brown
Nick Brown is the editor of Daily Coffee News by Roast Magazine.