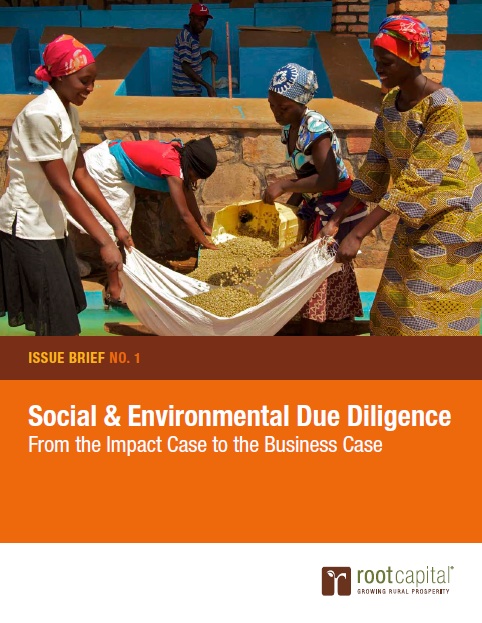 Root Capital is the most important organization in the coffee trade that most coffee drinkers have never heard of. The commercial finance it extends to coffee cooperatives in the "missing middle" of credit markets makes the trade work for smallholders; its innovations in financial advisory services, internal credit funds, clean technology and income diversification are pushing the outer bounds of innovation in the sector. Personally, I think of Root Capital as the Apple of non-profits working in coffee: always a few generations of innovation ahead of its peers. It has been justly recognized for its effort with just about every social entrepreneurial award out there.
Now Root Capital is pushing into new territory again, by making a strong business case for measuring something that isn't generally associated with the bottom line — the social and environmental performance of its clients. In a recently released issue brief, Root Capital says its investment in social and environmental due diligence has paid for itself by helping the organization avoid bad investments and identify good ones.
FROM THE "IMPACT CASE" TO THE "BUSINESS CASE"
Root Capital didn't start gathering information on the social and environmental performance of its prospective clients to make money, but to be true to its mission to foster social and economic change, and to demonstrate to donors and investors that it was making good on its mission. It didn't expect this dual due diligence to improve its bottom line. In fact, it accepted the common wisdom of the time, that it would lose the money it invested in social and economic assessments.
Root used the social and environmental information it gathered to make what it calls "the impact case" for a business model more explicitly focused on sustainability, one that serves the greater good. Now, 15 years later and on the basis of its experience with social and environmental due diligence, Root Capital is advancing "the business case" for a triple-bottom-line vision: one that serves the greater good and generates higher risk-adjusted returns.
An investment designed to do good has helped Root Capital do well because the social and environmental metrics it tracks are increasingly important to the financial success of agricultural enterprises.
Climate change is creating new challenges to production by intensifying the pressure on the earth's dwindling natural resources at a time when more and more anchor firms in agricultural chains are seeking to source more of their products from smallholder farmers. It is not enough, in other words, for smallholder rural enterprises to manage their books well. They also need to manage their natural resources in such a way that they will produce more tomorrow than they do today. And they need to build lasting relationships with the members who grow the products they bring to market. Root's investment in better understanding the social and environmental performance of potential clients has improved its financial performance in roughly equal measure in two ways — helping it avoid bad loans it would have made otherwise and identifying good loans it would not have made otherwise.
RISK MANAGEMENT: Avoiding losses
The principal financial argument for lenders to conduct any kind of due diligence is, of course, to evaluate the creditworthiness of potential clients. Root Capital identifies a number of specific cases in which it decided not to extend loans based on red flags that emerged as a result of its social and environmental due diligence — financial losses it likely avoided by asking questions unrelated to traditional indicators of financial performance.
INCOME GENERATION: Driving gains
Differentiation

Root Capital reports that several of its current clients have proactively sought to do business with the lender precisely due to its focus on social and environmental issues that square with their own missions. Root enjoys broad alignment with these rural enterprises on improving performance across all three aspects of their businesses: financial, social and environmental.
Growth

The social and environmental scorecards that Root Capital's loan officers apply in the field led them to look beyond financial statements and other traditional indicators of creditworthiness to find hidden sources of strength in the way smallholder enterprises related to their ecosystems and their communities. Where they might have rejected an application using a traditional scoring system, Root Capital has extended and profited from loans made to enterprises that have scored high on social and environmental management.
Business improvement

Root Capital reports that it has helped many of its clients improve their business through financial advisory services and fostering lasting trading relationships with leading buyers in the marketplace.
New products and services

Finally, Root Capital suggests that its multidimensional understanding of its clients has helped the organization develop new and profitable products and services to address their unmet needs: products, services and profits it would not have generated without the insights gleaned from social and environmental due diligence.
WHAT'S NEXT?
In publishing the issue brief, Root Capital is seeking to broaden the conversation around social and economic due diligence: it calls on other financial institutions to share their approaches and for the creation of a community of practice among banks with a triple-bottom-line focus.  The organization's founder, Willy Foote, has already engaged Citi in the discussion in this interview for Forbes.
In presenting its early findings on this issue, Root Capital reports: "In the coming months, we will be quantifying these benefits as part of a deeper analysis testing our hypothesis that there is indeed a business case for social and environmental due diligence in smallholder agricultural lending."  We look forward to it.
– – – – –
Donwload Root Capital's issue brief, the social and environmental scorecards its loan officers apply in the field, and a guide to the methodology behind the whole system here.
Michael Sheridan
Michael Sheridan is the Director of Sourcing and Shared Value at Intelligentsia Coffee. He also orchestrates the Extraordinary Coffee Workshop (ECW), an annual supply chain summit that convenes Intelligentsia's Direct Trade partners from around the world. Prior to joining Intelligentsia, Sheridan led coffee programming for the international development agency CRS for more than a decade. He is a member of the SCA's Sustainability Center Advisory Council, and has served as a volunteer advisor to the industry on sustainability issues since 2012.