February 2014 saw coffee prices worldwide shoot up after widespread concern about the 2014/15 crop from Brazil, by far the world's largest coffee producer, which is only now recovering from historic drought conditions during its growing season.
One result has been the rampancy of attention-grabbing headlines from consumer publications throughout the globe warning consumers of a coffee-pocalypse:
Bloomberg Businessweek: Heads Up, Coffee Junkies: A Cup of Joe Is About to Get More Expensive
South China Morning Post: Drought in Brazil means morning coffee to cost more
The Colombian: Brazilian drought could lead to worldwide coffee shortage
The Raw Story: Worst drought in Brazil in decades doubles the price of your coffee beans
Of course, none of these headlines are substantiated by data, or even anecdotal evidence from coffee industry insiders, suggesting that the drought in Brazil will have any actual impact on coffee prices at the consumer level.
The International Coffee Organization, which tracks prices of commodity coffees throughout the globe, does suggest that the drought in Brazil — and especially in the country's high-producing Minas Gerais region — could result in a small deficit for the 2014/15 global coffee crop, where it was previously expected to be at a record surplus. Additionally, the monthly jump in composite coffee prices in February — up 24 percent from January to 137.8 cents per US pound — was the highest single-month spike since 1997.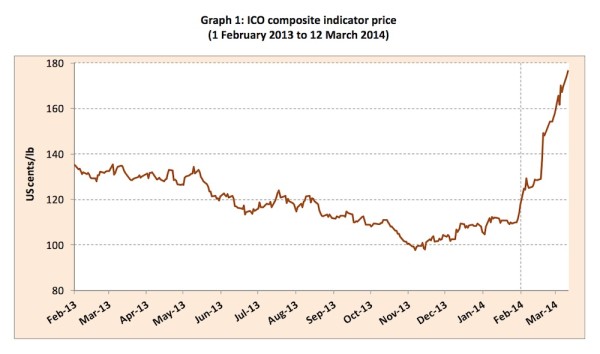 However, for some perspective, consider the fact that the current composite price is only the highest since November 2012, and that February's spike came after months of steady price declines in the latter half of 2013, followed by some minor upward movement in early 2014.
Long story short: While February's price spike was indeed historic and dramatic, it also represents a return to more historic norms after a brutally bad 2013. As of this writing, commodities experts were even suggesting that last month's price hikes are already beginning to reverse.
Of course, none of this volatility is good for anyone in the supply chain, right down to consumers. In its monthly report on composite coffee prices, the ICO tries to maintain some perspective:
Despite these price increases, it must be kept in mind that coffee prices are currently at roughly the same level as November 2012, and thus still a long way from the highs of 2011. Furthermore, the considerable price volatility exhibited by the market in recent months fails to benefit either coffee growers or consumers.
Nick Brown
Nick Brown is the editor of Daily Coffee News by Roast Magazine. Feedback and story ideas are welcome at publisher (at) dailycoffeenews.com, or see the "About Us" page for contact information.