On April 4, 2014, the final morning of the three-day Coffee Fest Latte Art World Championship Open, a subdued buzz filled the event space at Tokyo Big Site.
Two of the three judges, Barista Magazine's Kenneth Olson and Coffee Fest organizer David Heilbrunn, leafed through a Tokyo guidebook at the judging table. In the front row of around fifty chairs sat a group of baristas — one with an empty cup and pitcher in hand, pouring air lattes the way a boxer might punch at shadows.
But the focus was on the two identical La Marzocco espresso machines at the front and center of the competition. These machines prepare the espresso and steam the milk that allows for a very a particular sort of craftsmanship: the beautiful swirls and rosettas from a careful blend of coffee and milk – the patterns we associate with an expertly prepared latte.
Three days and 150 lattes later — after head-to-head battles between some of the world's most experienced latte artists and some talented upstarts being judged on speed, aesthetic beauty, definition, color infusion, and degree of difficulty/creativity — Tokyo crowned its first Latte Art World Open Champion: Junichi Yamaguchi of %Arabica in Kyoto.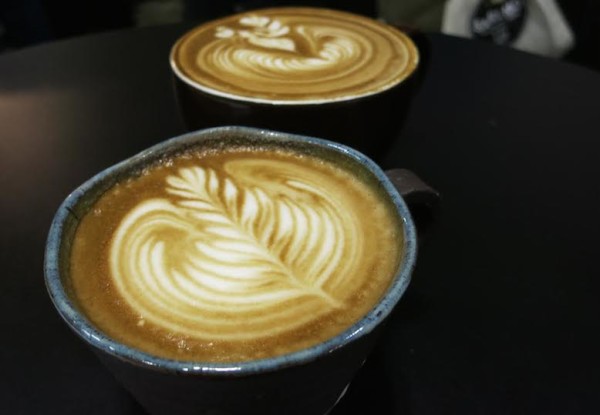 Coffee Fest regularly holds regional latte art opens at its U.S. shows, but this marks the first time the competition has been brought to Japan, which has become a world center for latte art, following the recent international successes among Japanese and Korean competitors in North America, Europe and Asia. Take Hiroshi Sawada, for example, who leveraged his success win at the 2008 Coffee Fest Open in Seattle to create Tokyo's well-regarded Streamer Coffee (which has a latte art-inspired logo).
Here are the complete inaugural World Latte Art Open finals results:
First place: Junichi Yamaguchi (%Arabica, Kyoto)
Third place: Nobumasa Shimoyama (Olie & Ari, Melbourne)
Fourth place: Naoya Akagawa (Turret Coffee, Tokyo)
Hengtee Lim
Originally from Australia, Hengtee Lim has been busy scouring the Tokyo food and coffee scene since he decided to call it home in 2012. On any given weekend, you can find him seeking out specialty coffee shops, roasters and good eats. Follow him at htreport.tumblr.com, and on Twitter at @hent03.