The Singapore Economic Development Board has created one of the wildest brewing units the world has ever seen: the hulking Coffee Connector.
Debuting at the Economist Big Rethink Conference on March 13, the Coffee Connector — including a bean hopper, an interactive touch screen, two water reservoirs a massive burr grinder — forces two people waiting for coffee to greet and share business interests and goal before it brews two cups. A built-in printer leaves personal information on each pair's coffee sleeves — think of the exchanging of business cards — as well as a friendly reminder to do business in Singapore.
(more: Video: Rage-Filled Woman with Telekinetic Powers Destroys Manhattan Coffee Shop)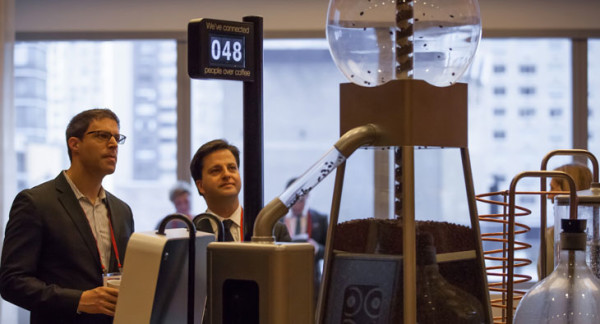 The EDB describes the Coffee Connector as the symbolic idea that Singapore facilitates connections between companies and business ventures. It is also designed to be a spectacle, a demonstration of Singaporean ingenuity. The EDB says the coffee is brewed by cup through "high-performance kinetic action," but looking at this thing, it is difficult to surmise what that means exactly.
(more: Douwe Egberts Vending Machine Awards Sleepy Patrons for Yawns)
EDB's partner agencies The Secret Little Agency (TSLA), StrawberryFrog and Tellart aided in the design, and the coffee came from Singapore-based roastery Highlander Coffee.
Here is the Connector in action in New York
Nick Brown
Nick Brown is the editor of Daily Coffee News by Roast Magazine. Feedback and story ideas are welcome at publisher (at) dailycoffeenews.com, or see the "About Us" page for contact information.