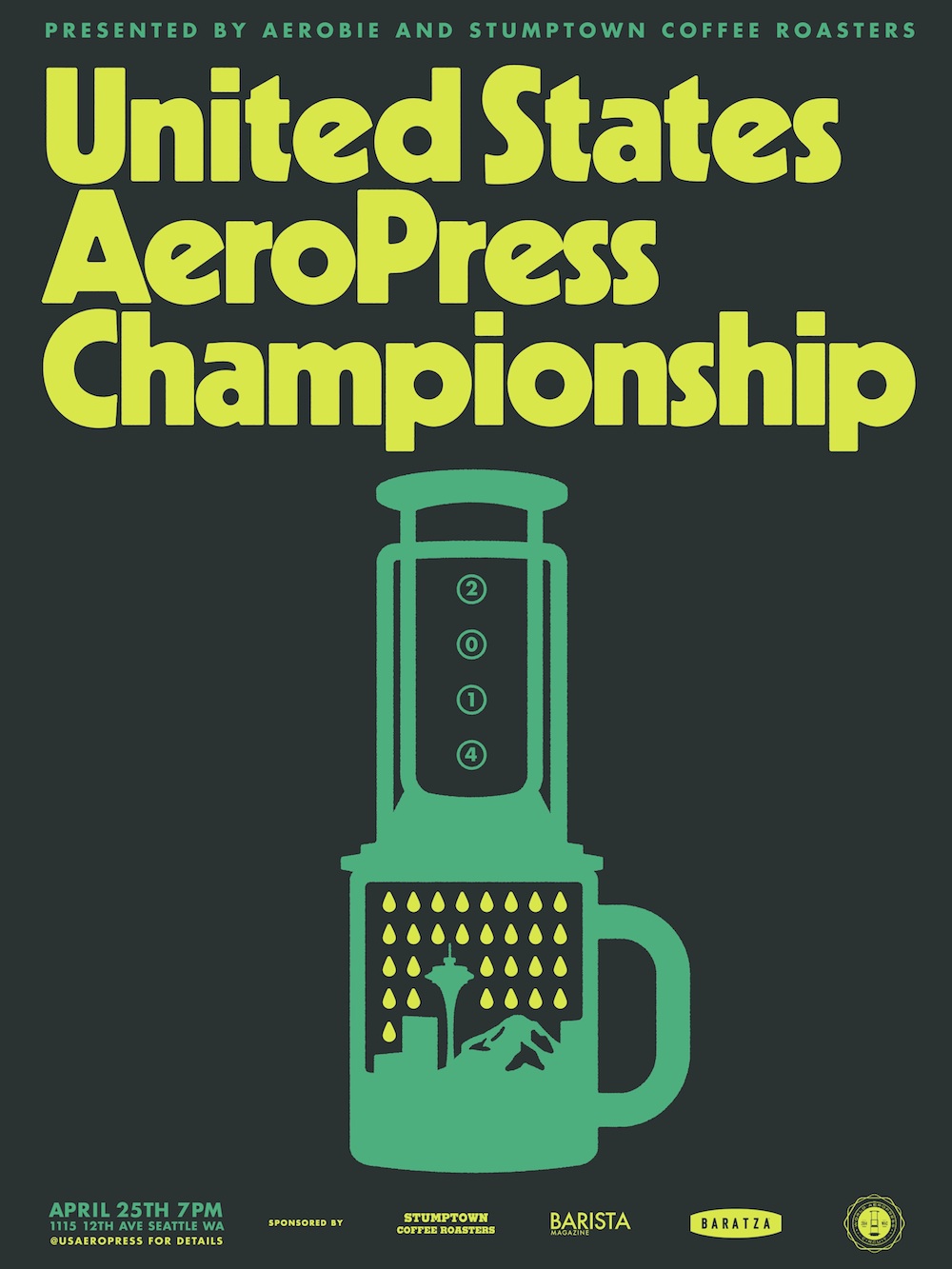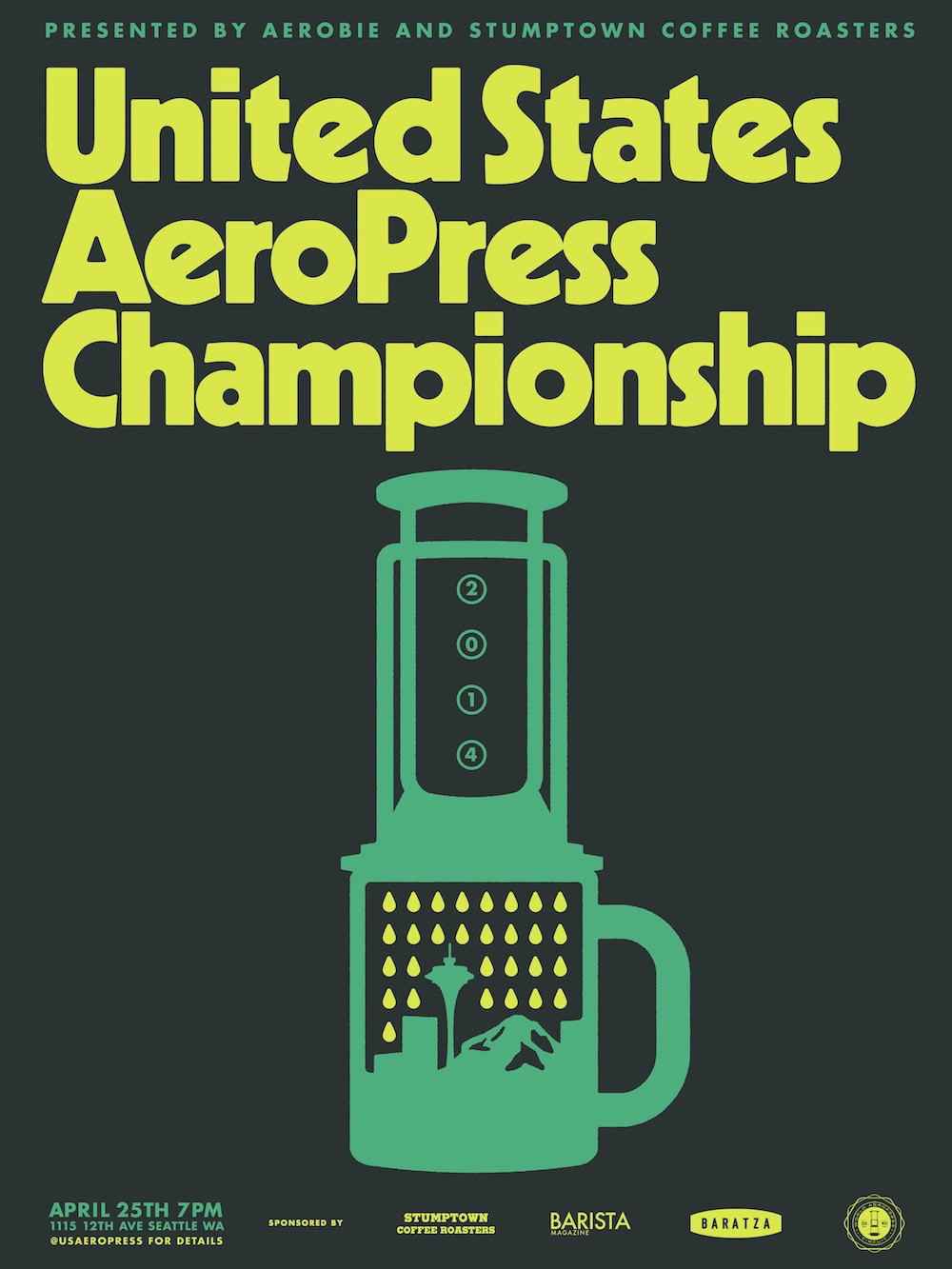 Now in its third year as a real thing in this country, the United States Aeropress Championship is coming to Stumptown's Seattle roastery at 1115 12th Ave. on Friday, April 25 at 7 p.m.
"We're excited this year that the competition is going to be at a party — for the first time in USAC history — which is the way it's meant to be," says organizer Brent Fortune of Brew Methods.
(more: A Slow-Motion Espresso Shot that Will Make You Feel Feelings)
This year, the U.S. is one of 16 nations hosting an Aeropress championship, a concept that began as a more casual get-together in Oslo, Norway, in 2008, led by Tim Wendelboe and Tim Varney. National champions now go on to compete at the World Aeropress Championship, which this year will be in conjunction with the Specialty Coffee Association of Europe Event and World Barista Championship in June in Rimini, Italy.
There will be eighteen competitiors at the U.S. Championship, with representation from the Eastern, Western and Central parts of the country. As of this writing, some spots still remained for competitors located in the Central and Southern United States (note: competitors must be U.S. citizens and must be able to travel to Rimini if they win). See the USAC website for more information.
(more: A Totally Biased Party Guide to SCAA 2014 in Seattle)
This year's USAC winners will receive a coveted gold AeroPress trophy, Vario-W Grinder with Esatto scale courtesy of Baratza, a Kone brewing device and disk filters from Able Brewing, and airfare to Rimini. All competitors will be using a Peru Cecovasa coffee from Stumptown. As a special treat, the trophy presentation will be led by Aeropress founder Alan Adler, who was recently profiled in this excellent piece from Fast Company.
Last year's Aeropress champ was Andy Sprenger, founder of Sweet Bloom Coffee Roasters in Lakewood, Colo. For an idea of how creative competitors will need to be, here's his 2013 winning recipe:
Invert and add 10 grams of coffee on medium grind. Cut and pre-rinse a V60 filter to fit about 1 1/2 inch inside chamber and fold over rim of Aeropress. Add 8 grams of coffee into mini-V60 filter.

Start by doing a quick pour-over, finishing at 1.5 min. with 120 g water at 203 degrees. Brewed coffee will infuse with 10 grams below. Remove V60 filter and quickly add another 150g water to AeroPress chamber. Flip and very lightly press for about 25 seconds. Total brew time ~2:30 min. Enjoy.
Of course, there is more than one way to skin a cat. Here is a fun little video from the team at Santa Cruz's Verve Coffee Roasters on other ways to "get down with this bad boy:"
Nick Brown
Nick Brown is the editor of Daily Coffee News by Roast Magazine. Feedback and story ideas are welcome at publisher (at) dailycoffeenews.com, or see the "About Us" page for contact information.