The doors are unofficially open today at the much-anticipated Rival Bros. Coffee Roasters coffee bar on Philadelphia's Filter Square. It's the first brick-and-mortar shop for co-owners Jonathan Adams and Damien Pileggi since launching their Frankford neighborhood roastery and mobile truck three years ago.
(more: First Look: Tyler Wells' Blacktop Espresso Bar in Los Angeles)
The shop's official grand opening is tomorrow, Friday, May 9, including a team of newly trained baristas working with Mahlkoenig grinders and a custom matte black La Marzocco GB/5 espresso machine. The drinks menu will launch with three of Rival's staple blends, which they say are "influenced by both brighter and lighter-roasted West Coast coffees and the bolder, more traditional East Coast coffees," batch brewed in a Fetco machine.
Pileggi, who is leading the coffee program, has extensive experience on both coasts from his time at Philadelphia-based La Colombe, where he eventually became the company's West Coast representative for three years. The bar will also have a rotating selection of single-origin coffees (currently including a Kenya Chania Estate, a Papua New Guinea Kunjin and a Honduras Guachpilin), all of which they say will be roasted on the lighter side.
(more: Inside Chicago's French-Workshop-Inspired Plein Air Cafe)
Food here will not be an afterthought. Adams and Pileggi created a custom pastry program with Eli Kulp of High Street on Market (a Food & Wine magazine 2014 Best New Chef), to which Rival Bros. has been a wholesale supplier. Pastries will highlight local and seasonal ingredients, and bread will be delivered daily for sale by the loaf and to supply the shop's toast menu, featuring Trickling Spring Creamery butter from Chamberburg, Pa., and and jams from local Green Aisle Grocery.
(more: Toast: A Controversial Symbol of the Avant-Garde, or Just Toast?)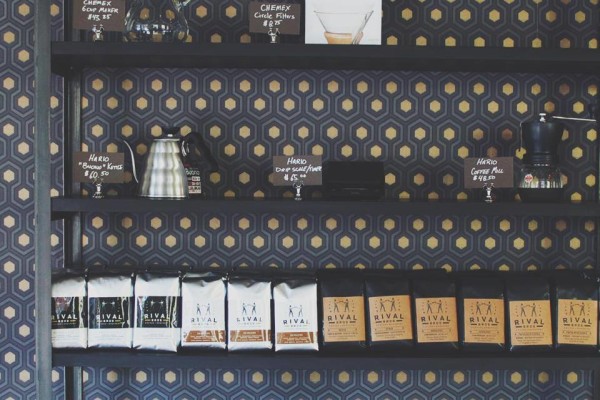 As for the space itself, here's what Rival Bros. says visitors can expect:
The coffee bar's large windows looking out onto Lombard Street create a bright, inviting atmosphere and a color palette of black, slate and white enhances the interior's sophisticated atheistic. Light oak wood flooring throughout brings balance to the room's handsome, dark leather, tufted banquettes and custom-made sapele wood tabletops from local craftsman Matt Pappajohn. A mix of textures will be used throughout the space, most notably on an accent wall covered with a Hicks hexagon wallpaper, a small scale geometric design made up of gold, black and grey hexagons with metallic highlights which will serve as the backdrop for a customized wooden sign made by local artist Ryan Katrina of Neuarmy Surplus, Co.
Nick Brown
Nick Brown is the editor of Daily Coffee News by Roast Magazine.