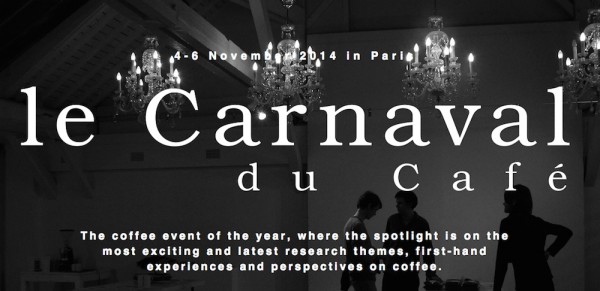 Oslo, Norway-based green coffee importer The Collaborative Coffee Source has announced the return of Le Carnaval du Café (LCDC) to Paris, Nov. 4-6 in Paris. The company hosted the inaugural event in 2012, bringing together an impressive roster of researchers, farmers, roasters, exporters and others within the supply chain.
The CCS describes this year's event as "a celebration of coffee in a comprehensive sense" that promises to bring together forward-thinking producers and exporters to share their knowledge.
(related: What's Happening at Sustainable Harvest's Let's Talk Coffee 2014 in Panama)
The first day will consist of a late-afternoon meet-and-greet, followed by a workshop session at a not-yet-determined Parisian coffee facility. Nov. 5, the first full day, will focus on East African countries, namely Burundi and Ethiopia, with cuppings and lectures from Paul Songer of the Alliance for Coffee Excellence, Heleanna Georgalis of the Ethiopian coffee company Moplaco and Lauren Rosenberg of the Long Miles Project in Burundi, with coffee writer Oliver Strand moderating.
Nov. 6 is "Latin America Day" and will include lectures and cuppings from a TBA group, with a focus on Honduras and at least one other country.
Home base for the event will be the art/meeting/event space La Bellevilloise in the Belleville/Ménilmontant neighborhood. The Collaborative Coffee Source says Paris was chosen as the return location for LCDC in part because of the country's flourishing coffee culture since hosting the 2012 event. Says The CCS:
At the time, Paris was freshly emerging as a destination for great coffee. The world's food capital was finally finding its legs in the world of coffee. Things have developed greatly since then and we're heading back to celebrate the city's coffee development with our Parisian friends. (And, let's be honest…who doesn't make any excuse to be in Paris?)
(related: Introducing the Barista Guild of Europe and the European Barista Camp)
A limited number of tickets are available through the LCDC website.
Nick Brown
Nick Brown is the editor of Daily Coffee News by Roast Magazine.