Coffee can inspire in many ways. In the case of visual artist Fernando Mosca, whose primary medium is paint, the inspiration comes from the new wave of coffee shops in his home base Sydney, Australia — visually striking interior spaces that are veritable living canvases on which the beautiful mechanisms of coffee exist.
The Buenos Aires native has been so inspired by coffee, its shops and its people that he began working with Sydney's Sacred Grounds Organic Fairtrade, a retailer and roaster that has been supplying Mosca with his primary materials: coffee grounds for an egg tempera-bound paint base and green coffee sacks for canvases. For five years he has been developing a "live coffee art painting" concept, partnering with coffee companies and creating vibrant works in public places.
We recently caught up with Mosca to discuss his deep relationship with coffee, the art world's enduring obsession with the drink and some of his recent coffee-inspired projects, including a relationship Diedrich Roasters. Mosca plans to do a live painting of Diedrich's newest commercial model at the SCAA 2015 Event in Seattle.
Beyond coffee as a tool, what how do you connect with it?
My personal connection to coffee began in 2009 when I observed the coffee industry boom in Sydney. I saw cafes transform their businesses into art and culture hubs with a lot of my artwork being required to decorate their walls. So I found a great opportunity to marry coffee with my paintings and the cafe scene.
(editor's note: Mosca's first recycled coffee ground painting, The Opera House Tryptich, was completed in 2010, and only moments later he created his second coffee piece, coffee and red wine on canvas)
What sensory elements of coffee inspire you?
My inspiration comes from various elements and components of coffee. For example, the texture and aroma of fresh coffee grind, digging my hands into a bucket of warm roasted beans, or the simple activity that is required to produce a nice cup of coffee from a percolator. There's nothing like the smell of freshly roasted coffee beans dropping into the cooling tray.
Is there something about using organic matter that appeals to you?
What I love about using organic and recycled materials for my artwork is the sustainability in resourcing. I spent months approaching local industries in my community to ask what their company was throwing out so I could create my artwork. For over 20 years I have outlaid so much money in purchasing materials from art supply shops and it keeps getting more and more expensive. So my development in creating a recycled art product is a bit of an 'up yours' to the to the manufacturers and suppliers of artist materials.
As a personal challenge, I just wanted to discover if it was possible for me to hold an art exhibition on a subject I was very passionate about and I found an endless supply of materials out there: Recycled coffee grounds (my painting medium); coffee sacks (my canvas); recycled timber backings (my mounting).
So I began to experiment again and I asked my favorite barista, Jimmy at Vesbar Espresso, to give me the end-of-day recycled coffee, here's what I did with it:
What inspired you to incorporate live painting — in some sense, performance art — as part of your coffee line?
A great example is an incredible experience I had when I set up on the busiest street corner in Marrickville to paint the gorgeous Victoria Arduino coffee machine outside the Di Lorenzo Caffe building.
Within minutes of beginning to paint, it had stopped traffic. Cars were parking half a block away to come and watch me paint and discuss various opportunities. Trucks were honking their horns and one truckie shouted out 'Good on 'ya mate.' People were going back home to get their large lens cameras and document it.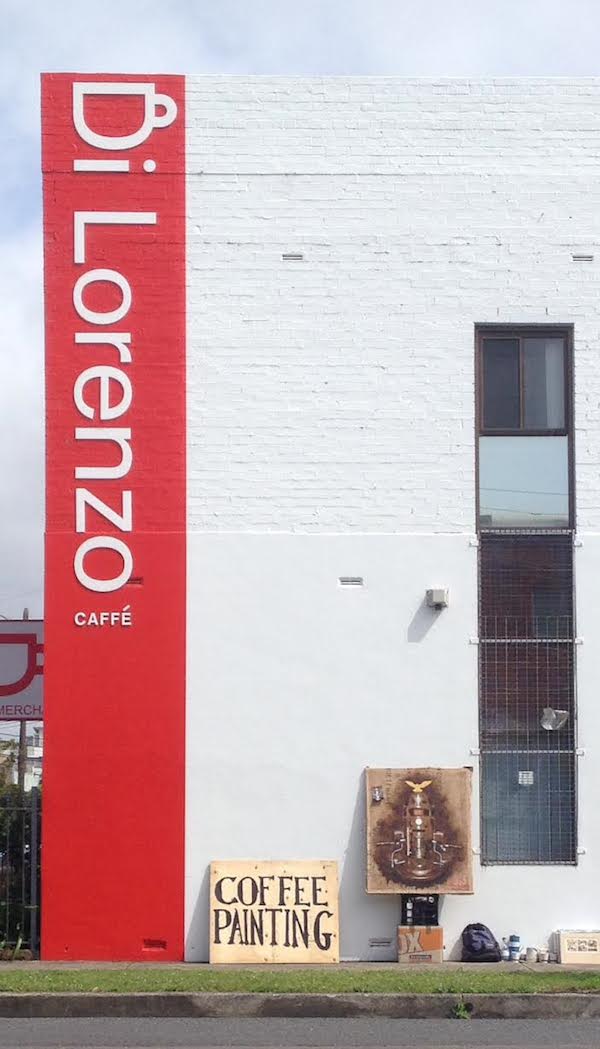 For more on Mosca, check out his Facebook page.
Nick Brown
Nick Brown is the editor of Daily Coffee News by Roast Magazine.