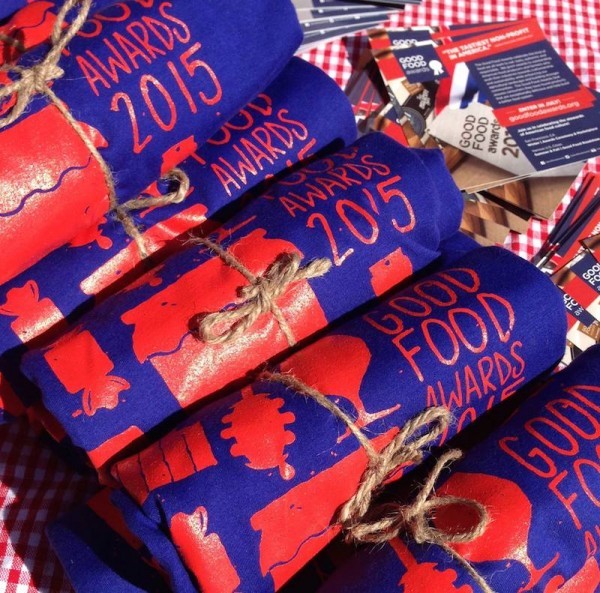 The 5th Annual Good Food Awards Ceremony took place last night in San Francisco, honoring coffee roasters alongside craft producers in categories such as beer, cheese, spirits, oils and preserves. Sixteen winning single-origin coffees from 16 U.S. roasteries were deemed award-worthy out of a pool of 24 finalists. All but two coffees, both from Panama, came from either Ethiopia or Kenya.
The awards program has become one of the most influential in the coffee world, giving winners a chance to market the GFA seal and trumpet their coffees as the best of the best, both in terms of cup quality and sustainable and responsible practices. As its influence has grown and the growing program has gotten more competitive, so too has it taken some criticisms. (See our companion piece with GFA coffee awards committee chair Jen Apodaca to discuss how the program operates and what changes we might see moving forward.)
Without further ado, here are the 2015 Good Food Award Winning Coffees
Bean Fruit Coffee Co., Ethiopia Yirgacheffe Chele'lektu, Mississippi
Blue Bottle Coffee, Ethiopia Sidama Homacho Waeno, New York
Case Coffee Roasters, Kenya Muthonjo AA, Oregon
Four Barrel Coffee, Ethiopia Bulga, California
Kaldi's Coffe Roasting Co., Ethiopia Dama, Missouri
Kuma Coffee, Panama Carmen Estate, Washington
Madcap Coffee, Ethiopia Reko, Michigan
Magpie Coffee Roasters, Kenya Gondo AB, Nevada
Metric Coffee Co., Kenya Kayu AB, Illinois
Metropolis Coffee Co., Ethiopia Sidamo Suke Quto & Ethiopia Yirgacheffe Aylele, Illinois
Noble Coffee Roasting, Ethiopian Shilcho, Oregon
Onyx Coffee Lab, Julio's El Zapote Gesha, Arkansas
Panther Coffee Roasters, Kenya Kirura, Florida
ReAnimator Coffee, Ethiopia Aramo, Pennsylvania
Square One Coffee, Ethiopia Kore Kochore, Pennsylvania
Verve Coffee Roasters, Elida Estate Green-Tip Gesha, California
Nick Brown
Nick Brown is the editor of Daily Coffee News by Roast Magazine.