When the world's number one tennis player dubs your straight espresso "miracle coffee" — with no endorsement deals, mind you — you're going to get some attention.
Last week, we shared the story of jet-lagged Serena Williams having a kind of under-caffeinated on-court meltdown during the first round of the Hopman Cup in Perth. Here she is desperately pleading for an espresso after dropping the first set 0-6:
Once Williams rebounded to dominate the rest of the match — after which she talked at length about the restorative powers of the drink — we had to know who was behind the miracle espresso. There wasn't much evidence, outside of a blurry screen grab from the video showing a branded to-go cup: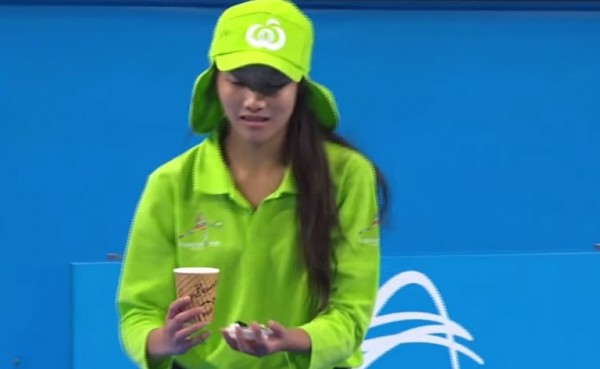 As it turns out, the espresso was pulled from a shop just around the corner from the Hopman arena venue at The Northbridge Coffee Roasters, a family business that has been roasting in Perth since the 1938 and is now part of the European Foods group. Specifically Serena's espresso was Northbridge's Braziliano SuperBarista blend, one of the company's regular espresso and long-black blends roasted on its retrofitted 1958 Probat 75.
With literally hundreds of stories written about Serena's coffee break, we followed up with Northbridge Manager John Ferrari, who brought the roastery to our attention after seeing the story. In this emailed reply, Ferrari says the Northbridge team has been harnessing the Serena buzz:
Out of nowhere, Serena Williams, the world's number one, ordered a pure, unadulterated espresso, made by a barista at the venue we trained, just like any other patron at the Hopman Cup would have received. Her going on to turn the game around and win, referring to our baby as 'miracle coffee', well that made our whole team feel really good inside. In my eyes, a compliment on an espresso or long black coffee is also the ultimate compliment. That's because it is someone experiencing your craft in it's purest, most exposed form. As roasters we put our heart and soul in, day in day out, sometimes wondering if anyone's noticing. Well, something like this definitely serves to inspire confidence and motivate even further

I guess it's a story that has really resonated with the people because it's a situation many of us can relate to; not being able to get going in the morning, getting that god shot of coffee to kick start the day and get things moving. The fact that it also happens to a world number one, well, what can I say?

To help Serena out in future, we had one of our Brew Specialists personally deliver a pack to Serena, filled with some of the 'miracle' Braziliano SuperBarista Coffee and some really cool portable brewing gear, think 3 cup perc, Aeropress, Japanese ceramic grinder and some cool little green espresso cups. We can't wait to hear when she's gives them a go.
Nick Brown
Nick Brown is the editor of Daily Coffee News by Roast Magazine.