The neighborhood of Astoria in the New York City borough of Queens is on the precipice of a phenomenon that people on the ground describe as "Brooklynization." Case in point, when Gossip Coffee opened just a couple weeks ago in the heretofore quiet, family-forward borough, they had for sale a batch of kopi luwak-infused chocolate donuts topped with real gold leaf, for $10 apiece.
"It's not every day," said Gossip General Manager and Head of Coffee Billy Brogan, whose real name is Vasilios Dimitriadis. Brogan characterized the blingin' bites as more of an every-once-in-a-while thing. The shop, which seats about 36 within its 1,200-square-foot interior and a couple dozen more on lovely wooden benches in the 1,000-square-foot backyard, serves a variety of funky flavored donuts crafted by chef Francis Legge, a.k.a. "Scottish Francis," whose signature Guinness Prosciutto donut earned accolades from no less than celeb-chef Gordan Ramsey on the Fox reality TV show Master Chef.
The Guinness Prosciutto is a daily staple, with other rotating flavors such as Fruit Loop, Key Lime, Jaffa Cake, and more. The gold leaf donuts are maybe once a week, maybe just on weekends, or whenever Gossip anticipates a crowd. According to Brogan, though they did sell out of the $10 donut when they made it, going forward they're more likely to make a $5 version that does still have some of the gold leaf topping. "It sounds funny, right?" Brogan admitted as we chuckled.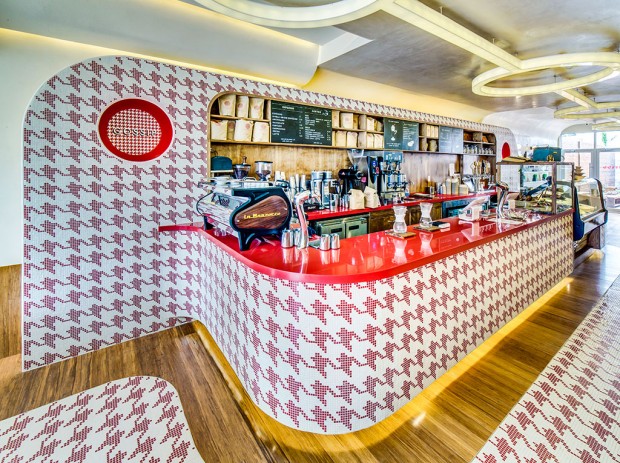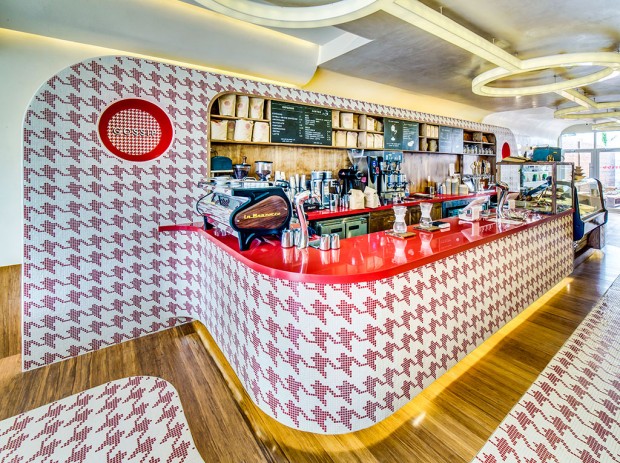 Gossip's coffee is roasted by an equally new outfit called For Five Coffee Roasters, a wholesale operation that, according to Brogan, opened in nearby Maspeth, Queens, at about the same time Gossip Coffee first gilded a sweet, circular snack. Through a private label arrangement, Brogan led the development of the Gossip signature blend and stipulates the qualities he wants in all the coffees he selects. For Five achieves the desired results in the cup, and the beans are served, bagged and branded by Gossip.
For the record, For Five does not acquire or roast Gossip's kopi luwak. The luwak for the donuts is a certified Hand-Picked Wild Civet coffee, procured in a very small quantity by Chef Scottish Francis independently from a local organic food store.
Gossip itself was founded by James Paloumbis, who owns two other businesses in Queens: Break Bar and Billiards, and MexiBBQ, the latter of which is across the street from the coffee shop. Brogan was enlisted for professional coffee experience that includes stints at Intelligentsia and Toby's Estate, and he also now runs an NYC-based coffee consultancy called Coffee Obsessives. For Gossip, he curates a program consisting of mostly single-origin coffees brewed both hot and cold, plus one that rotates in for espresso alongside the house blend. Espresso is prepared through a pair of Mazzer Konys and a La Marzocco Strada MP with custom wooden side-panels.
In keeping with today's unquenchable thirst for cold brew coffees, the dizzyingly Jetson-esque, hound's-tooth-bedecked shop cycles through not only a variety of different single-origin cold brews, but different roast profiles of the same coffee. Typically they keep two different cold brews on tap — one darker, one brighter, though Brogan tends to prefer everything in the light-to-medium range — plus several iced teas.
Fluids on tap are a big deal at Gossip, which has 14 taps in all. One particularly interesting tap-related innovation behind the counter at Gossip is their milk on tap, for baristas. "This is the third place in New York, and I don't know, maybe the United States, with milk on tap," said Brogan. "The whole set-up, the layout, it's very efficient for the workflow of the baristas." The entire constant jumble of keeping smaller nearby fridges stocked, bending down to access them, opening cartons, closing them, disposing of them — all these wastes of time and energy are eliminated. The resultant time-savings behind the counter also translate to faster service and a smoother show of activity for customers.
Such practical considerations are likely to be out-gossiped by the shop's over-the-top offerings like a chilled rice pudding bar that features nine different flavors at once. There goes the neighborhood!
(all photos courtesy of Gossip Coffee)
Howard Bryman
Howard Bryman is the associate editor of Daily Coffee News by Roast Magazine. He is based in Portland, Oregon.