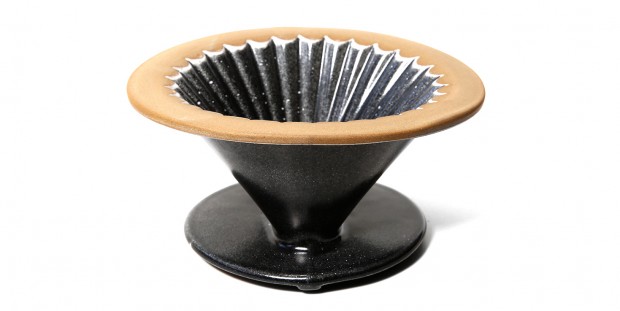 On the heels of a successful Kickstarter campaign, a fledgling West Coast ceramics start-up called Constellation Supply Co. is entering the scene with the Little Dripper, a pourover drip device that incorporates attributes of a variety of existing brewers into what they believe is the ideal combination of ease, aesthetics, build quality and performance.
The most apparent departures taken by the Little Dripper are its absence of a handle — users lift and hold it by an attractive 360-degree lip around the top — and its ruffle-looking fluted interior molding, which helps maintain water temperature by trapping warm columns of air. Subtler but equally important distinctions are its smaller-than-average brew holes and its flat-bottom design.
The absence of a handle is both an aesthetic choice and a practical one, reducing the odds of breakage if the brewer drops or gets jostled inside luggage. Smaller brew holes slow the flow of water, which allows for a coarser grind and helps prevent over extraction, which contributes to its ease of use. The coarser grind in a flat-bottomed filter help achieve a fuller-bodied cup, akin to the results from immersion-style brewing. The brewer is sized and shaped specifically to accept the widely available Melitta paper filters, not just because these filters do a great job, but for their ubiquity. Plus, Constellation Supply founder Evan Dorhmann believes that the Melitta style of pourover brewing yields the most consistently excellent results.
"The Melitta, with that flat bottom, works for almost everything. It's really forgiving," Dorhmann told Daily Coffee News. "It represents most coffees really well, whereas certain coffees might shine via Chemex and others might not. Certain coffees might shine via an immersion method, via Clever, yet certain coffees might not." Dorhmann contends that V60 can be tricky to perfect, and though the Bee House dripper is an easygoing method, it may not please some people aesthetically. Meanwhile, like the Kalita Wave, Dorhmann wanted to make a brewer that worked well without using water to control the flow rate—removing the cup before all the water has passed through — which is a technique used in the pros but can be a turn-off for novices.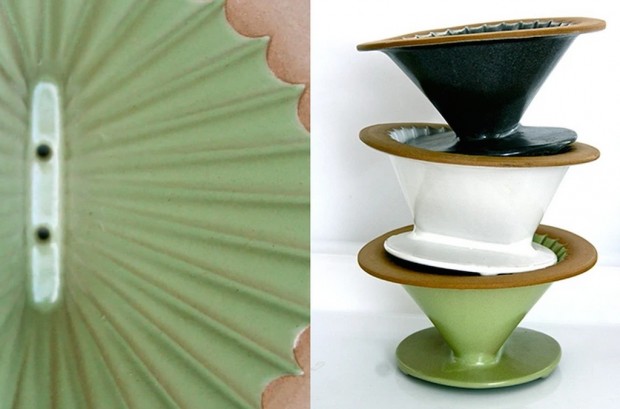 Sensitive to the preponderance of pourover brewers on the market, Dorhmann said that if he could re-do the Constellation Kickstarter video, he would, as he feels its advertorial message, while not inaccurate, was somewhat generic, and left too many important details to the text portion of the campaign. "We're not necessarily trying to profess that we've reinvented the wheel and made a revolutionary new coffee device that is extremely different from everything that's come before it," Dorhmann told Daily Coffee News. "We're so heavily influenced by all the technology that already exists, really this device is kind of a celebration of our love for coffee, and our desire to make something that is domestically made by artisans here in the US."
Another differentiation that will reveal itself in the months and years to come is in the salesmanship and brand management of the Constellation crew. Dorhmann believes that while baristas and retailers do the work of encouraging home brewing and recommending certain devices, other device-making companies don't do enough to connect directly with consumers. Dorhmann looks back to Chemex for an example of a company that got it right. "They did such a good job marketing their product in the mid-20th century," said Dorhmann. "The inventor was out doing sales actively. I met people that were actually in on some of his sales calls and had the experience of him actively selling that product. I feel like that kind of salesmanship is missing today."
An astronomy buff and fifth-generation Oregonian, Dorhmann worked in sales for Stumptown Coffee for over a year before moving south from Portland to L.A. in 2013 to assume the position of Senior West Coast Representative, setting up new wholesale relationships in conjunction with Stumptown's first L.A. roastery and retail cafe. He was among the first resident employees of Stumptown in L.A., and he still lives there, for now, with his wife and newborn baby daughter.
Dorhmann has partnered with the Portland-based manufacturer Mudshark Studios for Constellation's ceramic production, of which the Little Dripper is only the beginning. "My plan for constellation is to do a number of things," said Dorhmann. A larger, multi-cup brewer called the Big Dripper is ready and waiting in the wings, as is a glass mid-century-modern-style companion carafe that matches the drippers' aesthetic and build quality for a complete and decorative system. Beyond that, a full line of commercial cafe ceramics is another aspiration.
Inspired by ceramic-makers ACF and Nuova Point, both of which shut down in recent years, Dorhmann sees a gap at the junction of beauty, quality, and affordability in commercial wares that he hopes Constellation Supply can fill. "There are some great companies that have taken up the slack," Dorhmann said. "I really admire Acme out of Wellington, New Zealand, and Inker out of Croatia. And I love Heath out of San Francisco. Their stuff is just insanely beautiful, but it's expensive. It's not practical for a lot of café owners."
As specialty coffee spreads beyond the major cities and into small towns from coast to coast in the US, Dorhmann sees not only a business opportunity, but a positive cultural trend. "People are really starting to embrace the culture," observes Dorhmann, "and I think that's a really healthy thing." Dorhmann anticipates traveling to some of these smaller towns and cities to spread Constellation Supply ceramic ware as well as his love and enthusiasm for coffee, in general. "At the end of the day, this is just fun stuff," said Dorhmann. "Coffee is really fun, it's brought so much joy to my life and I've seen it bring so much joy to other people's lives."
Howard Bryman
Howard Bryman is the associate editor of Daily Coffee News by Roast Magazine. He is based in Portland, Oregon.