In the January 1951 issue of Gourmet Magazine, an article called "The Ritz in Retrospect" by chef and writer Louis Diat describes how the famed American publisher Frank Munsey loved a good cup of fresh-roasted coffee. It couldn't be more fitting, then, that in the building that bears the Munsey name in downtown Baltimore, an establishment called The Argosy Café — named after a long-running Munsey publication — houses a beautiful white Diedrich IR5, which regularly roasts a selection of specialty coffees for the café right there on site.
The café just opened a few weeks ago in late July, and though fresh coffee is one of its marque offerings alongside breakfast, lunch, curated wines and craft beers, that Diedrich doesn't roast for the Argosy alone. The machine is actually property of another Baltimore startup, Vent Coffee Roasters, a one-woman operation helmed by longtime coffee professional Sarah Walker.
Over the past 15 years, Walker has transitioned from barista to manager to roaster in an evolution spanning both coasts and a variety of cafés. Her commercial roasting education began on the job at Hub Coffee Roasters in Reno, Nev., although to this day she remains just as excited about her refined bread-maker-plus-heat-gun technique. "It's definitely satisfying when you're like, 'I nailed that, and I nailed with a bread maker and heat gun,'" Walker told Daily Coffee News. "I love my bread maker and heat gun, and I don't think I'll ever get rid of it no matter what kind of machine I have."
The machine she now has is a commanding white Diedrich that stands at attention in what was formerly an office in a corner of the new café space. She acquired the Diedrich through a combination of luck and generosity, as it was originally purchased brand-new by another shop in town that quickly changed their mind about roasting and sold it off at what Walker described as "an extreme discount." This, coupled with funds raised through an IndieGoGo campaign and a personal check from one very generous local coffee-lover, paved the way for the inception of Vent.
The check-writer wasn't family, or even an old personal friend, per se. "Actually it was a customer from another shop," said Walker. "It was really a gift, which was quite amazing because I was definitely not expecting that at all. It was someone that believed in me, which makes me want to do everything even more."
So it was in 2013, after being in the right place at the right time with the right supporters, Vent got off the ground selling beans and serving made-to-order French press at random events in the Baltimore area and at a weekly farmers' market/winetasting/concert picnic called Good Life Thursday, hosted by the nearby Boordy Vineyards winery. She also spent time on the clock at Spro, another Baltimore micro-roaster that itself only started in 2011, until she was approached by the Shaffers.
Jay and James Shaffer make up the father-son duo that owns the Argosy proper. The patriarch of the pair, Jay Shaffer has a long culinary career under his belt, including a stretch as chef in a fine-dining establishment in Paris, France, as well as in the role of executive chef and owner of his own lauded restaurant, Shaffer City Oyster, which lasted over a decade in New York City before shutting down. Having talked coffee with Walker and appreciated her passion and talent, the Shaffers invited her to join the Argosy as the on-site coffee partner, and she was more than happy to jump right in.
With Walker at the head of the program, the coffee kitchen at Argosy consists of Walker's Diedrich as well as a technologically advanced Nuova Simonelli Aurelia II T3 espresso machine, two Simonelli grinders and a Mahlkonig EK43. Currently the restaurant serves a house blend in drip-tower batches, single-origins via Aeropress and a classic espresso menu.
Walker says that they hope to gradually expand the selection of brew methods to include Chemex, and to offer espresso shots of any of their coffees at any time by keeping pre-measured doses available for single-dosing the EK43 on demand. Another upcoming addition is a Vent-crafted cascara kombucha. "I tried my hand at that, and I was very surprised that it turned out so well," Walker said with a chuckle. "I was like, 'yes!'" She described it as having approximately the caffeine pick-me-up equivalent of white tea, and though it tastes slightly different from a hot-brewed cascara infusion, the flavor is definitely recognizable to anyone that knows it. Said Walker, "It's pretty delicious."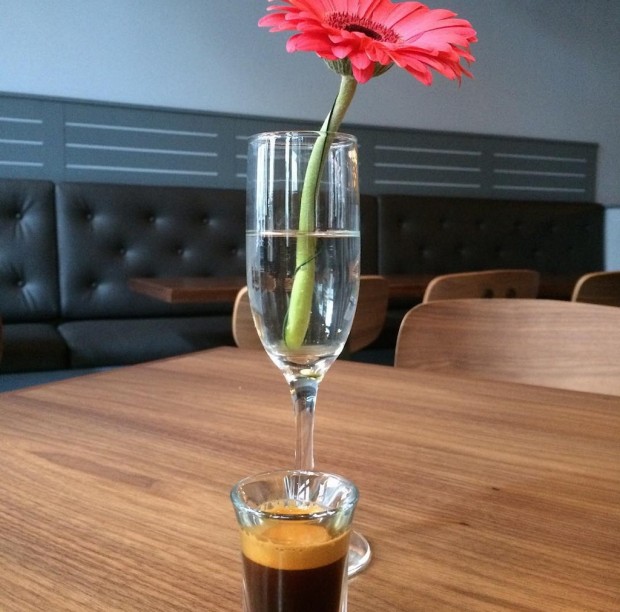 Walker also looks forward to the newly opened Argosy settling into a more predictable pace in the coming weeks and months so that she can start offering public classes on cupping, brewing and home-roasting, just as she'd always dreamed of doing in her own café. "Eventually I would want my own space," said Walker. "I think I would like just a Vent Coffee Roasters café or whatever, but for right now, I have no problem being with them. I'm learning a lot of extra things."
"I'm definitely learning a lot about what it takes to open a shop," said Walker, adding that she thinks the Shaffers would probably like to keep her onboard for the long term and might even have designs on additional Argosy Cafes somewhere down the line. She'd like to remain involved, but the future is unwritten and the present is plenty exciting for the upstarting Vent. "I don't know, things are up in the air," said Walker. "I just like making coffee right now, and I want to keep doing that."
Howard Bryman
Howard Bryman is the associate editor of Daily Coffee News by Roast Magazine. He is based in Portland, Oregon.