London, Ontario's Fire Roasted Coffee Company is a cornerstone of its home neighborhood, not just for patrons, for its fellow businesses, too. Recently the thriving company acquired a large vacant building at 630 Dundas Street, of which only about one third will be occupied by FRCC's roasting production gear and new public tasting bar. The remainder will be leased out to other food-oriented businesses, including roughly nine smaller, more affordable spaces for incubating small food businesses.
The coffee company knows well how helpful a communal business environment can be, as it, too, opened along with the nearby Western Fair Market back in 2006. FRCC had great success roasting and serving there, with two café booths open to customers in the bustling farmers and artisans market. They operated for two years from inside the market, although while the coffee business flourished, the market organization overall was on shaky ground. "It's a funny story," FRCC owner Dave Cook told Daily Coffee News about how he approached the owners of the market to offer his assistance. With a strong background in business, he wanted to help the organization that had helped his own find fast success.
He offered to devote one full day per week working to help run the 56,000-square-foot Western Fair Market. They set up a lunch meeting to discuss the arrangement, and Cook drew up a plan. "He said, 'well, I'm glad you approached me to help me,'" recounted Cook, "'because I'm selling the market to you.'"
The Western Fair sellers financed the purchase, offering to let Cook pay it off over five years. The option was also left open for Cook to back out at any time, but he stuck with it, and it certainly worked out well. "I think a lot of people at that time would've walked away from that opportunity, because it was in a rough part of the city," said Cook. "I think it was just the right offer to the right person at the right time." Six years later, Cook and company continue wearing various hats beyond the Fire Roasted Coffee business, as they steer what has become one of the premier markets in the London, Ontario, region. Apart from their own cafes and clientele, they're well acquainted with what it takes to coordinate roughly 200 vendors under one roof, attracting over 5000 shoppers per week.
Cook has enjoyed watching more than a few vendors expand beyond the market and out into the surrounding neighborhood, which Cook characterizes as having been "challenged economically" for some time. "We started to realize that the farmer's market was an incredible business incubator," said Cook, noting that while it was working out nicely for sellers of retail goods, there wasn't nearly as much activity among small-scale food producers.
Last year Fire Roasted sold roughly 125,000 pounds of coffee.  Their business continues to grow, and at this point operations have pretty much outgrown the roastery space at the market, particularly given a lack of industrial practicality. "We were loading it bag by bag up the passenger elevator to the second floor, and it's a really old building," said Cook. "We'd have to shut down production a lot of days through the summer because it would just get too hot to roast in there."
Having realized that they would need a new roasting facility, they decided to try to recreate the Western Fair model a new space, but focusing this time on small-scale food companies. "In our particular community there were some great historic buildings that have fallen into disrepair," Cook said. "We came across one with a 15,000-square-foot main floor and a 15,000-square-foot basement. We decided to take that, and create the food incubator."
The first tenant to sign on is a 5,000-square-foot grocery store, which is in itself a boon to the Old East Village neighborhood that Cook said in recent times has become a food desert. Beyond that, nine more spaces range from 500 to 1,000 square feet with low monthly rental rates. And by moving the company and its roasting operations to the Dundas Street building, roughly 14 spaces will open for other small businesses at the Western Fair. "We went from being a coffee roaster and drifted a little bit into being a neighborhood economic developer," Cook said. "But we really love our role in it, and coffee has lead the whole way."
Fire Roasted Coffee roasts almost exclusively Fair Trade certified coffees, which is indicative of the spirit of helpfulness and support they exhibit in all their business practices. Said Cook, "Through coffee you can impact the neighborhood you're doing business in, but you can also impact a neighborhood halfway across the world, just by connecting with communities and selling more of their coffee."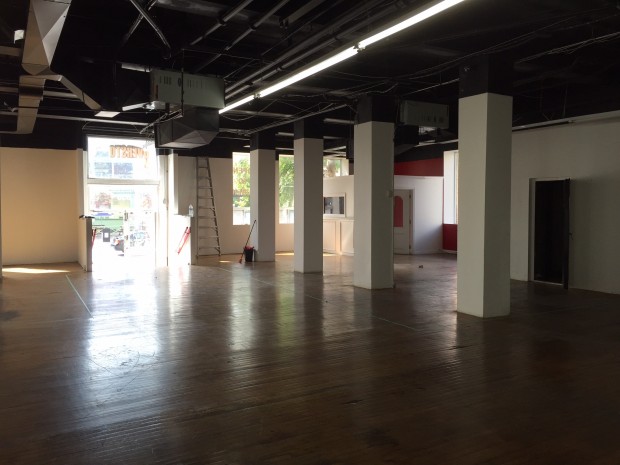 Cook started as simply a coffee lover and then a self-taught home-roaster, whose obsession with fine coffee naturally rolled into professional ambition. He started his business with a three-pound electric coffee roaster made in Korea that cranked out four pounds per hour, and wanted to start right off selling coffee as freshly-roasted as possible, yet the day before the grand opening of the Western Fair Market, a hole for venting the roaster still hadn't been punched out for him. So Cook grabbed a hammer and punched through an old window pane himself, patched it all together and stayed up literally all night roasting coffee for the big first day. Said Cook, "In the morning at seven o'clock when the market opened I splashed a little water on my face and I was open for the first day of business of Fire Roasted Coffee."
Today, Fire Roasted Coffee keeps two Diedrich IR12s humming all day, every day, just to keep up with their volume of sales. In under 10 years the company has grown to include two cafes, an espresso trailer, two service counters inside the Western Fair Market, and over 100 wholesale accounts. "Last year we did just shy of CA$2 million in sales," said Cook. "We're pretty excited about it."
The new facility inside the Somerville Building at 630 Dundas Street will provide FRCC with more room for production, a new public tasting bar, much-improved storage, and shipping and receiving infrastructure. In recent years the building has seen some light retail use, although historically, in the thirties and forties, it also housed larger companies such as the O-Pee-Chee Company, of classic chewing gum and trading card fame.
After such rapid growth and expansion, Cook says the coffee company will take some time now to refine its operations, going back over its existing cafes and to expand their menus to include more food and to tweak some practices for greater efficiency, ensuring all the ground they've covered in the short term continues to be sustainable for the long term.
Howard Bryman
Howard Bryman is the associate editor of Daily Coffee News by Roast Magazine. He is based in Portland, Oregon.