The past few weeks have been a monumental time in the history of Salem, Mass.-based Jaho Coffee & Tea. Not only did the company celebrate it's exact 10th anniversary in the coffee business on August 15, but this past weekend Jaho also opened the doors to a beautiful and very well-equipped new coffee shop and wine bar in downtown Boston.
The company's fourth store overall and first foray into coffee-and-spirits territory occupies a 2,500-square-foot space on the ground floor of a new luxury apartment building called The Kensington in the Downtown Crossing neighborhood, a straight shot up Washington Street from their South End Boston location.
The inventory of gear behind the bar at Jaho Coffee Roasters and Wine Bar is like the 12 Days of Coffee Business Christmas: Five halogen beam heaters, four cold brew drip towers, three counter-installed water-dispensing brew-heads, two Victoria Arduino Black Eagle espresso machines, and a Loring S35 Kestrel Roaster.
The counter-mounted brew heads include two Seraphim programmable shower heads for Chemex and other pourovers, and one Uber Boiler, a variable-flow single-stream water dispenser with an incorporated drip-tray scale and temperature accuracy down to a tenth of a degree, ideal for different types of tea, manual spiral pours over particular coffees and dispensing hot water for the siphon brew bar.
The new shop opened gradually over the weekend, starting Friday August 21 with a friends-and-family event, then on Saturday a food-service event for residents of the building. Doors opened fully to the public on Sunday, welcoming the city into an earthy yet stimulating atmosphere bedecked in warm wood tones balanced by sophisticated stainless steel elements. "We worked with Sousa Design, a local design firm," Jaho owner and founder Anil Mezini told Daily Coffee News. "I originally wanted to do a kind of Japanese, Scandinavian inspired design, and they came up with a kind of coffee laboratory design, and we ended up fusing the two together."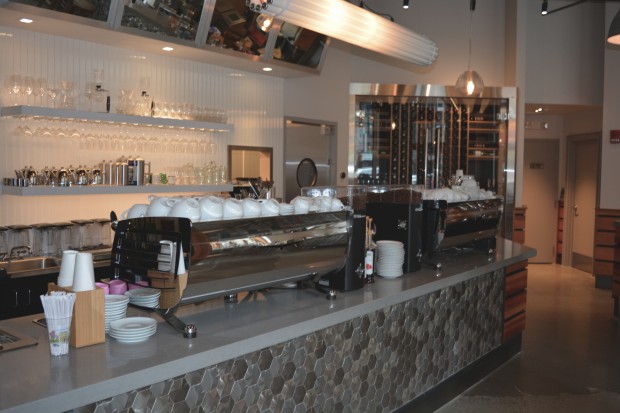 The resulting interior boasts plenty of bamboo and wood textures, straightforward modern furnishings and straight-lined wooden paneling offset by industrial-style hanging lights over the brew bar accenting the sparkling glass and stainless equipment.
Jaho — pronounced "ya-ho," which is Mezini's mother's maiden name — has three other locations in the region, including two in its hometown of Salem and the South End bar. Mezini first came around to coffee as a student abroad in Japan, where he enjoyed the atmosphere of coffee shops before opening up to the brew. "I didn't drink coffee before I went there," said Mezini, adding that when he traveled to Japan at the age of 20, he not only lacked interest in coffee but actively avoided the stuff. "Growing up, I would see my parents get up in the morning and complain about headaches, and I'd be like, 'oh, I'm never going to be like them,'" said Mezini with a laugh.
Of course after so many hours studying and socializing in café environments, it was only a matter of time until he would try a carefully crafted Japanese coffee drink and turn a swift 180 on the subject. Upon his return, Mezini worked at Starbucks for his first exposure to drink preparation, and later opened the first Jaho store serving coffee roasted by longstanding Seattle roaster Zoka Coffee.
After a couple years in business when Mezini decided to steer Jaho towards roasting its own, he was fortunate enough to receive some brief tutelage under the master roasters of the then little-known companies Blue Bottle and Caffe Vita — arrangements made possible through Mezini's friendship with coffee expert Jay Egami, the San Francisco-based representative of Japan's Ueshima Coffee Co., who happens to get a shout out in Blue Bottle founder James Freeman's book The Blue Bottle Craft of Coffee. Mezini spent a few days apiece in San Francisco and Seattle learning the basics from the pros and took that experience home to the Probat L12 that hummed initially on the floor of the original Jaho on Derby Street in Salem, but was eventually relocated to a warehouse with better storage, shipping and receiving capabilities.
Today Jaho offers a diplomatic range of roasts, tending not overtly towards lights or darks but dabbling in it all, depending on the bean and the audience. Said Mezini, "To me, light roasts are interesting because I'm into coffee, but they almost taste like tea, and I think the general public may be alienated by that. And it's not something that I myself would want to drink every day."
Despite his receptivity to Scandinavian and Japanese culture, he also thinks that coffee left too aggressively light doesn't really taste like coffee, at least not as it is known and loved in Boston. "We stay away from the dark roasts, but we don't go super light either," he said, noting that while Jaho's Black Derby blend is a French Roast, he describes its profile as "well past second crack, but not like 'Starbucks dark,' either."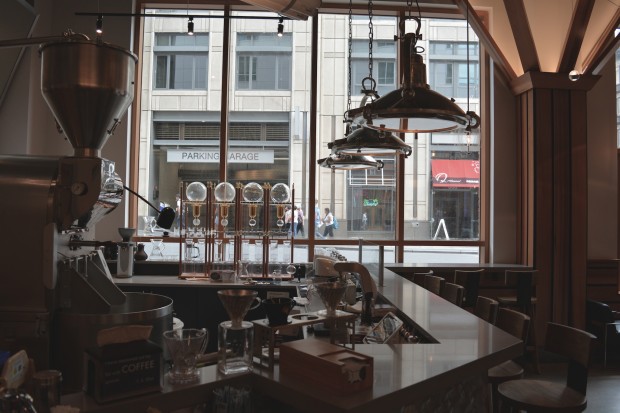 Patrons that come to relax in one of the 60 indoor or 18 outdoor seats at the new location can choose from a classic, full-spectrum coffee menu or enjoy a glass of one of dozens of wines by the glass or hundreds by the bottle. A dozen craft beers are on tap with many more in bottles, plus a wide selection of fine Japanese and American whiskies are available for sipping, including side-by-side whiskey and coffee pairings.
While the doors only just opened on their first combo coffee and spirits bar, thoughts about the future are ever tumbling in the drum. "We're hoping Boston's coffee scene gets to where other cities are," said Mezini, with intent to expand Jaho's high-quality wholesale operation. Further down the line Mezini also speculates about additional new outposts elsewhere in Boston or Cambridge. And in bringing his coffee trajectory full circle, Mezini reported having also started researching opportunities for expansion to Tokyo, the city that first cracked the shell of his interest in the bean.
Howard Bryman
Howard Bryman is the associate editor of Daily Coffee News by Roast Magazine. He is based in Portland, Oregon.