Tiny houses are all the rage lately — those cute, diminutive yet crafty little homes with creative nooks and storage compartments and an overall streamlining of efficient, compact living. Indicative of the trend although not yet directly a part of it, the Austin, Texas, company Tiny House Coffee Roasters, founded over this past summer, is not located inside an actual tiny house. THCR is named for and driven by the spirit of the movement, though — both its appreciation of a light, efficient footprint, and for the unity of many small players that it represents.
"For us, it's representative of the fact that coffee is coming from many tiny houses throughout the world," company founder Blake Thomas told Daily Coffee News. "That's what we use as our business model. Right now we're trying to help out these particular growers in northern Nicaragua. They're small-scale guys." Part of Thomas' vision for the business is to eventually have a pop-up stand or kiosk built into an actual tiny house, although at present, THCR is strictly a bagged retail and wholesale operation.
The entrepreneur also has some big ideas on how to maximize returns for the small-scale farmer. On the surface, it would seem that THCR is advanced for a start-up roastery, in that they've somehow started right off with six direct-trade relationship coffees — the kind of sourcing practice that it takes other businesses years to accomplish, both logistically and personally. Yet THCR also takes it a step further, in that they're not exactly buying green coffee from the farmers. They're selling it essentially on consignment, importing it in good faith of returning the earnings to the farmers after it's been roasted and sold, at which point the farmers stand to gain roughly twice what they'd be paid for their coffee through traditional market channels.
The arrangement flips the script of the usual coffee supply transaction. Rather than to continue taking lowball payments up front by default, Thomas and company are inviting farmers to receive a fuller, more equitable cut of the returns on their goods by investing it up front and accepting the same risk that Thomas and any other roasted coffee seller takes. As long as Tiny House stays in business, and succeeds in selling outstanding coffee at prices the direct-trade specialty market bears, farmers stand to get an equivalent ROI as other players in the chain, which is a huge bump up from the traditional financial breakdown.
Said Thomas, "It's kind of like an investment account. You allocate a certain amount of your money towards mutual funds, a certain amount in cash, a certain amount towards higher risk stocks. What we want to do is give these farmers an option of allocating a certain amount of coffee beans to us, forgo that immediate low payment that you get at the mill, at the market price, take a little bit of risk, get a lot more reward."
It's a pretty huge leap of faith that Thomas and Tiny House is asking of their suppliers, but it's one they were able to convince their start-up sources to commit to simply by virtue of friendship. The seeds of THCR were planted in Nicaragua, where Thomas and cofounder Helen Schafer were stationed as volunteers for the Peace Corps. "We were up in the northern part of the country, up near the Honduran border," said Thomas. "We actually got to know these guys while we were down there, and half serious, kind of half in jest, they would say, 'hey, you should really do something with our coffee when you go back to the US.'"
Upon his return, Thomas took a serious look at the market in Austin. He spoke with other importers and coffee professionals, rounded up some capital and saw that it was possible, but not without a bit of support from the growers themselves. Trey Bussey, another Peace Corp alum from the Nicaragua post, joined the business. Said Thomas, "I told the growers, 'We think we can do it, we don't have a ton of money to start the business, but if you guys want to kind of help us out, give us the coffee, give us a little opportunity to roast it, market it, sell it — once we do that, we'll partition a portion of the revenues to you guys.' Thus this whole organization was born."
The farmers agreed, and by August 2015, Tiny House Coffee Roasters was roasting batch after batch on a Huky 500-gram roaster. Roasted products are named for the farmers that grew them: Donaldo Cuadra, Pedro Ortez, Dimas Urbina, and more. One farmer was paid on a monthly basis, the others in two lump sums, and as of last month, the full initial shipment was paid off. Through this arrangement, farmers wound up receiving $3.25 USD per pound, which is more than what twice the market price has been at any point from their harvest through last month, while THCR got direct-trade specialty coffees with which to start their business.
"It wasn't necessarily just purely out of the goodness of our heart," said Thomas. "We truly believed we could make a business of this, bringing in good quality Nicaraguan coffee and grow a market for direct trade coffee here in Austin. A byproduct, almost, was these guys getting a premium on their goods."
Tiny House has since invested in a much-needed upgrade to a 3-kilo North coffee roaster, a Chinese machine dealt by Minneapolis-based Mill City Roasters. That should be up and running this week, while they've also partnered with a larger local roaster for access to equipment in order to fulfill café wholesale volumes of production in the short term until they're ready to invest in more equipment of their own. "We're still very, very new. We just started August 1," said Thomas, who looks forward to establishing a record of success that attracts cooperation by other growers in other regions.
"That is absolutely what we want to do. Right now we don't have the business credibility, we haven't been in the business that long. The only reason we were able to the get the participation of these Nicaraguan growers is that they were able to get to know us personally," said Thomas. The next origin they hope to source from is Colombia, where dialogues have started with producers there, both directly with Thomas as well as with his satisfied producer friends in Nicaragua. After that, they'll aim for an African coffee.
"It's a lot of logistical legwork, to do this," said Thomas, who encourages farmers to continue bringing the brunt of their crops to market in order to pay off their loans, pay their laborers, start the procurement for the following year, and other immediate needs. But then save something for THCR, which sweetens the pot with higher returns. Said Thomas, "It's just an opportunity for farmers to allocate a portion of their crop to us, and forgo an immediate payment but receive a much higher payment at the end of the day. And it's a continual revenue stream throughout the year."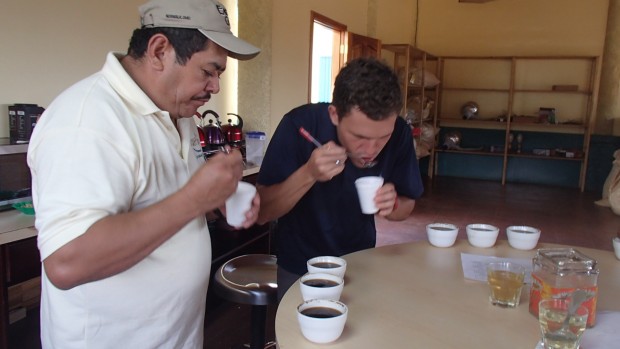 Howard Bryman
Howard Bryman is the associate editor of Daily Coffee News by Roast Magazine. He is based in Portland, Oregon.