In food service, as in comedy, timing is everything. So when a quality-focused coffeehouse is faced with the mixed blessing of long lines, the potential bottleneck at the drink-crafting station is really no laughing matter.
"People would get their food before they got their coffee and they wouldn't understand why," Jubala Coffee Co-Manager and Trainer Jordan Wells told Daily Coffee News of the situation at the busiest of times in the original JC location in North Raleigh, N.C..
Wells reported some frustration among to-go customers that was enough to inspire the company to "retrofit" its La Marzocco Strada MP into a speedier Strada EE to help pick up the pace at high-volume times. But for their second location, they decided to nip this issue in the bud.
There's no one-liner that wins over both the quick-fix takeout crowd and the chattier, more relaxed in-house crowd without sacrificing speed or customer service on one end or the other. So they went with an innovative two-liner solution. The new and much more central Jubala that just opened its doors beneath the Aloft Raleigh Hotel at 2100 Hillsborough Street this past weekend features not one but two separate, side-by-side espresso bars, each with its own independent point-of-sale.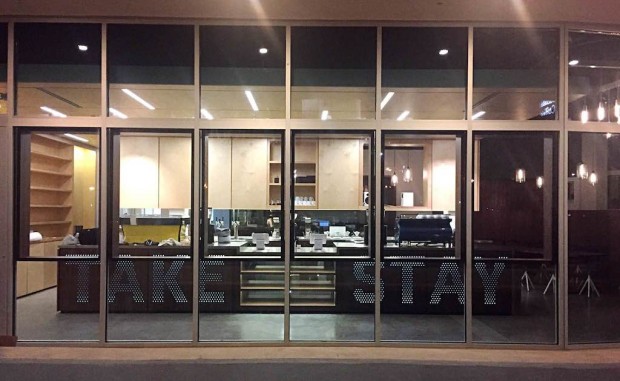 The split-service setup establishes what's essentially like an indoor, walk-up drive-through counter devoted entirely to customers on the go from the hotel upstairs, the university across the street, offices nearby or anywhere else. That station, marked "Take" in a pointillist design on the front, caters to the hustlers with a three-group La Marzocco Linea PB custom powder-coated in yellow, matte white and black, with gleaming chrome and stainless accents. "We're using the volumetrics for our to-go drinks," said Wells.
At the other end of the counter over the pointillist-treated word "Stay," a La Marzocco Strada EE two-group with see-through side panels is the tool for drinks to be enjoyed in-house. "People come up and they're lifting their kids up over the counter to look inside, to see that there's this analog, mechanical art to the thing that we're making," said Wells. The Strada is powder-coated in subtly contrasting gloss and matte blue, with matte black accents. Both machines have walnut portafilter handles, and both were customized for Jubala by Espresso Parts.
The downtown café offers seating for a bit over 50 people, including long tables, smaller tables, and seated window counters. Six taps are available for beer or for cold brew coffee, and a full on-site kitchen is slightly larger than the kitchen in the original location, facilitating an expanded food menu and leaving open the possibility of coordinating with local chefs for special events. While batch drip is generally relegated to coffee catering services at the original Jubala, the new location has a carefully dialed-in Fetco XTS system. Said Wells, "We went a little further with the programming to try to mimic our pourover process."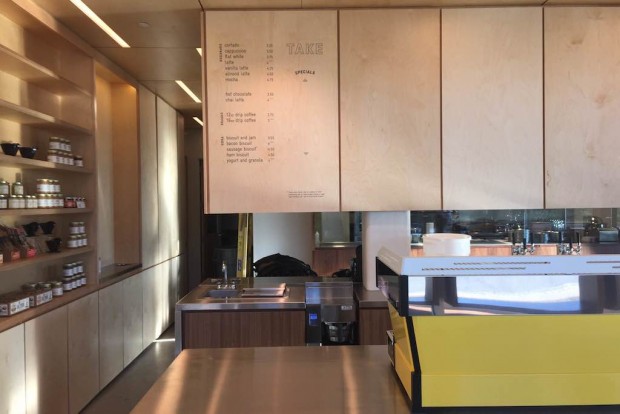 Coffees from lauded Durham-based roaster Counter Culture help keep the bar high for independent shops on Raleigh's growing specialty scene. "We are dictating our own culture, and we're not going to let anything stop us from doing that," said Wells, also reporting that Jubala will likely continue its partnership with Counter Culture for the foreseeable future rather than make moves towards a roastery of their own.
"They've been such a great resource," said Wells of their esteemed suppliers, who sent a van full of people from Durham to visit the new Jubala on its opening day. "Lem Butler was pulling shots at one point. He was using the coffee he competed with a couple weeks ago, on our EE. That kind of outreach and support for our brand is something that we really value. Counter Culture's been really awesome."
As for what comes next for Jubala, in the short term it will be to keep their aim true on the double-barreled café downtown. "There's always something on the horizon," said Wells. "Right now we just want to crush downtown Raleigh. We just want to keep doing good things and really raising the bar."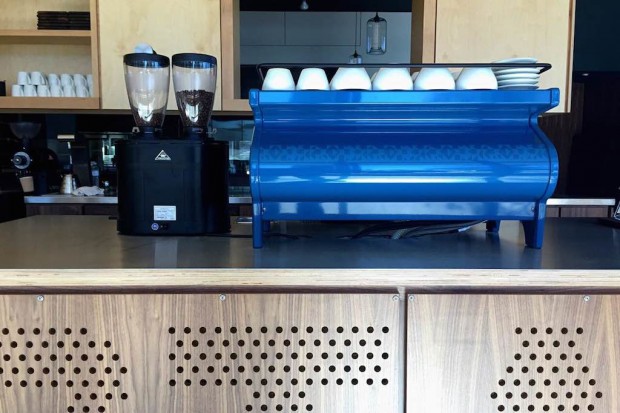 Howard Bryman
Howard Bryman is the associate editor of Daily Coffee News by Roast Magazine. He is based in Portland, Oregon.