Almost exactly two years after opening the doors to the Hugo Coffee Shop located at the Park City Chamber/Bureau Visitor Center in Kimball Junction, owner Claudia McMullin has announced that her business is expanding with the addition of Hugo Coffee Roasters, a small-batch in-house roasting arm also based in Park City, the skiing hotbed and home of the Sundance Film Festival.
At the center of the expansion is a brand new Diedrich IR12 custom painted in vivid purple, to match McMullin's hair.
"I ordered the roaster in the fall, and then I picked the color in October, and then I had it pinstriped and logoed," she said. It may seem like a big commitment to a hair color that, in the grand scheme of things, she hasn't been rocking all that long, but it helps to know that the new style was a change to which McMullin had long been looking forward. "I had to wait a while to do it because I'm also an elected official in my community. I'm on the Summit County council… I'm in the latter part of my second term so I thought, 'alright, now I can go purple.'"
The roastery will have a tasting room and space for meetings, special functions and educational events, though there is no formal retail component intended for the facility. "It's not a huge town and I have a successful coffee shop already," said McMullin. "I'm opening my second Hugo Coffee next month, and the roastery is in a different location."
The original Hugo Coffee, which the former head of a local animal rescue named after her dog, is essentially a kiosk situated within the 3,000-square-foot Visitor Center with seating spread out around the space that patrons are welcome to enjoy, if not technically part of the café. In addition to a full coffee menu, the location also offers a range of breakfast and lunch items, including paleo and gluten-free items. Of the latter, McMullin said, "That was my way of getting the cross-fitters in."
The newly opened 900-square-foot roastery inside a light industrial warehouse space at the Silver Creek Business Commons also includes a bar equipped with a Brasilia espresso machine as well as batch and manual drip brewing gear to provide tastings akin to how prospective clients, such as caterers and other coffee shops, will serve the coffee. The space also serves to accommodate groups such as a recent meeting of the Park City Women's Business Network. "It's fun, educate the community, get my name out, taste the coffee, we'll do lattes," said McMullin. "My roaster will roast and talk about our coffee. It's a fun interactive event."
That roaster is John Lynn, whose input helped steer McMullin toward a Diedrich, among other equipment-related acquisitions. Lynn came to Hugo from Silver Bean Coffee Roasting, Hugo's former supplier of roasted coffee. Lynn's experience prior to Silver Bean peaked with home-roasting before he determinedly entered the professional sphere. "I was basically banging on doors, begging anyone to let me work even bagging coffee or sweeping floors so I could start learning how to roast," Lynn told Daily Coffee News.
Silver Bean didn't really need the help at the time, but they let him come in one day a week and the relationship grew from there. Over the course of about five years he rose to the position of head roaster and green buyer, and phased through an Ambex, a Toper, and ultimately the first Loring to land in Utah. He only had about six months on the Loring, though, before jumping ship, as it was around then that Silver Bean was acquired by a larger regional coffee distribution company called BROG Distributors.
"I kind of lost my buying power, as far as what green coffees we were bringing in, which I didn't really like," said Lynn. At Hugo, Lynn once again has full creative control over green coffee sourcing as well as the roast profiles.
"It was a chance to start totally fresh and do things exactly the way that I wanted to do them," said Lynn. "We do still have some house blends, which is something that Claudia really wanted to do, which makes it easier for restaurants and things to have a little bit more consistency." Yet Lynn still curates those blends, and enjoys working with exactly the coffees and equipment he's always wanted to work with.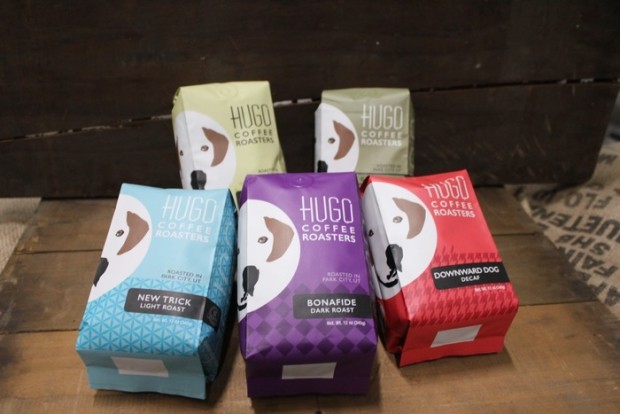 "It makes sense to vertically integrate. If I'm going to have one or two coffee shops, I can control my own quality and my own cost by being my own supplier," said McMullin of the expansion. New packaging for roasted whole-bean goods is being rolled out this month as well, and the new Hugo Coffee Bar — a 250-square-foot coffee counter inside the Summit Center retail and office development, about four miles away from the original Hugo Coffee location — is projected to open before the Spring.
Howard Bryman
Howard Bryman is the associate editor of Daily Coffee News by Roast Magazine. He is based in Portland, Oregon.