Within the highly personalized art of coffee, formulas are everything. From methods and conditions at origin to the finely tuned balance of roasting to the endlessly tweaked parameters of brewing, there is science in every aspect. And the consumer experience, too, has its variables to configure. At a newly rebranded café in Berkeley, Calif., now called Algorithm Coffee, every nook of the equation is considered.
When the five-year run of bohemian nonprofit Café Yesterday came to end in October of last year, Aaron Hubbard, now founder and GM of Algorithm, saw an opportunity. Hubbard moved to California from his home state of Indiana specifically to follow two dreams: to live in California, and to work in specialty coffee. He achieved both by gaining employment at the Berkeley café, and after several years of working and learning and rising in the ranks, plans were in the works to strike out on his own.
"I'd been ready to get into coffee for a long time," Hubbard told Daily Coffee News. "Getting out here, getting into Café Yesterday was a great opportunity,"
Researching different angles of retail development for coffee in the Bay Area, Hubbard found himself under the mentorship of Vince Virzi, proprietor of the Due Torri roastery in neighboring Oakland.
"He took me under his wing and started teaching me on the sample roaster," said Hubbard, who started his adventures in home roasting using an oven and now roasts Algorithm's coffees on the Probat UG-22 owned by Due Torri.
In the lead-up to opening Algorithm, Hubbard toured various coffee hotbeds around the United States, popping into at least 50 shops along the way. "I went to the SCAA industry event in Seattle, and I got to see what the industry is all about," said Hubbard. "I didn't know what to expect, and then I walked in there I was like, oh my gosh, the coffee industry is huge."
A particularly deep impression was made upon Hubbard during his exploration of Portland, Ore., in the days surrounding 2015's CoffeeFest event, at which he competed in the espresso contest. "I went to a party at Coava Coffee. They were doing a throw-down, and when I walked in I was just like, 'Yes! My people! This is the place I want to be,'" said Hubbard. "That was a big inspiration."
The young entrepreneur returned to Berkeley with a clear vision. He poured his own concrete counter, painted the walls a pristine white, applied local reclaimed wood finishes and hung Plumen filament-inspired CFL bulbs from the ceiling of the 1,900-square-foot, 49-seat space. In place of the ailing, 20-year-old La Marzocco Linea on which Hubbard cut his barista teeth, there now presides a sleek black Slayer V3.
While at Yesterday Hubbard proudly served coffees from Verve Coffee Roasters, Algorithm entirely roasts its own.
"We focus on single origins, and the way the Slayer processes coffees is right where we want to be," said Hubbard, who over the past year has also been doing R&D for Algorithm's in-house single-origin cold brew program. Having also recently spent a couple years in a partnership developing a proprietary retail brand of cold brew called Flux Cold Brew, Hubbard is no stranger to the heat-free concept, although for Algorithm Hubbard takes a different approach for a unique product made entirely under his own shop's roof and brand.
"It's a completely new method. Flux is its own animal," said Hubbard. "When I started developing Algorithm, it was really important to me to have the products served in our shop to be mostly made by us," said Hubbard, adding that while he is still associated with Flux, the RTD beverage-maker has since relocated to New York.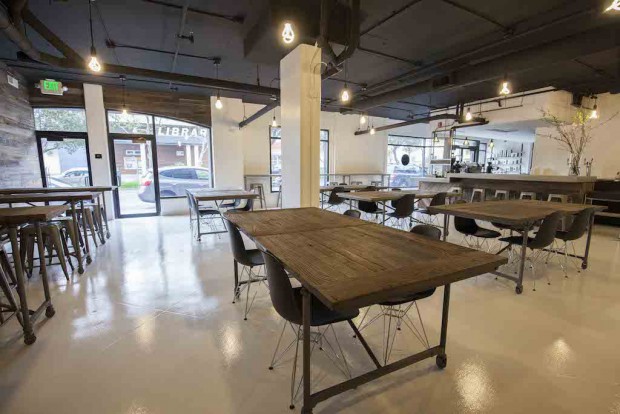 The only remaining way for people in the Bay Area to sample Flux is currently through a coffee whiskey product made in conjunction with a San Francisco brewery and distillery called Seven Stills. As for Algorithm's "more refined," 12-hour proprietary cold-water single-origin brews, those are available in bottles, kegs, and on tap at the Algorithm café, which officially declared its grand opening on Friday, March 4.
Hubbard said he is already in talks for securing a location for a second Algorithm café in Emeryville. "The plan is for that to actually be a cold brew facility, where we brew our cold brew and serve it and actually have it on display," said Hubbard, adding that he hopes to grow the company to include three or four retail locations over the next two or three years.
Howard Bryman
Howard Bryman is the associate editor of Daily Coffee News by Roast Magazine. He is based in Portland, Oregon.