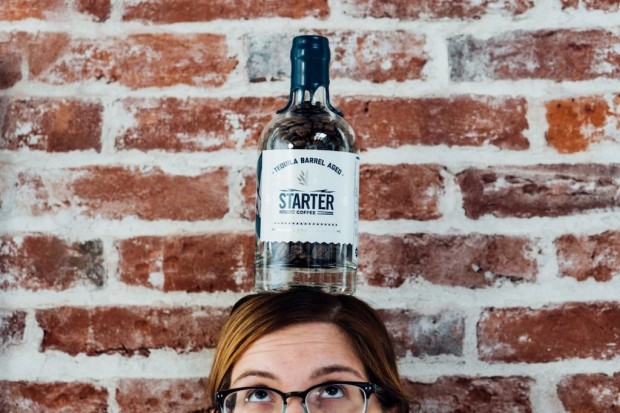 This week's Unpacking Coffee explores the creative partnership between two Cincinnati-area companies, Braxton Brewing and Carabello Coffee, that resulted in the Starter Coffee brand. Braxton opened its impressive brewery and tap room a year ago in Covington, Ky., with Carabello, based in Newport, Ky., as the roaster for the company's coffee program.
Kandace and Ray chatted with Braxton's marketing director Jonathan Gandolf and Carabello founder and roaster Justin Carabello to discuss the origins of the Starter brand, as well Starter's new tequila-barrel-aged coffee, which is beautifully packaged in 300 numbered wax-sealed glass bottles.
This being one the first tequila-imbued coffees spotted in the wild, we checked in further with Carabello regarding some of the challenges of roasting barrel-aged coffees, which is a relatively new experiment on the part of the coffee industry at large.
Carabello was generous enough to openly explain several of the trials, errors and successes of the Braxton barrel collaboration, which has also included a similarly limited run of bourbon-barrel-aged coffees.
The tequila project offered the rare opportunity to pair a coffee from the same country of origin as the spirit. In this case, after sampling six Mexican coffees from green coffee importer Cafe Imports and pairing them with the chosen tequila, the team settled on a Maragogype varietal from Finca Nueva Linda.
137.5 pounds of green coffee were added to two barrels that had been saturated with tequila, where they were aged for five weeks, with each barrel given a 1/4 turn each day. Carabello said the tequila-aged coffee maintained more of the coffee's origin character than the coffee previously used in the bourbon barrel experiment, although he suspects that may simply be due to the exceptionally large size of the Maragogype varietal.
"Going into it we knew that the dry phase of the roast profile was likely going to need to be elongated in order to compensate for the additional moisture it picked up in the barrel aging process," Carabello told Daily Coffee News via email. "In fact, we pushed the heat too hard too early on the first roast we did on this coffee and, once it hit first crack, the coffee just took off like a rocket. So, we adjusted by lowering the drop temperature by twenty degrees, and by adding heat much more slowly in the early stage of the roast. We also decreased our batch size by one pound in order to compensate for the fact that the larger bean needed more space in the drum to get good even heat penetration."
Unpacking Coffee is a weekly show discovering new coffee roasters one episode at a time led by Kandace and Ray of the Portland-based studio Needmore Designs, which specializes in coffee, wine and lifestyle brands.
Nick Brown
Nick Brown is the editor of Daily Coffee News by Roast Magazine. Feedback and story ideas are welcome at publisher@dailycoffeenews.com.