The Tin Man journeyed through the Land of Oz in search of a replacement for his long lost heart, an adventure he could pursue only as long as he remained a well-oiled machine. The same applies to Tin Man Coffee, a just-opened two-location addition to the ever-deepening coffee scene of Portland, Ore.
Helmed by native Portlanders Adam Schley and Matthew Peter, both of whom have more than 15 years of experience in specialty coffee, including stints at Alaska-based Kaladi Brothers Coffee and Portland's Nossa Familia Coffee, the new multiroaster company responds to the pretension they saw among top tiers of quality in Portland a few years ago by presenting equally high-quality coffee prepared with equal passion for slick new technology, but with a warm, approachable heart.
Both Peter and Schley moved away from Portland for a good number of years and then moved back several years ago to find an evolved coffee culture unlike any other. "It's world class, but it was also kind of intimidating, and not necessarily in a great way," Schley told Daily Coffee News. "This is less true now, but certainly five years ago, four years ago, you could very easily be overwhelmed."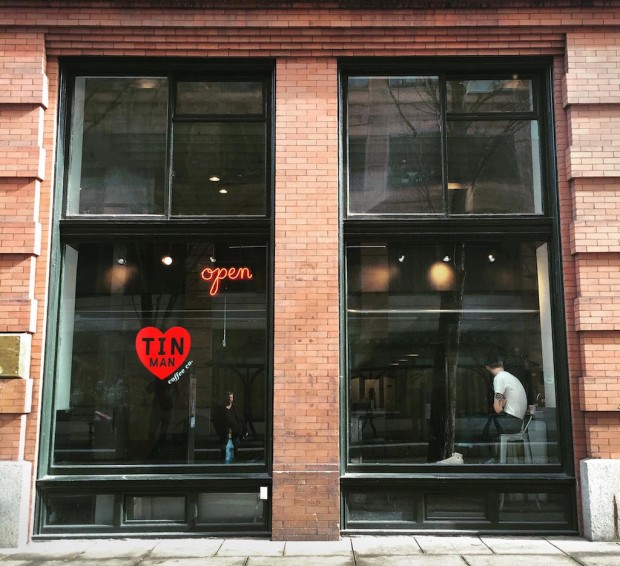 Schley described a time when coffee shop conversation around the Rose City would likely wind through such details as varietals and elevations, which, while by no means irrelevant, still wouldn't help the average consumer make a discerning selection.
"I'd rather just say 'hey, do you use a Mr. Coffee at home? Do you take cream with your coffee? What have you liked in the past?' With those three questions I can tell you what kind of coffee you're going to like," said Schley. "If someone's coming in and they've been drinking coffee with cream their whole life, I can't give them a geisha and say, 'Be amazed.' Their palate's not going to connect. That's when I'll go for something that's the best in a certain pocket."
This approach to customer education and service is what informs the selection at Tin Man, which Schley says runs the gamut of tastes and profiles. The current lineup, narrowed down through a process of blind cupping roughly 75 coffees from 15 different roasters, includes one coffee from Nossa Familia, two from San Francisco's Sightglass Coffee, three from Heart of course, and one Mexican single-origin curated by Tin Man and toll-roasted by their friend and colleague Rob Hoos at Nossa.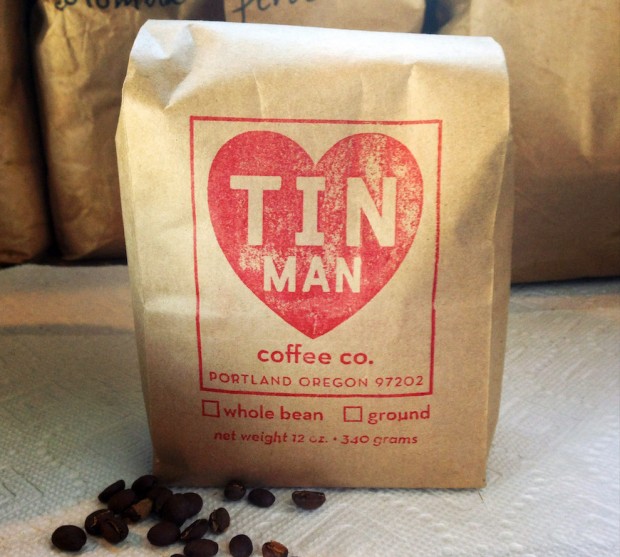 Through all their cuppings, Schley said he never came upon a nice, chocolatey, nutty middle-ground medium roast, and so to fill that gap, Tin Man sourced and developed and profile for a coffee themselves, for a rounded coffee program Schley sees as akin to the beer program at a brewery. "You've got an IPA, you might have a brown ale, you might have a Guinness, you have different styles. I'd like to have the best coffee in each style category," said Schley.
As both Schley and Peter have plenty of roasting experience, their original vision for the company was to pursue roasting first and retail later, although when it came to actually turn a plan into reality, they came to feeling that in Portland particularly, roasting without a retail outlet is a tough row to hoe. So when a prime location on booming Hawthorne Street at SE 47th Avenue virtually fell into their laps, they jumped on it as well as another property downtown at SW First & Oak Street ushered their way by the same developer.
The 800-square-foot downtown location, centered on a two-group Linea, Fetco batch brew and Mahlkonig grinders, opened last month attached to the lobby of the George Lawrence Building right next to a bustling MAX light-rail station. The Hawthorne location, currently in soft-opening mode, features Portland's first Mavam under-counter espresso installation, paired with a pneumatic tamp, which ensures consistency in yet another variable while diminishing the physical strain of espresso. Mahlkonig grinders and a Curtis under-counter hot water system for pourovers round out the station. "We're really trying to make it as consistent and as high a quality of product as we can," said Schley.
A Grand Opening Party at 4703 SE Hawthorne Blvd is scheduled for Saturday, April 16th, this month. Going forward, once these two shops hit a groove and more time becomes available, Schley looks forward to focusing more on the in-house roasting, while keeping tabs on larger industry trends. "Online sales, I'm really curious when that's going to click, who's going to figure that out first," said Schley. "I'm curious how that's going to develop and I'm going to keep a sharp eye on that."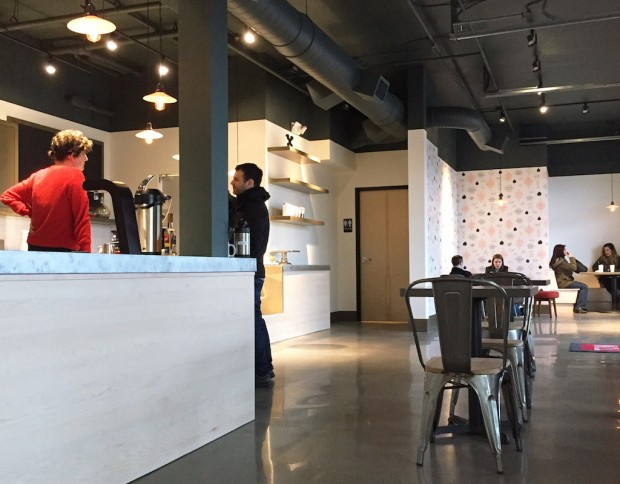 Howard Bryman
Howard Bryman is the associate editor of Daily Coffee News by Roast Magazine. He is based in Portland, Oregon.