Blue Bottle Coffee came to the relatively quiet, somewhat industrial Kiyosumi-Shirakawa area in late 2014 before officially opening there in February of 2015, and along with it came quality control manager Kevin Thaxton.
People were so excited to try the San Francisco Bay Area-based specialty coffee chain's offerings that they willingly waited in line for upwards of three hours during the first few opening months. It was a challenging period for the relocated QC head, but he talks about the whirlwind experience with a certain fondness, and a clear passion about his company and his profession.
Though the lines have generally shortened a bit, the small cafe within a warehouse-sized roastery has maintained steady popularity. Two other Blue Bottle Coffees have opened since then — one in Aoyama and another more recently in Shinjuku. The Blue Bottle Coffee Japan cafes, designed by Jo Nasaraka of Schemata Architects, are characterized by their clean and simplistic styles, with polished concrete, soft wood tones, and ample natural light.
I asked Thaxton, who came to Tokyo from California, more about the challenges of managing coffee quality in a new but immensely exciting city.
How did you get into the coffee profession?
Back in 2007 I was a musician living in New York City. I had some friends that were baristas and it seemed like a good way to earn some money while having the flexibility to play music and tour. A few years later I moved to San Francisco and started working at Blue Bottle Coffee as a trainer. I was beginning to enjoy myself more at work than trying to hustle music gigs all the time. It was at this point that I realized working in coffee could be a career.
What brought you to Japan?
My wife is from Japan and we had taken many trips here over the years. We'd always talked about the possibility of living here, but could never figure out what I'd actually do for a job. When Blue Bottle decided to open in Japan, it really was the perfect opportunity.
I'd been working as a trainer for four years at that point, so the transition into QC was natural. There is a lot of overlap between the two.
What have been some challenges you've faced in Japan?
The language has been a challenge, for sure. I can speak a certain amount of Japanese, but when the topics become more complicated and my caffeine intake increases, things can
become quite difficult. There are aspects of a language and culture that you never really learn until you are living in it. I know I've said and done many embarrassing things since I've arrived here, more than I'm even aware of, I'm sure.
Besides myself there were two other members that moved over here to work from the American team. So in the beginning everyone here was new to the company and learning the way we do things, why we do them this way, and how coffees should taste.
On top of that, I had to get calibrated with the roasting team. Our lead roaster Yuki came to Oakland a couple of times to train and work in production, so that was a big help. We have been tasting coffee together almost every day for over a year now, so we have become really in sync. That was a challenging time though, for sure. But the staff picked up everything super quickly. Once we opened I was too busy to think about things through a cultural lens — we went through four months worth of coffee beans in the first month we opened.
When it comes to the actual QC work, it's very much similar. Just recently our QC
person from Oakland was here and we were talking about how things are shockingly the same on the day-to-day.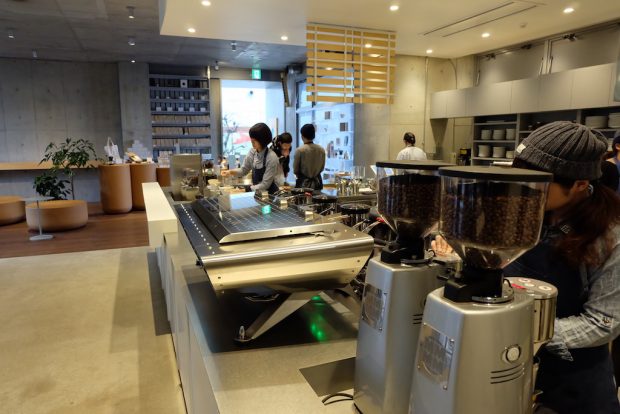 Has working in coffee in Japan been transformative in any way?
I've learned a lot about customer service by being here. Customer service is not a casual thing in Japan. Everyone notices when a customer walks in, and gives them their attention. It's a lot of subtle things that add up to an amazing customer experience.
We frequently have staff from the U.S. visit and work in the cafes here and they are always blown away by the attention to detail and customer service. There are different customer service cultures in the U.S. and Japan and we try to find ways to pull from both of them in ways that feel natural and genuine. Aside from that, people just generally take the job very seriously. Almost all of the baristas work full-time, follow the training to a T and have a lot of passion.
How do you manage QC challenges as Blue Bottle Coffee Japan expands?
While we open more and more cafes we are also expanding behind the scenes. This means we can grow because the infrastructure beneath us is also becoming stronger. We have 8-9 shops in the Bay Area and New York regions, so we already have systems in place on how to monitor quality for higher volume. Those are the same systems we are currently using here in Japan.
We are not using automation for roasting or brewing — everything is very hands on. This requires the staff to be really skilled, which requires a lot of training, and that simply takes time. That is definitely a challenging aspect of growing, while keeping the craft aspect the same. There are actually benefits to expanding, as well. Since we have a 35-kilogram roaster, we will be able to have more consistent batch sizes that fall into the sweet spot for that size roaster.
(editor's notes: Parts of this interview were conducted in person, while others were conducted via e-mail.)
Eric Tessier
Eric Steven Tessier is a writer and coffee lover. He is based in Tokyo, Japan.