Modest Coffee was founded by Marcus and Jenni Contaldo as a passion project, the logical next step from their home-roasting fixation. Armed with a 5-kilo-capacity Ambex YM5, Modest started rolling out coffees at farmers markets, in local independent stores and online with free shipping and no minimum order in 2013.
True to its name, the company has never advertised, and yet today ships to over 600 customers spread over all 50 states, as well as numerous office, catering and grocery wholesale accounts.
"We keep growing, and I don't know where our customers are coming from because we haven't been advertising," co-founder and lead roaster Marcus Contaldo told Daily Coffee News.
Sourcing greens primarily through Café Imports and occasionally through Coffee Shrub for roasting in his 1,000-square-foot space inside an industrial building at 245 W. Roosevelt Street in West Chicago, the characteristic Modest balance between high notes and full development — "50 shades of medium," as Contaldo puts it — have apparently resonated with consumers. Next month, the more studious citizens of the village of Sugar Grove will be able to sample the goods brewed fresh at their local public library.
As their first foray into retail, Modest Coffee has partnered with the library to take over their dedicated 900-square-foot Book Nook Café space, which adjoins a public seating area with an occupancy of about 70 people. There will be signage visible from the exterior inviting passersby in regardless of whether or not they were headed to the library, though Contaldo said he expects it to remain a low-key segue for the business. "We're supporting the library's needs with this public-private partnership. We're not expecting it to be like a Starbucks or anything like that," said Contaldo. "It's just us dipping into running our own retail space."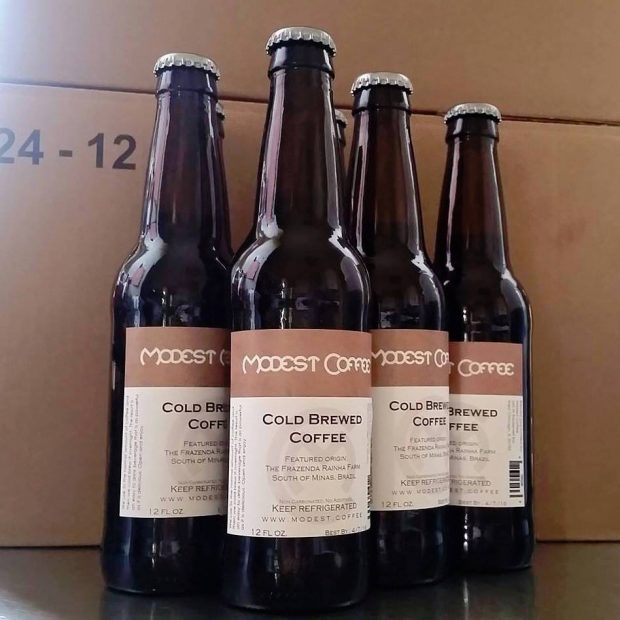 Jenni Contaldo will be the primary operator of the library flagship once it's open, serving Hario pourovers, standard espresso drinks and Modest's popular single origin series of cold brews both flat and nitro-infused. Having gotten great feedback and a significant increase in cold brew sales, both in kegs and in bottled RTD form through their existing channels recently, Contaldo has decided to centralize their development in that segment as one of the ways forward for the business.
Yet even with a confident push to scale up, it's not without prudence. "We don't want to go too mainstream," Contaldo said of his cold brew distribution strategy. "We want to go after upper end, more independent grocery stores, and give them a product that's unique and might help drive business to independent grocery stores."
Contaldo added that rather than grow too big too quickly, he'd rather take smaller, more deliberate steps in forming strategic local partnerships and remain community-oriented.
Within about a year from now, Contaldo hopes to pursue plans to relocate the roastery and open a second standalone retail café in neighboring Aurora, Ill., though for now the focus is on the library café that's slated to open in early June and will operate during library hours. Modest Coffee will simultaneously be debuting an overhauled website in early June as well.
Howard Bryman
Howard Bryman is the associate editor of Daily Coffee News by Roast Magazine. He is based in Portland, Oregon.