The George Howell Coffee company quietly opened its third retail location last week on the ground level of The Godfrey Hotel in the Downtown Crossing area of Boston, Mass., building upon a retail lineup of stores that includes their first shop inside the Boston Public Market and the second, which opened about four years ago, in neighboring Newtonville, Mass.
The new 1,700-square-foot shop offers seating for almost 50 people and keeps the Alchemy — the company's lone blend, for house espresso — flowing through two Kees Van Der Westen Spirit espresso machines. No fewer than three Nuovo Simonelli Mythos grinders and four Mahlkonig EK43s break beans down to size for an origin-forward menu that, as always, showcases the unique qualities of each single-estate coffee it offers. An under-counter Modbar installation is employed for pourover water dispensation, with a Fetco drip machine for grab-and-go cups and flash-brewed iced coffee on tap.
The Godfrey Hotel location also marks the company namesake's first standalone foray into the Boston metropolitan retail market since his Coffee Connection days, which started in Harvard Square in Cambridge in 1974. The new shop opened its doors without calling much attention to itself in hopes of ironing out its initial wrinkles in a sort of soft-opening mode.
"We're still training the staff and filling the space out, getting all the fine details down. But the reception's just been tremendous," company founder and specialty coffee pioneer George Howell told Daily Coffee News. "It's functioning pretty much the way we want, so I'm pretty happy."
Roasting for this and all other George Howell cafes and wholesale accounts will continue to be done in the roastery established in 2003 at 312 School Street in Acton, Mass., a few miles outside Boston. Howell reported that there's still plenty of production capacity left to grow into with their current lineup of a 30-kilo-capacity Loring — one of the first brought on line in the U.S. — and a Probat UG-22, an equipment duo that Howell said he enjoys for the distinct profiles each machine imparts.
Artwork hung to decorate the new café includes a few favorite works of Howell's created by the Huichol Indians of Mexico. An extensive retail section displays, demos and sells a range of brewing equipment and whole bean offerings. Pastries, toasts and sandwiches are on offer, as well as sweets from Belmont, Mass.-based French bakery Praliné Artisanal Confections.
As the shop continues to get up to speed, some new menu items slated to be introduced this summer include coffee tasting flights, creative specialty milk drinks and more. Upcoming one-on-one and group educational offerings at the café include a coffee brewer calibration clinic and other classes, in addition to the public cuppings they've already started to conduct.
Another new item of Howell Coffee culture being rolled out right now is a rebranding effort, including newly redesigned bags and branding that steps back from the company's trademarked "Terroir" label. "We may use it here or there, but you know, to have so many people calling you up and asking for terrier coffee or terror coffee, it just wasn't worth the battle," said Howell. "Of course we refer to terroir all the time, and we may well use the trademark in other ways."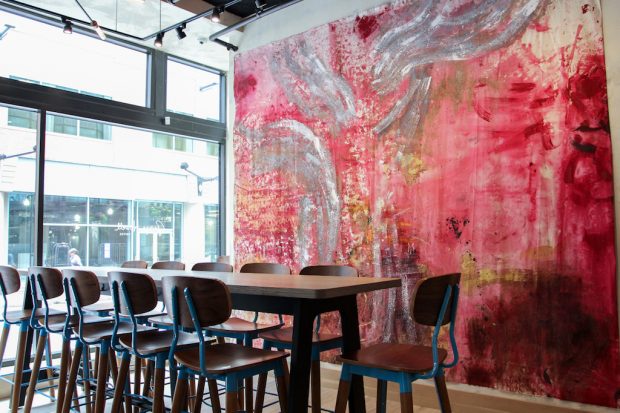 With its refreshed package design, the brand is focusing now on the more straightforward and memorable company name of George Howell Coffee, as opposed to Terroir, and Howell said the aesthetic of the bags is also more streamlined, more elegant and more complementary to the aesthetic of the new café.
Plus, the new designs are just plain different, the mere fact of which the 40-year industry vet notes is an important element of branding nowadays. "Unlike many years ago, when your bag could look the same year after year, people are looking for novelty or change more often," said Howell. "Whether people get bored with things or I don't know what, but it's clearly part of the new world."
As far as the flash-brewed iced coffee on tap at the new café, no one should expect it to appear in bottles on shelves any time soon, despite the recent RTD cold coffee boom. "Coffee really should be had on the spot once it's made. That requires a lot of dedication, but I think it's well worth it," said Howell.
George Howell Coffee flash-brews the coffees it serves cold, as Howell believes the method better preserves and represents the farm-specific attributes the company seeks to highlight, according to its mission. "Cold brew is a concoction more related to the way beer is made," said Howell. "It is not a terroir product, despite what other people are saying. It creates much more generic flavor that tends to overwhelm the subtleties of terroir."
Howell particularly takes issue with some of the more common marketing claims behind cold brew. "It is a pet peeve of mine to hear how wonderful cold brew is because it reduces the acidity," he said. "I don't even begin to understand how people in the so-called 'third wave' could begin to say that, when the higher grown a coffee is, the more acidity it has. I believe that in the right coffee that acidity is balanced by its body and by its sweetness, and it should never be considered a negative."
Nevertheless, Howell respects the growing trend of RTD drink production as a beneficial differentiation for companies striving to achieve volume sales in avenues outside the café and typical wholesale.
"I understand that. It's a concoction, just like café latte's a concoction and so on," said Howell. "It's one other face of coffee that helps the café and helps the company not only survive but thrive in this more competitive market."
Howell said that since he sold Coffee Connection, much of his professional interest in coffee has been devoted to highlighting and bringing to market single-farm coffees, citing his role in the creation of the Cup of Excellence competition and auction as a particular highlight.
"That's sort of the kick I've been on ever since," Howell said of promoting individual farms. "But certainly the world of creating unique drinks in combination with other products and so on is a crucial element, and in our coffeehouses we certainly are doing that as well. Cold brew is not at all out of the question. It's another part of the café business."
Howell stated that while a cold brew product increasingly seems like an essential component to the overall offerings of a coffee company, he would prefer it not to be the thing for which his company is known. "We may do cold brew, or an alternative drink, but it's not going to be one of my great coffees that I present that way," he said. "It would probably more of a blend type thing that is suitable for what cold brew really is."
For great coffees presented in exactly the way George Howell takes pride, patrons can line up now at the Godfrey Hotel in Boston, at 505 Washington Street.
Howard Bryman
Howard Bryman is the associate editor of Daily Coffee News by Roast Magazine. He is based in Portland, Oregon.