The Hot Tomato Café pizza restaurant opened by Jen Zeuner and Anne Keller in Fruita, Colo., more than ten years ago has grown steadily in popularity, garnering the establishment not only a devoted customer base but also plenty of requests for franchising. Yet when the talk of expansion got serious, the two remembered that they opened the pizza shop because their small, outdoorsy Grand Valley community lacked restaurant options.
Rather than offer Fruita another of the same, or focus their energy on businesses outside their beloved town, they decided instead to leverage the resources they'd built with one successful business to develop a different business that's equally valuable and beneficial to the community — a coffee shop and roastery, called Bestslope Coffee Company and Bestslope Coffee Roasters, respectively.
Coffee is something Anne Keller had long been passionate about, going so far as to roast at home on a small-capacity machine she bought from Mill City Roasters. Having already "devoured" several books on the subject, she also engaged none other than Scott Rao about two years ago for consultations.
"I wanted to get in on this before teaching myself bad habits," Keller told Daily Coffee News. "I really have no qualms with saying that I'm a complete novice in this, but that being said, I can also recognize that while being a novice, we also wanted to seek someone that could really help us with this process and make sure that we were going down the right path."
Meanwhile Brett Jones, a local firefighter with the Grand Junction Fire Department, had just independently invested in a 3-kilo-capacity U.S. Roaster Corp machine with aspirations of pursuing the profession. Zeuner and Keller brought Jones and entrepreneur Tom Griffith into the fold as co-managing partners of the new business, while Rao's role expanded to consultation for the coffee business as a whole. "Scott's been fantastic, and he's pretty notable in the industry," said Keller, "so I think we made a really great choice in going with him."
Taking a page from the community business development playbook of Ann Arbor, Mich.-based Zingerman's, by which Keller was inspired, Bestslope Coffee and Bestslope Roasting — the latter being the wholesale arm they intend to grow in coming years — are new businesses under the umbrella of Hot Tomato.
Zeuner and Keller developed the spirit of the business — its brand, suppliers, methods and offerings — and spearheaded the buildout and equipping of the new café inside a former residential house built in 1940. Once the business is on its feet and should finances play out to their projected models, Hot Tomato will maintain 10-percent ownership and control of the brand and its quality while managing partners Griffith and Jones will be majority owners.
"We knew we wanted to expand in some capacity, and we wanted to see some kind of growth, but the whole franchising thing just always felt kind of icky and corporate and not really a role that we wanted to see ourselves in," said Keller. "The community business approach just really resonated with us."
The new roughly 1,000-square-foot coffeehouse devotes about 500 square feet to drink prep, service and seating, with approximately 200 square feet around the roaster in full view of patrons and the remainder occupied by a storage backroom. A La Marzocco GB5 hums at the heart of the straightforward espresso menu, with Fetco batch brews and Chemex, Kalita and Aeropress manual brews on offer. Customers can relax at their choice of tables indoors, outside on a covered patio, or a little bit of both when they open a garage door on one wall in nice weather.
Beans by way of Café Imports and occasional selections from Coffee Shrub are roasted to a generally balanced, fully "expressive" degree on the darker side of full city, preserving some origin characteristics while still approaching the local palate's comfort zone.
"I don't think with our clientele that the really 'West Coast' light roasts would go over very well," Keller said. "We're just not really there, and I don't think it's that great personally, so we want a tiny bit darker. Most of what we're doing is full city, a little bit into full city-plus occasionally, and that's about as dark as we're going with anything."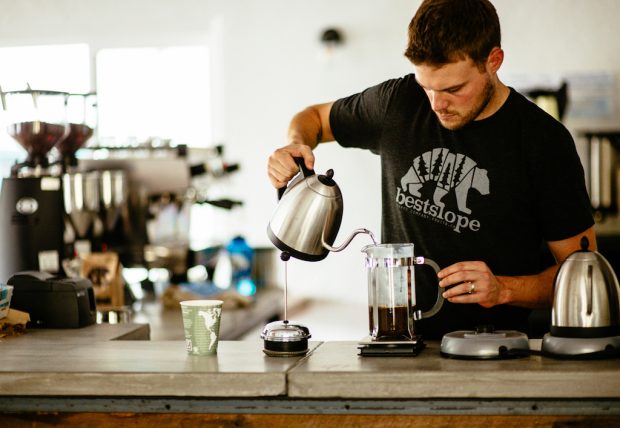 With the Hot Tomato audience excited for the new venture, Bestslope has definitely hit the ground running, according to Keller, who is confident that an upgrade in the roasting department will likely be the next step.
"Roasting five pounds of beans at a time for multiple batches is going to get a little old after a while," she said. "I foresee us being able to suck it up and do this for six months and then having to cross that bridge."
In about one years' time, Keller hopes Bestslope begins a more earnest push into regional wholesale roasting. Today, Bestslope Coffee Company is open for business at 129 N. Peach Street in Fruita, just a block over from Hot Tomato.
Howard Bryman
Howard Bryman is the associate editor of Daily Coffee News by Roast Magazine. He is based in Portland, Oregon.