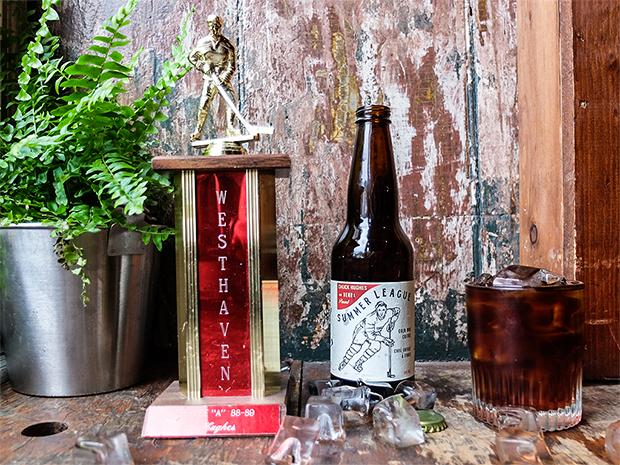 By the sheer volume of new RTD cold brew brands appearing on the market in recent years, it's to be expected that some of them disappear as quickly as they come. In Montreal, another new brand has emerged with the plan to do exactly that, although if all goes well, it will do it again next year.
This is Summer League Cold Brü, a small-batch single-origin collaboration between Chef Chuck Hughes and Café Myriade owner Anthony Benda. Each bottle's dually dated labels, indicating "brewed on" and "best by" dates, encourage consumers to enjoy the short-lived treat within a window of about three weeks.
"Chuck was the inspiration and driving force behind the project," Benda told Daily Coffee News. "Over the past few years a lot of different people have pushed me to bottle Myriade's cold brew coffee but I never saw a reason to do so. I felt like ever since Stumptown started with their stubbies, everybody was doing exactly the same thing just in a different bottle. Chuck and I play ice hockey together probably too many times a week all year round, and he pitched the idea to brand Summer League while we were sitting on the bench waiting for our shift."
The 2,000-unit limited-edition bottling began at the end of May with an Ethiopian coffee from Biftu Gudina, which will be followed by an Ethiopia Deri, all roasted by 49th Parallel Coffee. The Vancouver, B.C.-based roaster also supplies the entirety of coffee sold and served at all Café Myriade locations, save for the occasional "guest roaster" offerings that over the years have included London's Square Mile Coffee Roasters, San Francisco's Ritual Coffee Roasters,  Portland, Ore.'s Heart Coffee Roasters and others.
"I have no plans to ever roast, it's just not something that appeals to me," said Benda of the possibility of bringing roasting in-house someday, adding, "49th at this point is a world class roaster and there's little reason to believe I could match what they're doing in terms of quality."
Benda said that he and Hughes have discussed increasing production to a scale that serves more markets than just a few shops around Montreal in future years, though for its first iteration it was important to start small to keep it both fun and flexible in terms of the recipe, which varies slightly from batch to batch.
"I steep it varied amounts of time. It's easier for me to measure the TDS of the concentration and dilute accordingly than to try to follow a set recipe or time program," Benda said. "I'm brewing a little beyond the strength I typically serve at, so that when served over ice it dilutes to my ideal strength, which obviously is just my personal preference."
As for Myriade, Benda's partner Richard Baghdadlian recently purchased another cafe in Montreal's Plateau neighborhood and is in the process of rebranding it into the fourth Myriade retail outpost. However, Benda reported that he's not personally linked to that project and is actually thinking about going in a new direction, himself. Said Benda, "I've never been interested in opening several stores to be honest, and I'm contemplating now what I want to do next in coffee."
Benda said he's gravitating toward something that incorporates coffee as a featured ingredient but not necessarily the main attraction, such as in frozen desserts like ice cream, milk shakes or popsicles. "Where that will lead, if anywhere, is anyone's guess," said Benda, adding that whether or not the idea culminates in a new concept store of some kind, he draws particular inspiration from the energy and creativity he sees in the Los Angeles, Calif. company G&B Coffee.
"If I do get to work on a new project I would try as best I can to channel the energy and creativity they've invested in renewing specialty coffee to be accessible and approachable for all demographics," he said.
Summer League Cold Brü is currently for sale at seven select shops and restaurants around Montreal. Half or full cases can be purchased by emailing the company, strictly for local pick-up.
Of the 2,000 bottles slated for production this year, Benda said last week that roughly half had already sold, and several hundred of the next half will be set aside for the Osheaga Music Festival, at which Hughes provides catering for the artists.
"The response has been positive and if it continues I'm sure we'll meet whatever demand exists," said Benda. "Hopefully this becomes a yearly thing. As long as we're having fun I'm sure we'll keep doing it."
Howard Bryman
Howard Bryman is the associate editor of Daily Coffee News by Roast Magazine. He is based in Portland, Oregon.