In rural Upper Peninsula Michigan, a new company called Contrast Coffee is a counterweight and a balancing act unto itself. Its titular contrast is quality — in a world of generally bad coffee, Contrast is the opposite.
Its behind-the-scenes contrast is branding-related, in that the quality-focused brand of Contrast is actually a spin-off from the pre-existing, more cause-oriented parent brand Mission Arabica, whose goal was to find the most straightforward appeal to high-end wholesale and retail customers. Internally, the dual craft concerns of achieving well-developed body and sweetness while preserving a bean's delicate florals and aromatics constitute the balance at the heart of Contrast's offerings.
On July 2, Contrast Coffee officially transitioned from a soft-opening to a grand opening at the 770-square-foot flagship café in the town of Iron River, Mich., which verges on the Ottawa National Forest near the Wisconsin state line.
With a V60 pourover bar, batch brews by French press and a single-group Nuova Simonelli machine that's soon to be replaced by a two-group La Marzocco Linea, Contrast Coffee presents its quality proposition to a small population of year-round residents, while the number of potential customers grows by approximately three times as vacationers and sportspeople flock to the U.P. during the summer months, according to Contrast co-owner Chris Cheney.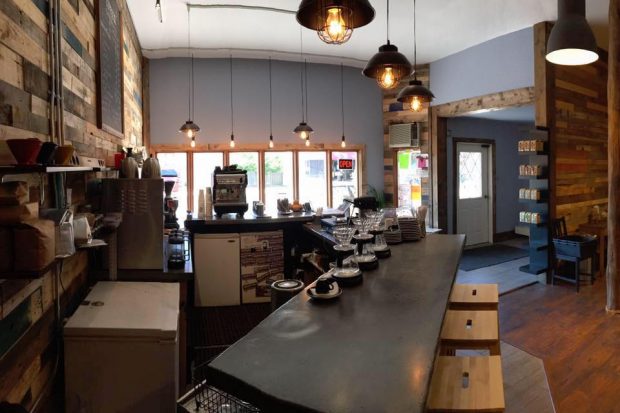 "We weren't really sure if this was going to be a good strategic move or not, but what's happened is that we're sort of a big fish in a small pond now, and the community's really embraced us,"Cheney said. "It's been working out quite well."
Contrast's roastery, currently offsite and centered on a 6-pound Artisan fluid-bed roaster, will be moving hopefully within about a month to a 235-square-foot space within the same building, which is owned by another attractive business, the Interpose Productions recording studio. Interpose offers a "productive vacation" to recording artists seeking an all-inclusive, well-equipped respite from the bustle and stress of urban life, and for those who struggle to leave behind their metropolitan specialty coffee, Contrast now fills that void.
"I don't think the music component was originally at the core center of who we are as a brand," said Cheney, who appreciates the strong creative community Interpose naturally brings to the café, the performance area they incorporated into the café buildout prior to Contrast moving in, and the space it offers for meetings and other gatherings inside the attached facility during production off-hours for which Contrast can now provide coffee catering.
There are also windows inside the café through which patrons can see the control room, including while engineers are inside working at the soundboard. "It's sort of become part of our brand serendipitously," Cheney said. "We didn't initially think about it, but it sort of fell in our laps and we really embraced it."
The coffee business itself also sort of fell into the laps of Cheney and co-owners Adam Holroyd and Gabe Whitmer. Through a friend teaching English in rural Laos, the three were inspired to find a way to help the struggling population there, as well as in other areas facing similar challenges. That's when the Mission Arabica brand was born. Said Cheney, "None of us were really into coffee, but because of some of the opportunities we saw of ways that we can make an impact with coffee specifically in that area of the world we thought it was something worth going after, so we started learning everything we could about coffee."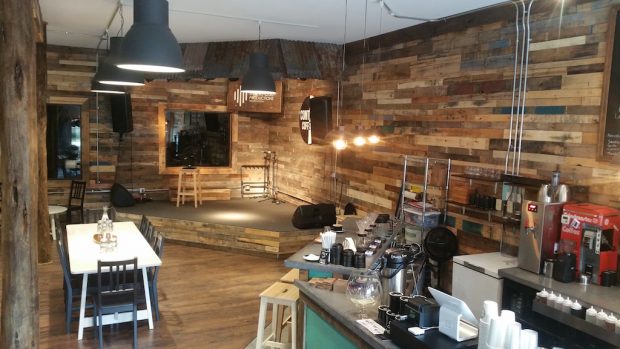 Two years later, having established a healthy presence on grocery shelves in various markets around the Midwest, it started to sink in that there was a certain caveat to marketing a "cause" coffee in the high-end wholesale world.
"Everybody wants to support farmers, that's pretty much across the board," Cheney said. "But at the same time, sometimes I think there can be an almost negative viewpoint of 'cause coffee.' We weren't in the coffee industry, we got into it for 'cause,' and I think sometimes that has a negative viewpoint from a quality standpoint."
Cheney said that in making their pitch to higher-end coffee shops from the Mission Arabica brand, he sensed that a part of the brand's first impression, before people even tried the coffee, was a concern that the cause might be more of a focus than the quality.
"We wanted to get past that perception," said Cheney. "Our focus was, we want to make a difference in these peoples' lives using quality. We never wanted anyone to buy just because of our mission. We wanted people to support that and understand what we were doing, but at the end of the day we wanted people to buy coffee because it's good coffee."
So, in partnership with experienced barista, café manager and close friend Alex Fields, a new and technically separate company called Contrast Coffee was born. Fate stepped in when the initial coffee business slated for the space inside the Interpose building fell through, and Contrast found its new base of operations in Iron River, where the roastery helmed by Holroyd was already located.
Cheney reports that the local reception has been warm and business has been steady. Their 6-pound-capacity roaster, now roasting for both wholesale brands and their own café, is already reaching its maximum productivity; an upgrade in that department is currently under consideration. While the push into expanded wholesale also continues and the new shop gains its footing, Cheney said that the company has also discussed opening two or three additional cafés should all continue as well in the next few years.
Howard Bryman
Howard Bryman is the associate editor of Daily Coffee News by Roast Magazine. He is based in Portland, Oregon.