Currently coming to the end of a successful round of crowdfunding to the tune of nearly $125,000 and counting is a fascinating new line of coffee products from GIR: Get It Right, a small and forward-thinking company devoted to smartly engineered housewares. At the core of the upcoming coffee line is the Voltaire Smart Grinder, a portable grinder with ceramic conical burrs and rechargeable battery.
The company has stated that their 40-millimeter burrs — for reference, the same size burrs as found in Baratza machines — are manufactured by a high-quality ceramics factory that also makes knives for Kyocera. They also state that the battery can power through three pounds of espresso-fine grinding nonstop and can then be bypassed by plugging into a power source.
Other effective mechanical design elements include a direct grind path from the hopper through to an illuminated, anti-static catch cup, a stepless adjustment collar and minimalist LED-based timer knob with memory. Things get particularly intriguing, though, with the inclusion of a built-in sensory platform that accompanies either the grinder or the Airvault coffee storage accessory.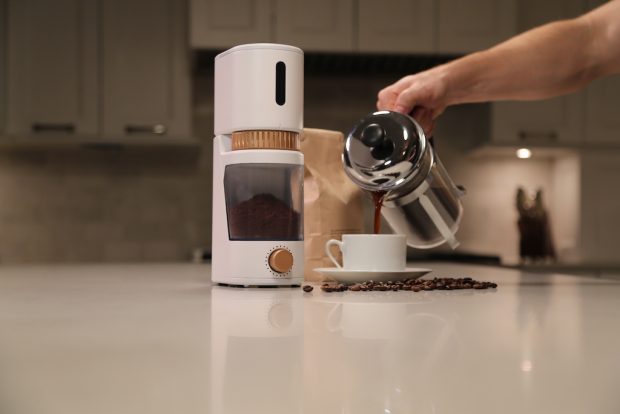 The sensory platform is an array of electronic sensors that measures released volatile organic compounds, gas concentration, temperature, humidity, bean mass and volume, according to the company. This data then feeds into an algorithm that is also capable of factoring in additional stats such as roast date, bean varietal, roast style and more. As more users contribute more data and the company continues to refine the algorithm, the idea is that the entire system will get "smarter."
Of course the platform also has Wi-Fi, linking to the Internet of Things for displaying its info in colorful graphic charts and messages via smartphone app, and can reorder coffee from select sources automatically if a user so chooses. Yet from an industry perspective, a technology such as this could usher in a new level of quality control for roasters.
Once coffee leaves a roastery, the effectiveness of its storage is anybody's guess, no matter how much its importance is impressed upon wholesale clients or consumers. If everyone had Airvault-style containers with the GIR sensory platform, a roaster could potentially step beyond a vague recommendation based on days off roast and instead provide a set of specific freshness readings their customers should watch for.
"We're really hoping for commercial adoption," GIR CEO Samantha Rose told Daily Coffee News. "One objective in introducing first to consumers is that we'll be able to train and refine our learning algorithm against a broad set of data — roast types, environments, etc. But after that, the commercial setting is especially interesting because a roaster can use their typically more controlled environment to run an analysis of the impact of different variables and make precise storage and usage recommendations for their own roast recipes from there."
According to Rose, the view through the app starts with a top-line single aggregated readout of freshness, as well as a historical freshness trend, as calculated by the algorithm. Bean mass, temperature, and relative humidity are also clearly indicated. "You can monitor specific readings individually, both real-time and historically, by drilling down within the app; our plan is to make these specific readings available at no additional cost so that everyone can join the nerdfest," said Rose.
The platform itself does need to be plugged in for continuous power, and is built into an optional base that attaches to both the Airvault and the grinder, doubling as a battery-charging dock for the latter. Said Rose, "Part of the reason for this is the volume of data being collected and transmitted to the cloud on a near-continuous basis, as well as the operation of an onboard fan that pulls headspace gas samples through a tube from the hopper/container down to the platform at a frequent interval."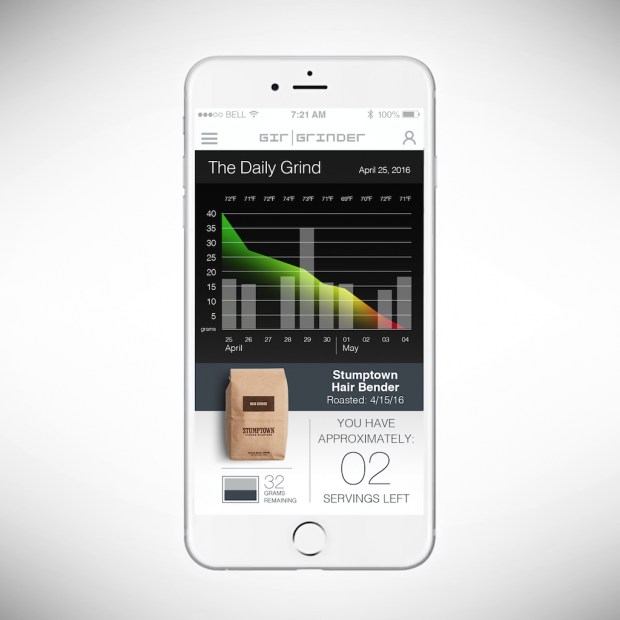 The algorithm and the sensory technology is all open-source, encouraging advanced tinkerers to modify the equipment to track other items such as fruit, grains or even cupcakes inside the containers. Long-term testing is still underway to see what the platform can detect by measuring stored green coffee, although Rose said so far there hasn't been much for the sensors to 'look' for in that regard.
While Rose does not have a background in professional coffee herself, she said that she identifies as a "prosumer" for her daily home espresso habit. Scott Heimendinger, Director of Applied Research at Modernist Cuisine, is another self-identified coffee prosumer that consulted with GIR to develop and refine the freshness-sensing tech. Said Rose, "We collaborated with several baristas in NYC and Portland, although I'm not able to share the names of the roasters they work at on the record since we're not corporately aligned with them."
GIR is currently on track to ship Kickstarter rewards by March 2017, followed by a wider public release sometime in the early summer of 2017. In the meantime the company has other kitchenware designs heading to Kickstarter by the end of this year, including tongs, a whisk, a ladle and others.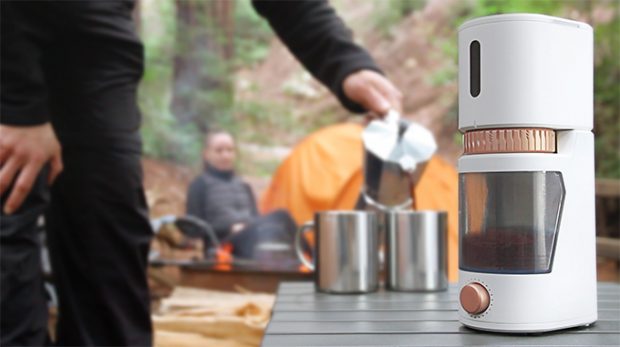 "We've also started to plan out a larger, non-portable version of the Voltaire grinder that uses a similar configuration and sensing capabilities in a more commercial form factor," said Rose. "It's looking really cool, and we'll probably have something to share by late 2017."
Howard Bryman
Howard Bryman is the associate editor of Daily Coffee News by Roast Magazine. He is based in Portland, Oregon.