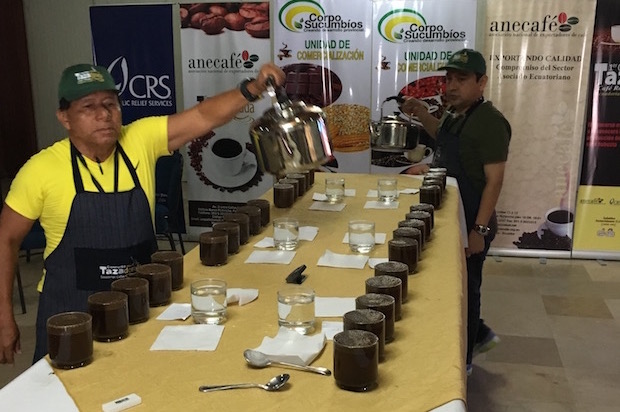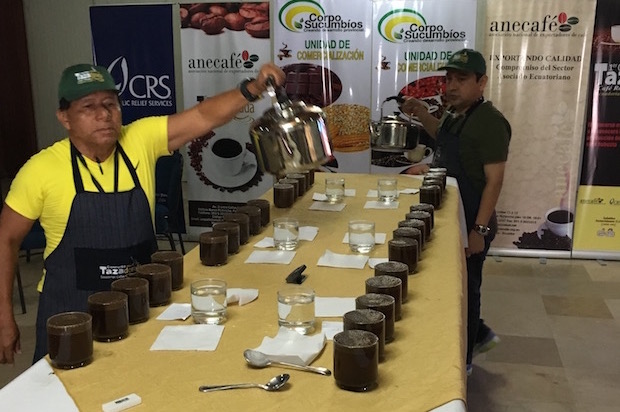 The Taza Dorada Robusta (Robusta Golden Cup) national coffee competition wrapped up last week in Lago Agrio, Ecuador, marking the nation's first robusta competition of its kind.
Organized by the Ecuador national coffee association Anecafé, along with Catholic Relief Services and the Sucumbíos provincial government, the competition was designed to promote and recognize quality improvements among the nation's robusta producers, and to increase the value of fine robusta coffees.
"It was extraordinary to see this level of competition in the first year," said international judge Miguel Meza of Paradise Roasters, who was so impressed by the top-scoring coffee that he purchased the lot at three times the going market rate. "I've participated in established Arabica competitions where the event was not as well organized and the coffees not as good as these specialty Robustas."
Coffee from the farm of Mr. Calixto German Rivera Narvaez took the top spot, scoring 84.40 points and described with notes such as grape candy, kiwi, stewed fruit and residual banana. Notably, the winning coffee was grown at the highest above-sea level (800 meters) of any of the competition's coffees. The second- and third-place coffees were grown by Abel Lapo Tandazo and Jesús Torres, respectively, scoring at 84.15 and 84.10.
In total, samples from 38 lots were submitted to the competition, coming from smallholder farmers and coffee estates in the Sucumbíos, Orellana, Guayas and Napo provinces. After scoring from a panel of international judges Twenty five of those coffees moved on to the semifinals in Lago Agrio, scoring an average of 81.99 on the fine robusta. All 25 of those lots were sold immediately following the event.
The event was the crowning achievement of a five-year program implemented by CRS in Ecuador as a part of its Borderlands Coffee Project, which helps smallholder farming families boost household income.
"Increasing productivity of Robusta farming in Ecuador is an immediate opportunity to increase household earning," said Jairo Andrade, CRS Ecuador Borderlands Project Director. "The future of increased value and sustainability for the industry will come from quality differentiation."
"The purpose of this Robusta competition is to reinforce the concept of quality among our Robusta producers, who otherwise have very little incentive to improve," said Pablo Pinargote Alonzo, the director of Anecafé, which has organized a similar national event for arabica for the past 10 years. "If this first year of competition for Robusta is any indication, the future will be very bright for Ecuador as a supplier of high quality Robustas to meet the growing demands of domestic international coffee consumers."
Nick Brown
Nick Brown is the editor of Daily Coffee News by Roast Magazine. Feedback and story ideas are welcome at publisher (at) dailycoffeenews.com, or see the "About Us" page for contact information.