In today's world of traveling street tacos, boutique mobile ice cream, and yes, specialty coffee stands and popups, the Airstream brand is enjoying something of a special moment in its 85-year history, representing the modus transportius of choice for a number of specialty foodie companies.
Although certainly not cheap, vintage Airstreams exist in abundance in the wilds of the United States, in all directions outward from their Ohio point of original manufacture. Such is not the case in Australia, where despite the proliferation of mobile, quality coffee, as well as for the sleek rounded silver design of Airstreams, the trailers themselves were not available for decades.
Airstream does have an Australian wing these days for new sales, but used models, especially of the vintage variety, are nearly impossible to come by, which is why the team at Perth-based roaster/retailer Rubra Coffee looked all the way to Los Angeles, Calif., to buy their recently outfitted Airstream, the first of its kind in Western Australia, according to Rubra owner Allan McMurray.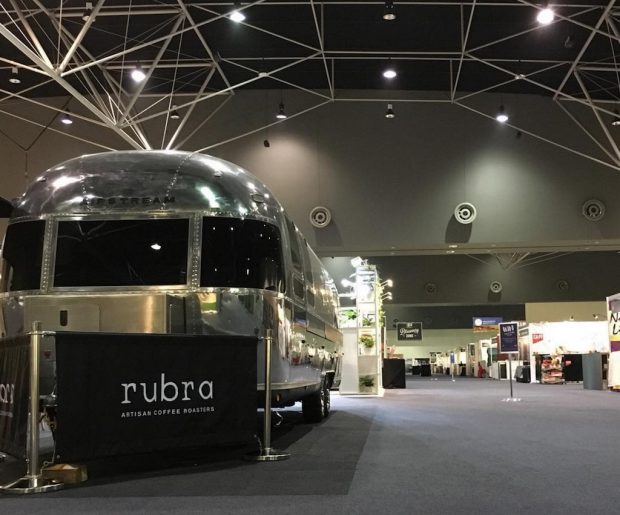 The Rubra Coffee Airstream in Perth. Photos courtesy of Rubra Coffee.
After looking for a solution to promote our roasting company, we decided on the Airstream because it was so different [from] anything else that's in Australia, and they're really cool, along with the fact that it's totally transportable and easy to use," McMurray recently told Daily Coffee News.
The purchase required a flight to California to check out the trailer's condition, although getting the goods through customs proved most challenging. "Customs are really strict so we had to overcome a few issues there like removing the existing air conditioner because of the gas use," McMurray said. Fumigation of the unit was also an issue and had to be timed with the arrival of the ship that transported the trailer to Australia, so we had only a two day turnaround once fumigated to get it on board."
Now in Perth and recently unveiled at the Good Food and Wine Show, the Rubra Airstream is decked out with two 2-group La Marzocco Linea Classic espresso machines, four Mazzer Major grinders, with capacity for an additional grinder, a refrigerator, and a drip station for single-origin offerings.
Nick Brown
Nick Brown is the editor of Daily Coffee News by Roast Magazine. Feedback and story ideas are welcome at publisher (at) dailycoffeenews.com, or see the "About Us" page for contact information.