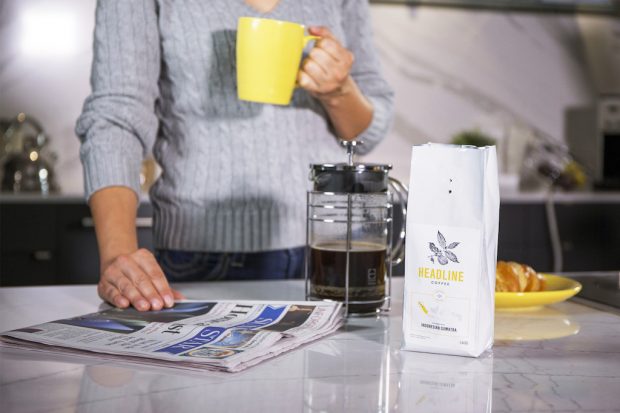 In this digital age, traditional print news publications are turning to other forms of retail to generate revenue in order to keep their newsrooms staffed, effective and able to provide their invaluable service to the public.
The New York Times and Wall Street Journal both have wine clubs, for example. In that spirit, the Toronto Star has just announced Headline Coffee, a new fresh-roasted single-origin coffee subscription, aimed just as much at their audience of readers as it is at anyone else.
The coffee partner in the venture is North York, Canada-based Mountain View Estates Coffee Company, with whom a panel of Star parent company Torstar workers collaborated on a 12-month lineup of Fairtrade certified coffees.
"The coffees are carefully selected," MVECC President Eric Shabsove told Daily Coffee News. "It is chosen by a few unique factors, the freshest crop release date, uniqueness of taste and origin and also a nice combination of medium, full and dark roasts."
MVECC roasts a combination of directly traded and partner-imported coffees on a pair of fully automatic 4-bag Javez Burns roasters in a 28,000-square-foot facility, strictly for wholesale. Headline Coffees are packaged both whole bean and ground, the latter of which was a compromise Torstar opted to make to attract as many subscribers as possible.
"We settled on whole beans initially because we wanted to encourage readers to brew the freshest cup possible by grinding at home," Star Media Group Strategy and Innovation Analyst Eric Fleming told Daily Coffee News. "Knowing, however, that this could reduce consumer trial, we decided to offer a pre-ground option as well. Quality impact will be minimal given the quick turnaround from roasting to delivery."
In order to determine whether coffee would be a worthwhile gamble over other potential new revenue generators, Fleming said the company first conducted a study examining Toronto Star readers' disposable income habits in general.
"After highlighting the consumption of coffee as a high-potential category, we investigated with reader surveys," said Fleming. "Ultimately, we found that coffee is an important part of 75 percent of our readers' morning routines."
Each coffee comes packaged with thorough house-written articles documenting the origin, processing, sourcing and other details of the coffee of the month. Yet while the parallel businesses of beans and news share a parent company in Torstar, they are not one and the same. Newspaper subscribers are under no obligation to buy coffee, nor must coffee subscribers buy a newspaper. Crossover is of course welcome, though on the coffee website at least, not overtly pushed.
Fleming said that this has yet to be determined whether there may be additional products or subscription schemes available from Torstar or Headline Coffee in the future. As for the potential of opening a café or perhaps a coffee shop-newsstand type of physical representation, Fleming said the company is keeping its options open.
Howard Bryman
Howard Bryman is the associate editor of Daily Coffee News by Roast Magazine. He is based in Portland, Oregon.