Seattle-based roaster Anchorhead Coffee opened its flagship brick-and-mortar café last week, marking a great stride in the company's efforts to grow beyond its bottled RTD cold brew origins.
Cofounded by Mike Steiner and Jake Paulson in Steiner's home garage in 2013 with a Diedrich 2.5 and a buildout to pass commercial kitchen inspections, the company has always sourced, roasted and brewed its own coffee in-house, but made a name for itself initially through its retail cold brew, from which it now seeks to more publicly expand into recognition as a full service coffee company.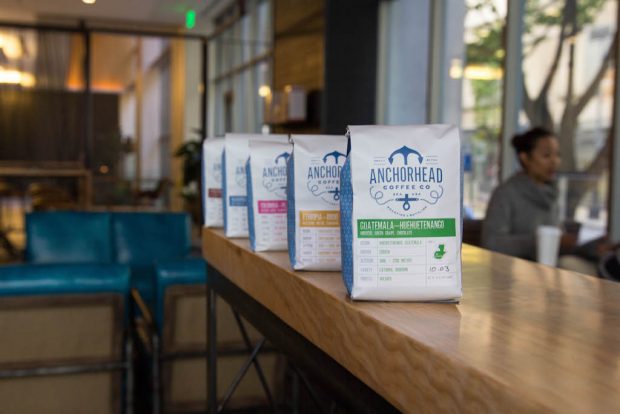 "We're still seen as 'that cold brew company,' when in all reality the majority of our sales is whole bean coffee, but it's wholesale to cafes and stuff," cofounder Jake Paulson told Daily Coffee News, despite the company's having won the America's Best Espresso contest at CoffeeFest Portland in 2015. "So it has been difficult, but I think this café is really going to help."
Coffee service at the 1,000-square-foot Anchorhead flagship centers on a 3-group Synesso MVP Hydra paired with dual Nuova Simonelli Mythos Clima Pro grinders, while single-cup manual brews are executed with robotic efficiency and precision by a Poursteady machine.
"It's a super cool machine, we've been pretty impressed with it so far," said Paulson, praising the automated pourover bot for its ease of use, versatility and speed.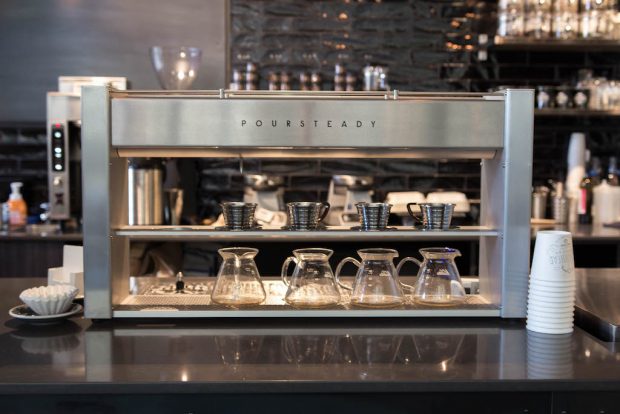 Beer, wine and small plates are served at happy hour, while hearty and creative fresh-baked breakfast and other edible goods are also on offer throughout the day at the coffeehouse, including the "quaffle," made from croissant dough rolled up cinnamon-bun style and then waffle-ironed to flaky, caramelized perfection, served with maple syrup.
"People really like that thing," Paulson said of the discovery they made while tinkering with the waffle iron one day at the warehouse. "It's so good. I want to eat like five a day."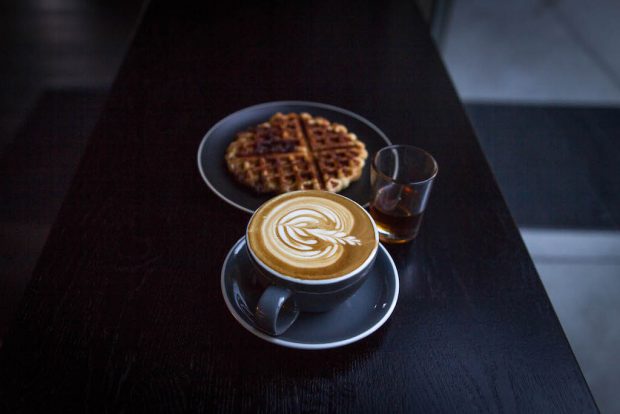 To this point growth has been swift for the business, particularly for its cold brew, which quickly found space on shelves around the Pacific Northwest at retailers such as QFC, Whole Foods, and PCC Natural Markets. Production now occurs in a 4,000-square-foot warehouse on a Loring S15 Falcon, at which their goal with the greens they source predominantly through Royal Coffee, Atlas Coffee Importers and Red Fox Coffee Merchants is always to bring out the best possible flavors of a coffee regardless of what its intended brew method will be, while also carefully sourcing for year-round blend consistency as well.
"It's not a crazy difference," Paulson said of roasting for their Guatemala/Sumatra cold brew blend as opposed to roasting the same coffees for individual single-origin presentation. "We roast them pretty much the same. We might take them a degree or two darker [for cold brew]."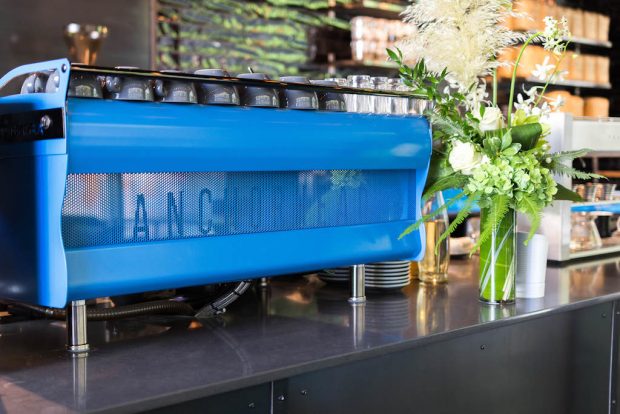 With the doors to the Anchorhead café at 1600 7th Avenue in Seattle's CenturyLink Plaza opened for barely two weeks, the plan is to let the shop settle into a groove and then Anchorhead may consider additional locations in about a year, Paulson said, adding that neighboring Bellevue, Wash., might offer some promising territory.
Said Paulson, "We'll see how things go, and go from there."
Howard Bryman
Howard Bryman is the associate editor of Daily Coffee News by Roast Magazine. He is based in Portland, Oregon.