Last week we took a look at some of the quality-oriented shops that have emerged among the growing Eastern European specialty coffee culture of Poland, specifically outside of the increasingly well-established Warsaw scene.
None of the shops highlighted were in Lagow, a tiny village in the northwest corner of the nation situated beautifully between two glacial lakes that's also the hometown of Anna Domagala-Kaczmarczyk, cofounder of a new roasting and retail company in the considerably different village of Deerfield, Ill.
Anna met Karl Kaczmarczyk, whose slightly larger hometown of Mragowo is on the opposite side of Poland, while on a train to Berlin. They eventually came to be married and immigrated to the United States in pursuit of higher education and to follow their dreams of a cozier life making a living doing things they love.
Anna's family in Poland runs a successful ice cream, pastry and Belgian waffle company where she consistently worked until graduating college, before gaining hospitality and cafeteria experience elsewhere. Meanwhile, Karl studied ecology while nurturing a passion for coffee, and together back in April of this year they opened the doors to Chaube Coffee, introducing consumers in Deerfield to the appreciation of fine, fresh-roasted coffee and freshly baked snacks made of whole, natural ingredients.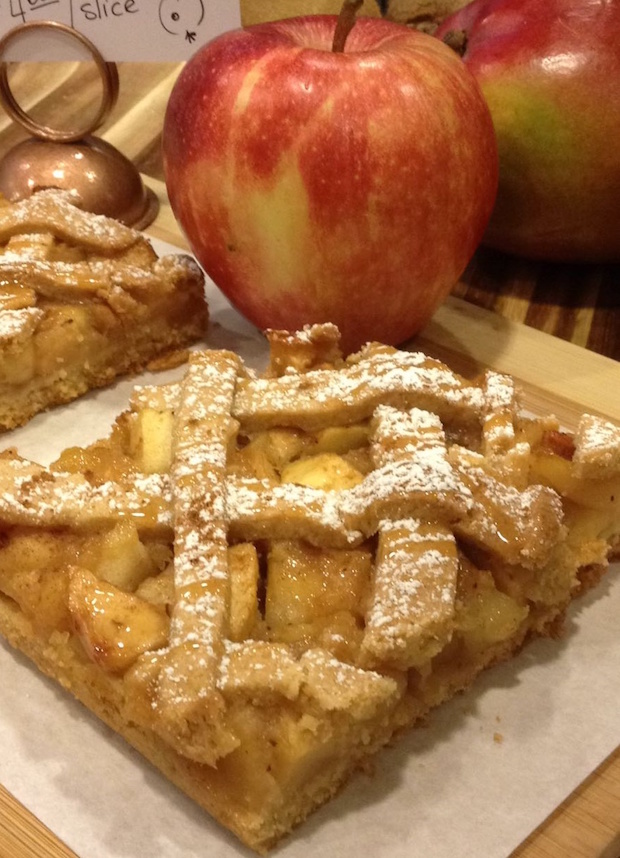 Just as their perspectives on food and drink are drawn from their origins in the old country, the term "chaube" also dates back — to the 16th century, as one of the earliest known terms for coffee. It's indicative of a mindset that eschews the modern mass-production sensibility in favor of something simpler, fresher, less artificial and higher quality.
"Baked goods are pretty cheap for us to buy, but at the same, the customer doesn't get the best quality that they should get, from either coffee or baked goods," Karl told Daily Coffee News. "That's why we decided to buy an oven and bake ourselves, because we know how to bake, and we know that there is a huge difference."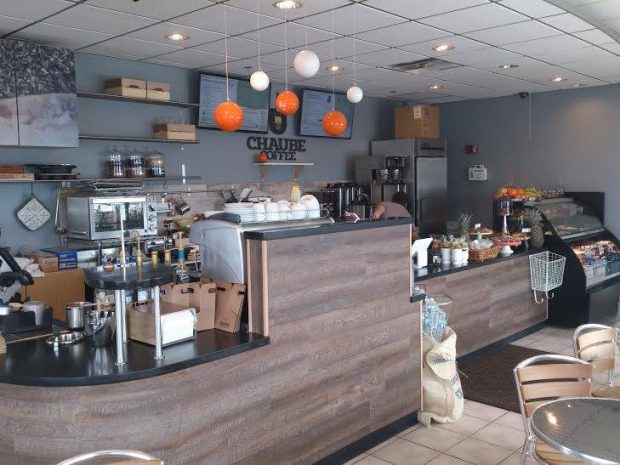 As businesspeople they're both keenly aware that the investment into higher-quality ingredients and the time it takes to do things right ultimately narrows the profit margin, though it's a sacrifice they're willing to make in order to turn out products they believe in. "We really don't make much profit so far," said Anna. "And so what do you do, right? You keep working."
Part of the process has included an ongoing exploration of different baked goods to offer, keeping the ones that sell best. "Day by day I try something new, and I think I'm getting better at it," Anna said of their general trial-and-error process, as it was pretty early on that they learned that they can't make any assumptions about consumers in Deerfield based on the popular traditions they'd grown up with.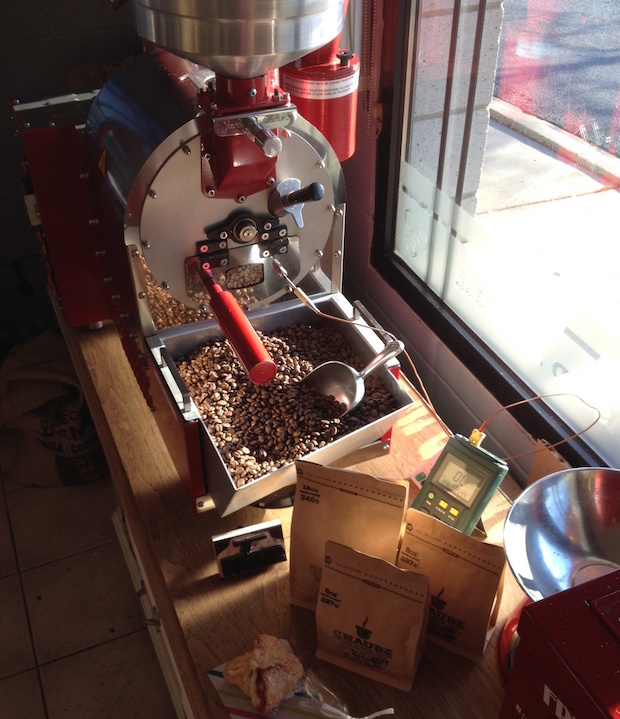 "We were shocked that on our first opening morning, we made like two lattes and one Americano, and we sold like 50 cups of brewed coffee. We were like, 'oh my gosh, they're not drinking lattes! They're not drinking cappuccino, geez! All they want is brewed coffee and half a gallon of half-and-half.'" Said Anna. "It was a culture shock."
Anna explained that the only place you could find brewed coffee in Poland would be in hotels or other places that cater almost exclusively to travelers, and that no one would have a Mr. Coffee-type brewer in their home.
"Looking at Poland, probably 75 percent you're looking at espresso," she said. Although the Chaube shop is also close to the local train station, therefore a good amount of the quickest grab-and-go type of business is to be expected, which they now understand, despite their enthusiastic encouragement for people to try new things, will probably always include a lot of brewed coffee.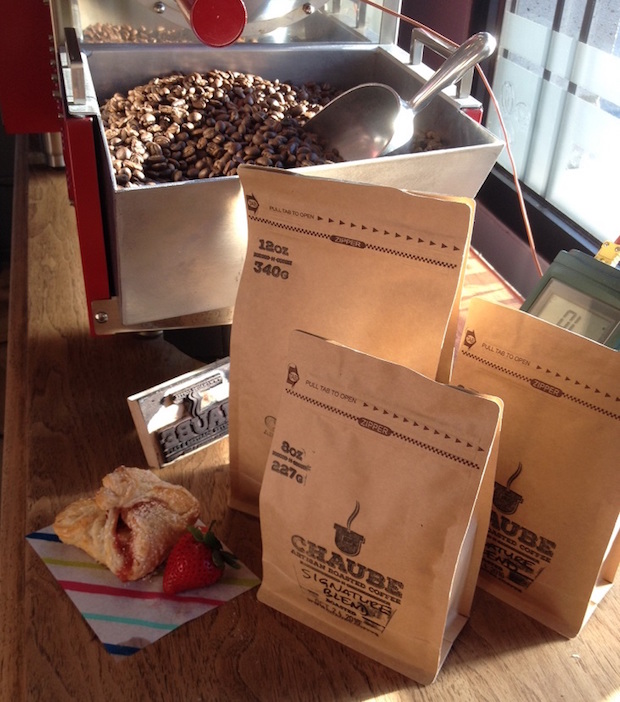 The greens Karl roasts in 5-pound batches on a Torrefattore roaster come through Texas-based importer Copan Trade and others. Drink preparation occurs on a 2-group La Spaziale espresso machine and Bunn and Chemex brewed options.
"We try not to go into the dark roast. The darkest we have is the Vienna," said Karl. "We roast about 25 different types of coffee, so it varies. But we want to change the point of view of many customers that like dark roast from Starbucks."

Anna said that they hope to open multiple locations within the next two to five years, though not too many. Said Anna, "Our ideal future for this business would be to have two or three coffee places, where each place would be a very positive vibe."
Howard Bryman
Howard Bryman is the associate editor of Daily Coffee News by Roast Magazine. He is based in Portland, Oregon.