Plenty of people in Portland, Ore., enjoy biking to work. Some even continue to bike after they get there, which was initially the case for new Portland roaster Kainos Coffee, whose built-from-scratch wood-fired 8-kilo roaster's drum was turned by chain linked to a fixed-gear bicycle.
Kainos Coffee launched with a retail food cart in April of this year, supplied by their own wood-fired roaster whose drum speed was controlled by the cyclist, while airflow was regulated with a damper on the bottom and a flu on the top.
"The coffee was phenomenal, it just had a few issues in regard to production," Kainos co-owner Marten Boyden told Daily Coffee News, explaining that for one thing, they couldn't see the coffee as it roasted, so they had to be especially vigilant for the sound of first crack. And then because of the nature of a wood-burning fire, they'd have to be very careful about drum speed and air flow to manage the temperature once first crack came around.
"It was fun. It was an interesting adventure for a little while," said Boyden, who reported that for the purpose of scaling up their business, they have since transitioned away from the homemade roaster and into the Buckman Coffee Factory shared roasting facility.
He added that the decision was also for the best from an environmentalist standpoint, for while he and co-founder Austin Roberts were confident in the carbon-neutrality of the inputs on the human-powered, wood-fueled roaster, the output of wood and coffee smoke were admittedly in need of greater mitigation. Said Boyden, "If we're going to be a green community and a green company, we should probably actually be a little more green."
Boyden also noted that while customers enjoyed their product right off the bat, their peers on the Portland scene couldn't help but express some uncertainty about the model.
"I wouldn't say they were critical, as much as just very question-y. 'Are you going to be able to make that work?'" said Boyden. "In a sense, we didn't. We chose to go another way. But it was not a choice based on whether or not we were creating a coffee we liked the flavor of. It had everything to do with, we wanted to give more to the orphanage; we wanted to be able to produce the coffee that we need to produce."
Kainos donates 21 percent — a number both founders blurted out in unison when trying to decide on a portion they could announce to customers, and therefore be obliged to stick to — to an orphanage in the Philippines with which Boyden has been personally involved for the past four years. On roughly 5 acres of land purchased by friends of Boyden and subsequently leased out to farmers, two houses have been built so far with a third under construction. Said Boyden, "We are constantly getting more children that are in need of housing."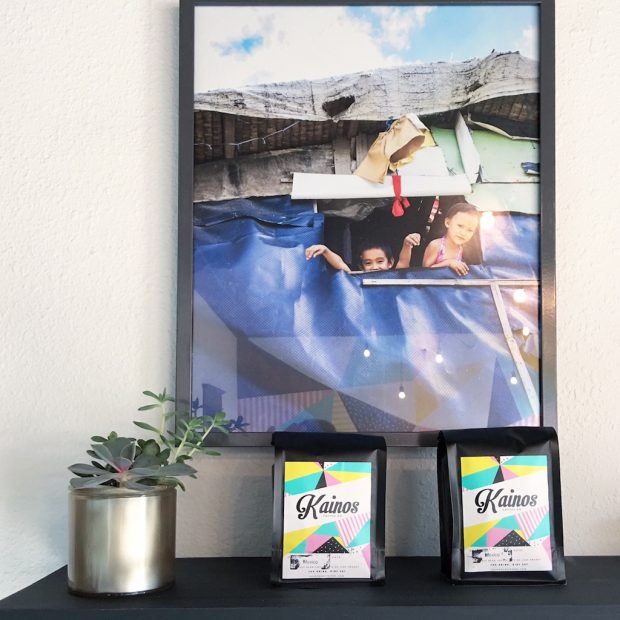 Children come to the orphanage from areas nearby including the slums at the Wawa garbage dump outside Manila. "The first time I was over there was kind of a surreal experience. There's 2,000 people that live literally on a garbage dump," said Bowden. "We went in and there was this older lady who walks up to us and says 'Hey, take this baby.' We're like, what?! You can't just hand us a baby, there are other things that have to be done!"
The organization did eventually take the child in and sort through the appropriate procedures, though, and it was inspiring for Boyden when he returned six months later. "We were able to, the next time I was there, see the child with clothes on, eating food, fat and happy."
For the benefit of the orphanage, Kainos recognized the importance of scaling up the business, which was a driving factor in both the tough decision to abandon the bike-powered roaster and the comparatively easier to choice to roast in a way that creates balanced, chocolatey, instantly-lovable coffees to be appreciated by as wide an audience as possible.
"We would rather have the chocolaty finish than the fruit-forwardness all the time," Boyden said of the Kainos roasting approach, noting that they also enjoy some experimentalism to that end. "We've looked a lot into both the German and Japanese roasting worlds. In Germany there are many roasters that will roast for extended periods of time, up to 45 minutes actually," said Boyden, describing a process that starts at a lower temperature and climbs very gradually.
"We've found that that's pretty fun to toy with. We don't go 45 minutes," said Boyden. "But we will extend up to 18 minutes for our house blend, and we've had a ton of success with that."
Doors opened on November 1 at the 600-square-foot Kainos coffee shop at 6633 NE Sandy Boulevard in Northeast Portland, with a Rocket R9 espresso machine anchoring the drink menu.
"We're the first in the U.S. to be using this machine," said Boyden, considering the machine on par with the latest from Synesso and other groundbreakers, with individuated groups each with its own programmable pressure profile and temperature. The R9 is paired with a Mahlkonig K30 Air Twin grinder, and the shop will also be serving V60 pourover.
The green coffees Kainos sources through Walker Coffee Trading, Bodhi Leaf Coffee Traders and Royal Coffee are now roasted on the various Joper and Proaster machines at Buckman, complete with all requisite afterburners and other environmental safeguards. They're also excited to explore the green coffee resources provided by Buckman as well.
"They'll do cuppings quite often with different importers who work directly with the farmers," said Boyden. "We'd really like to start transitioning into that a little more, having more hands-on information about what we're serving."
Boyden said he hopes Kainos grows to include multiple locations. "The plan is to grow. That's why we switched over our way of doing things," said Boyden, adding that the original coffee cart is in storage and might eventually make a return to duty for special events or weddings. He sees potential for one or two more stores in Portland, as well as possibly establishing a roastery-café in The Dalles, where both Kainos founders grew up. "It'd be cool to be potentially the first-ever local roaster out there, maybe in the next three to five years or so."
Howard Bryman
Howard Bryman is the associate editor of Daily Coffee News by Roast Magazine. He is based in Portland, Oregon.