As community libraries continuously evolve and adapt their public spaces to meet the educational and inspirational needs of multiple generations, quality coffee seems a natural fit for some space of its own.
"We've often had visitors remarking what a wonderful place this would be to buy a cup of coffee," Chapel Hill, N.C. Public Library Assistant Director Meeghan Rosen recently told Daily Coffee News. "We have a lot of people here at the library who use it very much as a third space. They come and spend hours studying or coworking or bringing their kids in for storytime."
Responding to their patrons' requests, the library has organized an experimental series of three coffee popups with local roasting companies to test the waters and gather information about what exactly a retail coffee station at the library would entail.
"We're running these experiments to determine how much demand there is, how it might fluctuate day to day and hour by hour, what kind of products people are interested, and what the public response is in general," said Rosen. "Is anyone thrilled, or outraged?"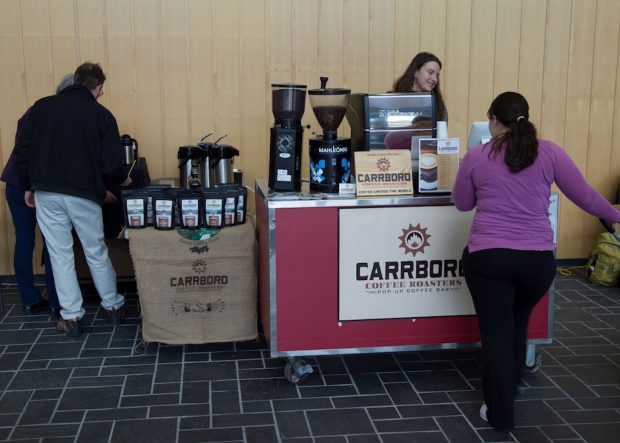 They'll also be looking at coffee stations' operational needs and impact in terms of mess and waste, foot traffic, infrastructure requirements, and so on. Rosen said that she reached out to about ten area coffee vendors to see about participating, and while most were excited by the opportunity, only a few were actually equipped and ready to commit to a one- or two-week-long popup on site. The three companies that signed on for popups are Carrboro Coffee Roasters, Coco Bean Coffee and Tea and Market Street Coffee.
Carrboro Coffee Roasters is a Carrboro, N.C.-based retail and wholesale roaster helmed by certified WBC judge and Alliance for Coffee Excellence quality control head judge Scott Conary. CCR owns and operates two individually branded flagships, the Open Eye Café in Carrboro and Caffe Driade in Chapel Hill. They're also the roasted coffee supplier for Coco Bean Coffee and Tea, the company that will succeed them in the library popup round-up. The third, Market Street Coffee, serves coffees roasted by Intelligentsia and two Raleigh, N.C.-based roasters, Red Rooster Coffee Co. and Oak City Coffee.
CCR and CBCT will each sling cups to library patrons for two weeks, followed by one week of Market Street. Each vendor is required to provide its own tables and chairs for their popups, and will keep 100 percent of its earnings, while the library gleans the valuable market research and feasibility data. Said Rosen, "If we try it and give it a shot with no commitment for a while, we can collect a lot of useful information and then make an informed decision."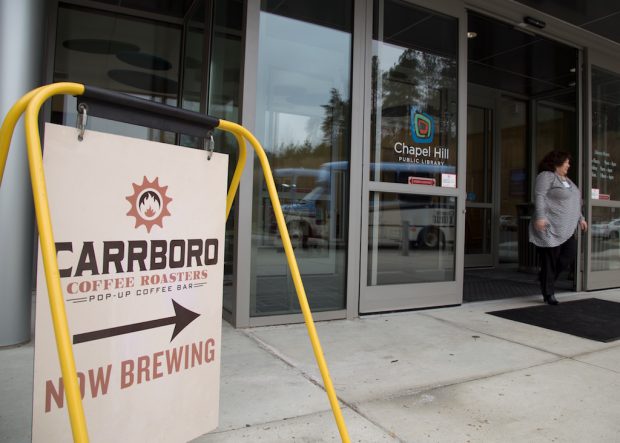 The decision, of course, is whether or not to pursue a permanent coffee installation of some sort. Rosen said there were several other companies that might be interested in that opportunity that were not able to run a popup, and that the ultimate coffee provider, if and when they came to that selection, remains to be determined.
Each company is offering espresso, brewed coffees and a slim menu of other items within the lobby of the spacious, recently-renovated two-floor facility. "Chapel Hill Public Library is one of the busiest libraries in the state. We see about 1,800 people a day. So, we hope for this to be a prosperous endeavor," said Rosen, although she added that profit was not the motivating factor. "We're not in this to make money. We're in this to provide a service to our customers; a service that they've asked for."
The Chapel Hill Public Library is located at 100 Library Drive in Chapel Hill. Popups began on January 11, and will run into late February. 
Howard Bryman
Howard Bryman is the associate editor of Daily Coffee News by Roast Magazine. He is based in Portland, Oregon.