Commercial coffee roasting incubator Pulley Collective is planning to give one lucky aspiring roaster a year's worth of free membership and training through a new scholarship program called The Golden Pulley.
Pulley Collective Founder and CEO Steve Mierisch told Daily Coffee News that the instruction or mentorship offered through the award will be catered to the individual needs of the recipient, whether those be in sourcing and roasting, or business planning and development, or most likely some combination of both. Winners will receive free roasting time, as well as some financing to buy green coffee.
The scholarship is being awarded for the Pulley Collective Oakland location, which opened last year in West Oakland, occupying 6,500 square feet and including Loring and Diedrich roasters. A Probat UG-22 is soon to join the fleet. Pulley Collective launched in 2013 with a waterfront warehouse in Red Hook, Brooklyn, offering multiple commercial roasting machines for time-share use, to support small and medium-size coffee companies. The company also has ties to green coffee farmers and importers.
"We were trying to think of a way to introduce Pulley Oakland to the Bay Area coffee community and it occurred to us to do a scholarship or mentorship program," Mierisch told Daily Coffee News, adding that the scholarship concept ties in with Pulley's larger goal of "nurturing coffee entrepreneurship."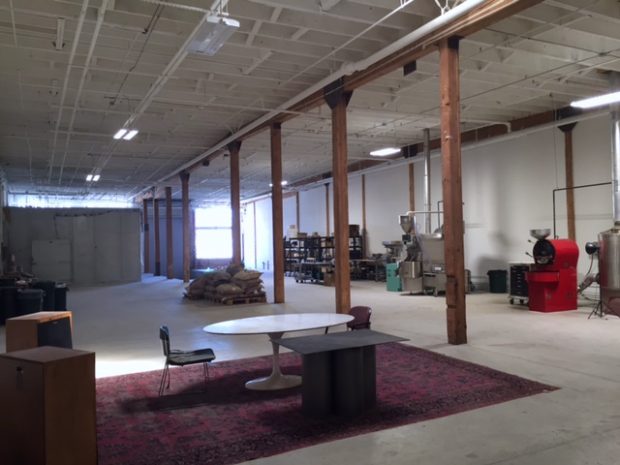 Longtime roaster Brad Kornacki will be heading the Pully Oakland location for the most part, while Mierisch will be on hand tomorrow, Feb. 2, from 2 to 3 p.m. local time for a Q&A about the Golden Pulley. Pulley Collective Oakland is located at 2451 Peralta St., Oakland, CA 94607.
In the meantime, here's a bit more straight from Pulley on the scholarship's details:
WHAT IT IS:

The first-ever scholarship award of its kind, the Golden Pulley Award seeks to grow the roasting community through a unique program to help baristas and other coffee professionals successfully create a coffee roasting business. The winner will be granted a subsidized one-year membership to Pulley Oakland, a collaborative, membership-based roasting space in the Bay Area, where they will receive free roasting time, mentorship, and financing to procure green coffee.

WHO YOU ARE:

A passionate, focused, goal-driven, working barista or other coffee pro with or without roasting experience, who dreams of creating or developing your own coffee brand or roasting business. You ideally already work in coffee, in a cafe (your own or someone else's) where you'll be able to feature your roasted coffee once you've got the chops. Or perhaps you'll have already convinced a couple supermarkets, restaurants, or bakeries to carry your amazing future coffee, as attaining an outlet for your roasted coffee is the hardest part of getting started. For logistical reasons, you already live in or near the Bay Area. Current members and employees of Pulley Collective are ineligible.
HOW TO ENTER:

To enter to win the Golden Pulley Award, applicants should submit a video essay no longer than four minutes demonstrating why they think they are the best candidate for this roasting scholarship. Entrants should consider the following points: 

Who will buy your roasted coffee? 

What will make you a successful small business?

Where do you work and what do you enjoy most about it and your coffee experiences? 

Why will you be the best candidate? 

The winning candidate will be the best in showing and telling about their passion for coffee, desire to roast, and why they are ready to start a business.

All essays are due by March 1, 2017, and should be submitted via email to [email protected] with the subject line Golden Pulley Video.
Nick Brown
Nick Brown is the editor of Daily Coffee News by Roast Magazine.