With a late-season nor'easter having just blanketed the northeastern United States in snow, one can't help be reminded of Bill Murray's TV weatherman Phil Connors marooned in Punxsutawney, Pa., in the cinema classic "Groundhog Day." Barking at an operator on the small-town diner payphone to patch his call through despite storm-downed lines, he asks if perhaps there's an emergency satellite connection reserved for emergencies, or celebrities. "Is it snowing in space?" he snaps.
That's exactly the forecast for coffee drinkers in Charlottesville, Va., as local cold brew company Snowing in Space, rounding its second year in operation, will by the end of this month open its first retail outpost, an all-cold coffee bar with over half a dozen taps.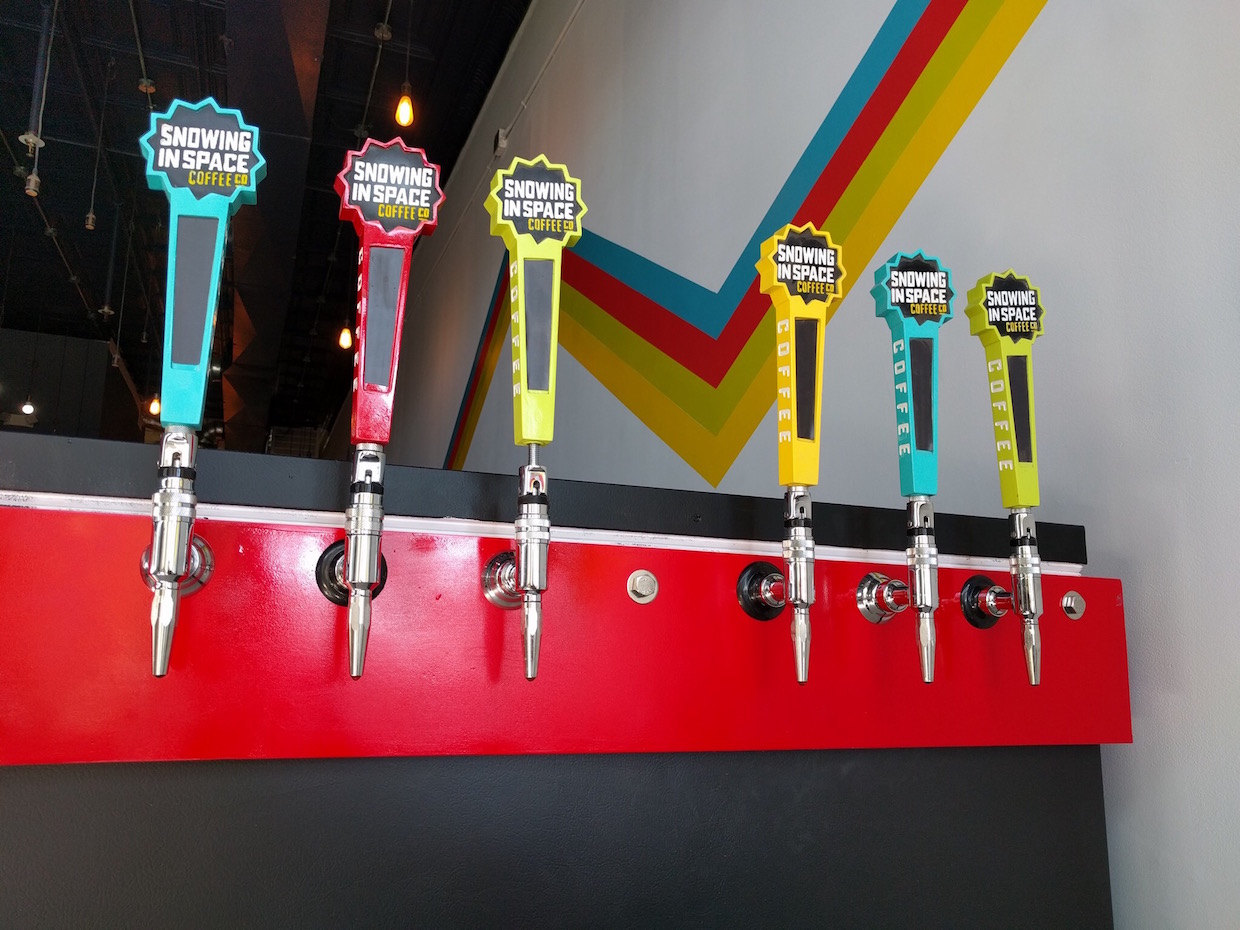 In the 1,200-square-foot former brewery site at 705 West Main Street in Charlottesville, the drinks menu will consist of mostly single-origin cold brews, as well as hot drinks made from highly concentrated cold-brewed coffee, heated for an espresso-like drink base.
"One of the things we want to get out of the shop is the education component to the consumer about drinking these coffees," Snowing in Space Co-Founder and COO Damian Warshall told Daily Coffee News. "Especially with cold brew, a lot of those tasting notes come out much more strongly… In some ways I think it's harder for people to recognize the different notes out of coffee in a hot brewed coffee versus cold brew coffee."
Snowing in Space launched cold brew keg distribution last summer and currently services about 20 taps in area offices, restaurants, breweries and wineries. Their cold brew — which, when nitrogenated, does handily look like a snow falling in space as the bubbles cascade — is made in a traditional low-temperature, long-steep immersion method, tweaking the variables to taste according to the specifics of bean and roast. Production currently occurs in 150-gallon batches using pilot brewing equipment inside the Three Notch'd Brewing Company.
The company currently sources roasted coffees from a number of roasters, a model CEO Paul Dierkes said is likely to continue so long as it's financially viable. "We think there's something neat and unique about being able to source from a lot of different places," said Dierkes, noting that through conversation and feedback to roasters, some customization of their standard profiles is also possible in order to achieve the notes Snowing in Space is looking for.
To this point those roasters have included Shenandoah Joe, Trager Brothers Coffee and Shark Mountain Coffee Company, and, more recently, Lamplighter Coffee Roasters, Sugar Shack Donuts and Coffee, and Ironclad Coffee Roasters. While SIS enjoys focusing on Virginia roasters first and foremost, it's not a matter of policy. Said Warshall, "We're working with people in local markets that we're in, but trying to be as open and collaborative as we can possibly be."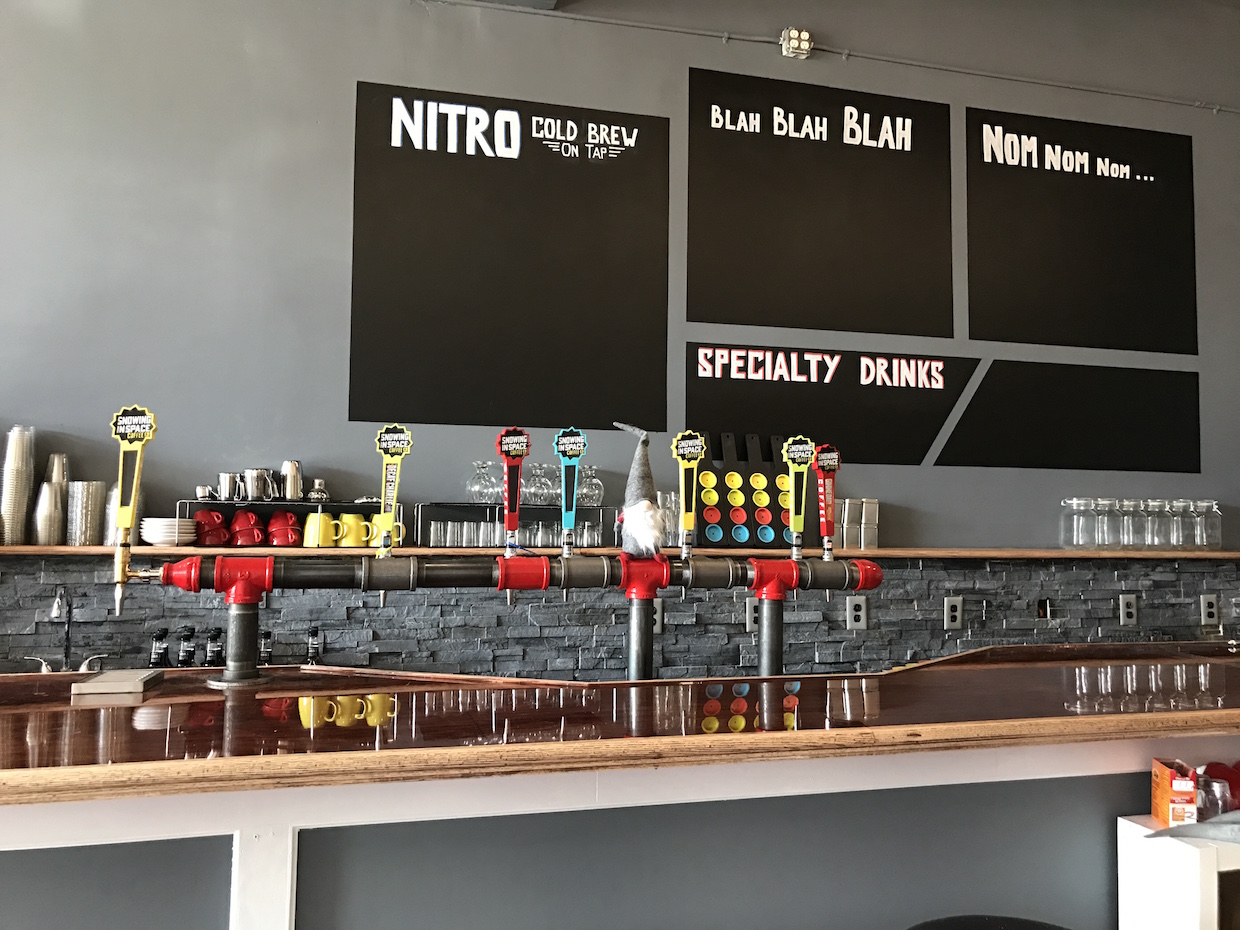 In the short run, while expanding to other drinks such as beer or "mocktails" is a consideration, the company will remain focused on its various coffee and tea offerings, with the next step for the business being the development of a canned RTD product for retail.
"We're finishing up the design of the can and some final partnership details," said Dierkes, who anticipates having a finished product up for sale before the end of April.
Howard Bryman
Howard Bryman is the associate editor of Daily Coffee News by Roast Magazine. He is based in Portland, Oregon.